TRADE AXE & TOMAHAWK COLLECTORS ASSOCIATION.
|
home




OPINION / REVIEW BOARD

This is the place to solicit opinions on your axes from site members or anyone who
can help regarding origins or authenticity issues. Clear as reasonably possible Jpeg images should be sent to:
timbukto@swbell.net
along with any other pertinent information known about the piece. ie: Known state
or country of origin, basic size, dug or found where etc.
In submitting opinions please give us the item number
of the axe in question, who you are and explain why you feel the way
you do about a piece or any special knowledge you have about an axe. This might
help to avoid situations where one might claim to have knowledge about an axe on
the market being a fake to scare away competitors
#19
Hi,
I have been looking through your website and I'm very impressed with your collection and knowledge of Trade Axes and Tomahawks. I recently inherited a Pipe Axe from the estate of a relative. I was hoping you could give me some information on it. I would also like to have it authenticated if you know of anyone who could do that. I have attached several pictures. Please let me know if you can't open the file, I'll resend it.
Thank you for your time,
Mark F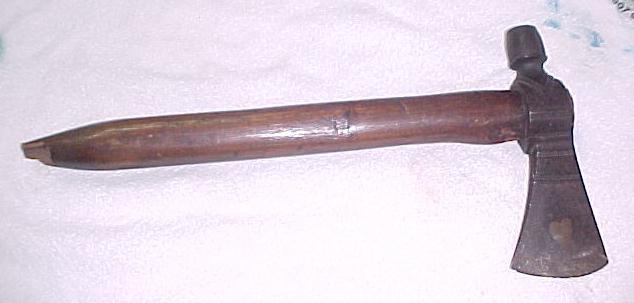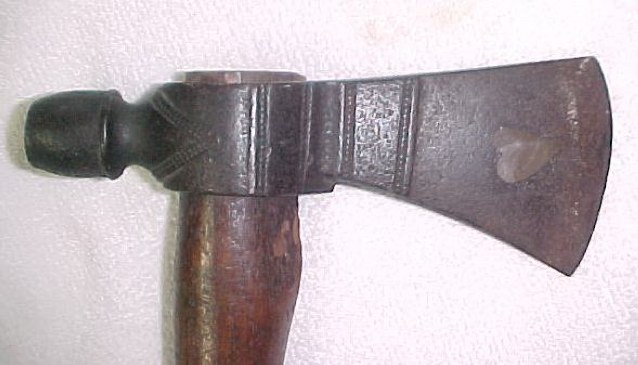 *******************************************************
#18
Tim,
I have recently acquired what appears to be an early native American Indian
trade axe/Tomahawk. It came from a rural area in Oklahoma, at an unadvertised
barn sale. I will attach three digital pictures of the blade and haft. The blade has two
letters stamped, which appear to be ( & B ) . The haft has some carvings and
some brass tacks.
The carvings (six sided stars?, and circular groove which are crudely done),
have the same amount of finish aging as the rest of the haft.
The haft shows to be a newer or shinier finish in the photo, than it really is.
There is an area up by the blade where some of the finish has been scrapped off,
and there is one row of brass tacks missing. They too look newer in the photo
than they appear in person, They actually have some green oxidation from age,
and the top of the haft where the blade is mounted has a lot of signs of age
discoloration and or old dirt build-up from years of handling or wear.
The blade appears to be very old and original, and everyone who has looked at
the axe, seems to agree the blade is very old, and the blade has been mounted to
the haft for a long time.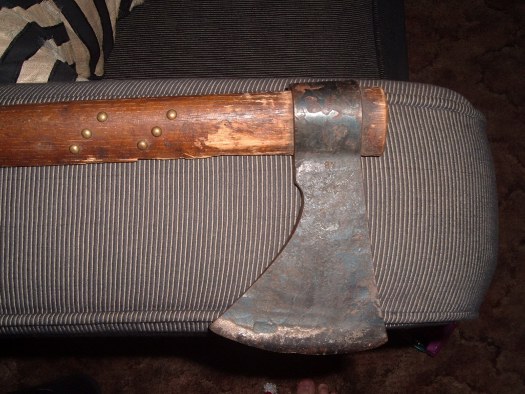 H & B Forge's Shawnee Throwing Tomahawk is the most popular throwing hawk in the country. Countless competition matches have been won with this axe, so it's easy to see why we consider it the best throwing tomahawk you can buy. Many serious competitors would not throw any other tomahawk. It is approximately 3 lbs. In weight and is 19 inches long.
$36.00 3 lbs.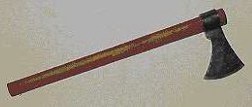 *******************************************************
#17
Sir, I have been out to your site and have scrolled through all of the pictures and stories and comments about each of those pictures. I was trying to find out more about a gift of a trade tomahawk from an Uncle, who has since died. I am 68 years old and remember having seen this tomahawk in my Grandfather's backyard carpenter's shop as a seven or eight year old child. I was very fascinated by it, and this was only enhanced by the many stories my Grandfather told me of his childhood and the Indians passing by their homestead on the way to a Pow Wow. I don't know how he came into possession of the tomahawk and would really like to know more about it. I have attached pictures of this tomahawk in hopes that you might be able to tell from them where it was made and during what time period.
Many of the pictures on your site, of legitimate trade tomahawks, are very similar to the one I possess. Since I know that it has been in our family for the past 60 years, and assuming that it was in my Grandfather's possession long before I found it, I feel very certain that it is not a replica or a fake reproduction. The handle or haft may or may not be the original. My Grandfather, as I alluded to, was a carpenter and he could have made the handle from a piece of turned wood used for a stair baluster and drilled it for the pipe stem..
Thanks for your time and attention to this matter,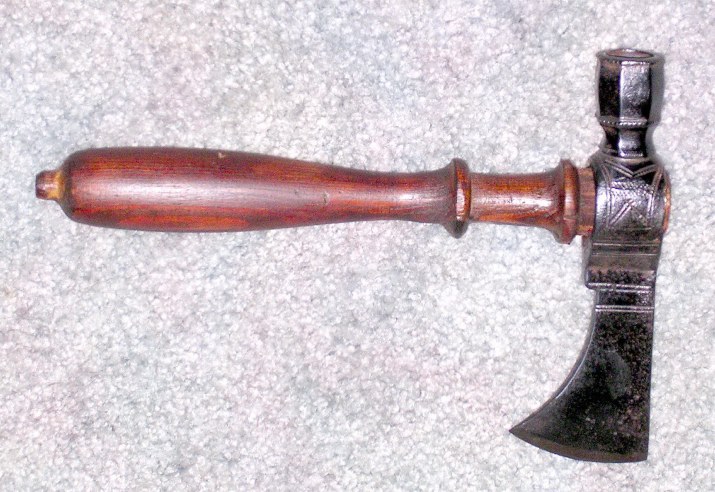 *******************************************************
#16
Attached are pictures of the tomahawk that has been in my familyís possession for over fifty years. The tomahawk originated from, I believe the Wea Indian Tribe in southern Indiana. Iím originally from Terre Haute, IN. In researching the tomahawk on the Internet, I came across a picture of Wah pe Say ~ The White on the Wea Indian Tribe web site which depicts a trade ax similar in markings as the trade ax that I am sending you pictures of. Note the bands and the diamond above the hand. The tomahawk has embedded emblems of what I believe to be the sun on one side and the moon on the other tomahawk blade. Iím interested in determining the approximate value and/or any additional information that you may have.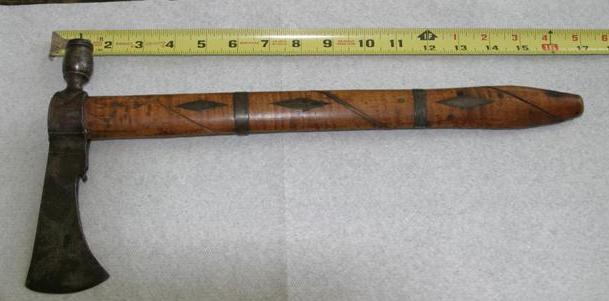 This is a great legit looking piece from here. Values are "blue sky"
*******************************************************
#15
I am a new tomahawk collector. Great web site! Would appreciate any info on this little 13.5" hatchet that I purchased in Springfield Ohio this past spring. Measures approx. 13.5" long and has a brass or gold cross on each side. Appreciate your opinion.
Thank you, Allan C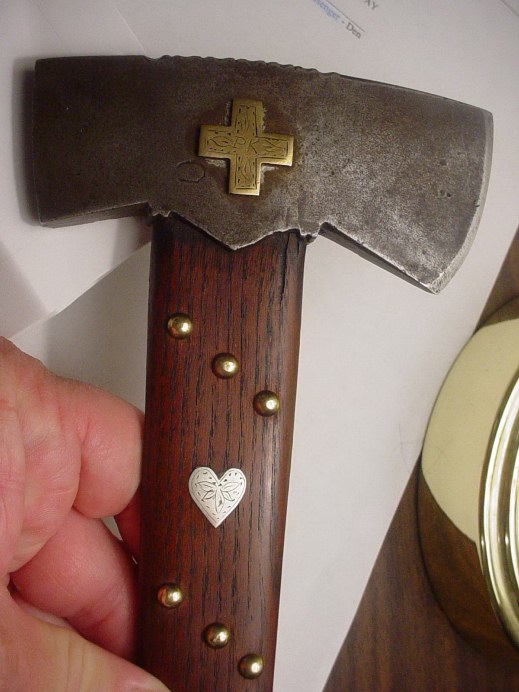 How ya doing Allen?
Well looks like a good start had been made. I cannot tell for sure whether it is old or a well done re-creation but either way it is very nice. I only own two very small "Ft Meags" style bag axes but they are both very plain looking. If you don't mind though I'd like to post it on the opinion board and see if anyone knows one way or another?
Do you mind telling me whether it was sold as old or not? From here the iron looks right but the tacks and the wood look a little green. (Modern) It may very well be a mix of old head new haft? Tell me more about it.
Best regards,
Tim S
TATCA
*******************************************************
#14
Hello,
I was hoping you might be able to help in identifying a pipe axe I
puchased at a local swapmeet in Reno Nevada.
I don't see any markings but its in its natural state and I haven't cleaned it yet.
I've enclosed a couple of pics.
Thanks Loren
*******************************************************
#13
From Switzerland comes this emal.
Dear Sir
For a short while I buy this Tomahawk on ebay. Some days after I read on your web side from Tomahawks Head was made from gast, and not by forge. Now I am really unsure if my Hawk is a fake or not.
I am sending you some picture, and I hope you can help me. I hope the picture are good enough, if not please let me know I will send you better one.
I am will be very thankful if you would send me a email.
I looks forward to hearing from you
Sincerely
Ivan R.
Click on the image above to see more of these.
Hello Ivan,
I have received your emails and have been avoiding what I hate to tell people more then anything which is I am afraid I'm pretty certain that your pipe is a well done but modern cast. This style head is currently being sold on ebay with very nicely done handles that look really good but the head and so the whole thing is bogus. Don't feel too much like a sucker and know all of us have been fooled before, myself by this very same head. Pipe tomahawks even with possible origianlare really great but very hard to find for less then a couple of thousand dollars.
I don't own many at all. maybe ten or twelve, most re-hafted loose western heads but that is
not many for six years of collecting. Out of those only about half are serious pre-reservation weapons. Please don't give up the hobby but seriouly consider other forms of tomahawks first and learn how the truely old ones are supposed look feel etc. and spend some time looking at the gallery of fakes page before trying a pipe again.
Best regards,
Tim
*******************************************************
#12
Q:
Hi, I was reading your articles and looking at your site and I did not see an item like the one
I have enclosed. This was my Dad's Do you have any information on it or can you tell me
anything about it? Any information would be appreciated.
Thanks.
Terry

Hi Terry,
Well all I can say for sure is that if it is a modern one I don't know who it is
that made it. That is not to say that it is not "somewhat modern as in 50 as
opposed to 150 years old. The over all look is of a cast of a late 1800s spike
tomahawk. The short "arrowhead style" spike is a late 1800s pattern. The
round eye is typical of a cast piece. However the rust does not look very
old (circa 1960s) though I am working from a photo. If I had to guess
without handling it I would say it was not an antique but I could be wrong.
Thanks for sending it in and good luck with it.
*******************************************************
#11
Sir:
Purchased this old axe today at an estate sale. I Don't know anything about axes. I just thought it was cool. I started searching your site for information but quickly became overwhelmed. I would appreciate it if you could tell me what kind of axe it is, approx age or origin. Anything you could tell me would be greatly appreciated. The cutting edge measures 5 1/2" point to point. 8 3/4" from top of pointed head head to bottom of blade. Blade is floral engraved on one side only as shown in the photos. Seems to be signed just below the floral decoration with fancy engraved initials "imp" followed by several segments of fancy engraved numerals.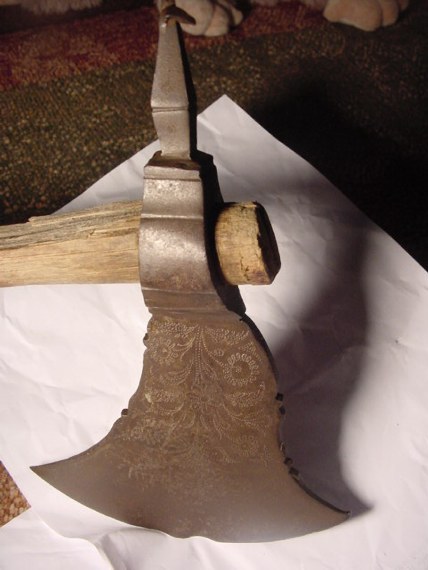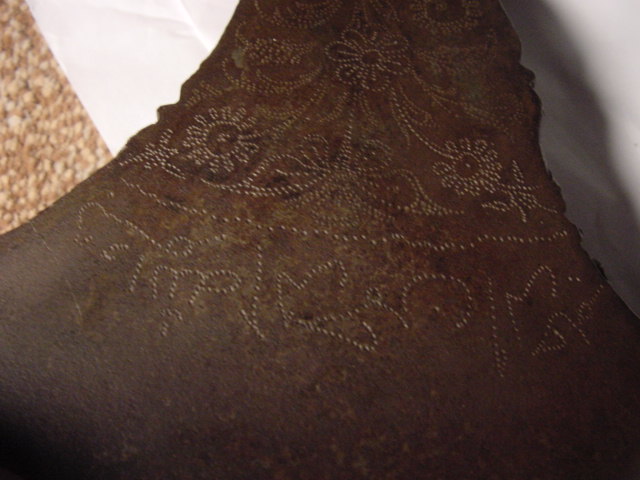 Hi Gary,
Sometimes people send me pix of axes I can call with
one eye closed on a foggy day and then there are these. lol
This will be a tough one but must prepare you for this possibility
I could be wrong but there is a good chance it is old but not American
or even European. It has some things in common with some
middle eastern and or asian axes.
I'll post it we'll see
Regards,
Tim
Response from our foreign axe specialist:
Punched decoration looks quite from northern India, as they do on tourist-grade khukuris. Very common technique. Also common on 19th century Chinese peasant Daos (broad heavy sabers). The signature is not Latin script- it's inverted Arabic... My conclusion: Northern India/Rajastany, late 19th century or early 20th century, maybe for western tourists (I'm interested).
Sa'ar
******************************************************
#10
Hi,
I just recently started to collect.I found this web site and it seems many of you guys are well informed. I have a piece that is very interesting and very old. It is not your typical tomahawk.The only piece I have seen close to it is one I saw chief cornplanter holding in an oil painting. Here are some pictures of it..I have had several people look at it. All agree it looks to be more of a status piece.one of a kind.I was hoping someone might shed some light on a specific origin.sincerely.
Charles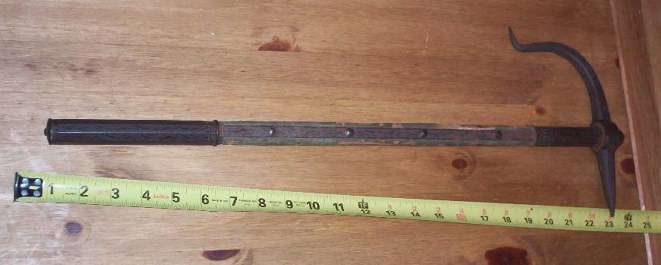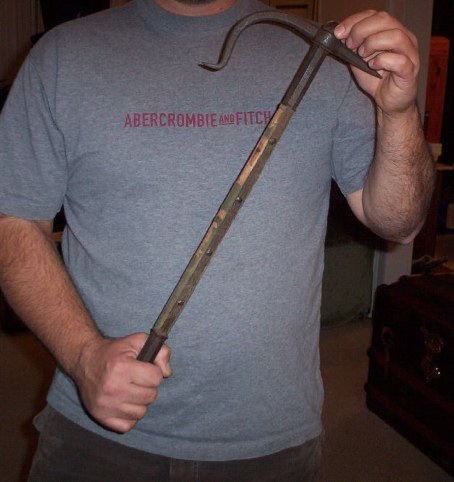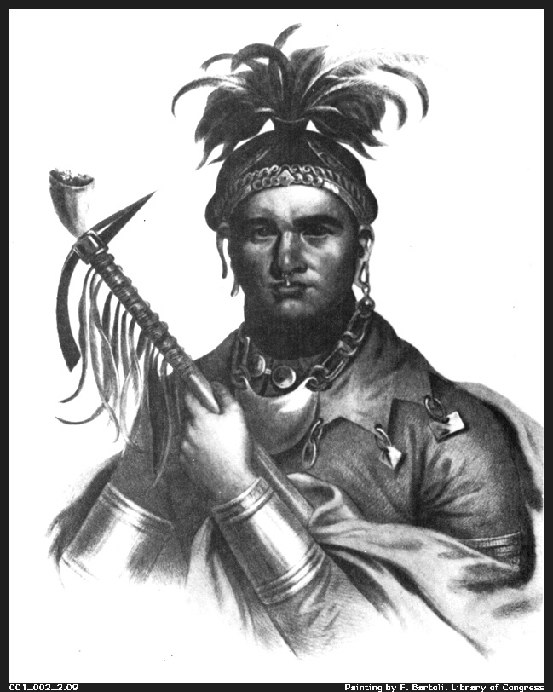 Cornplanterís portrait painted in 1796 by F. Bartoli in New York City.
Hello Charles,
Wow. To say It is not your typical tomahawk. is a gross understatment.
This is one wierd piece ya got there guy. I agree that it does not a modern look to it in the least so the issue becomes what it is and where it is from? Where did you get it? It really does have sort of that "cornplanter" thing look to it although there is much debate on that piece. It has a combination of features almost like a halberd /linstock/spontoon thing but not really any of those either. On the other hand it also shares some features of an east indian tabar or elephant prod. Truth is I'm stumped in a big way on this thing and so here it is on the website to see if any one else can tell us more meanwhile help us out by giving us any background history you have on it.
Response from our foreign axe specialist:
No problems here, pure indo-persian horseman's hammer. The whole things "speaks" islamic. Maybe a Sudanese clone, Mehdi revolt period, circa 1890. I have a Sudanese battle axe with the same proportions, same technique.
Sa'ar
********************************************************
#9
Ran across your email address and thought I'd see if you would give me some idea of what I have.. 'been wondering for a long time.
The little one measures just 5¼ inches overall. The blade is very thin, only about 1/8" thick. It was found with a metal detector here in the Catskills about 30 years ago, near a place called The Great Tory Swamp. It was in sort of a saddle between two mountains and Indians camping there would not be seen from below.
The raided farms locally, looted, burned and took prisoners to Fort Niagara.. with the help of local Torys who turned in their Whig neighbors. The idea being if the English won the king would reward them, or some such.
The other larger one measures 8 inches long. It was apparently made in two halves, then joined together. I bought this at an estate sale long ago of a gentleman (nobody I knew) who lived down near the Delaware River and collected all sorts of Indian things. It appears to me to be hand-forge finished, the blade and point are still amazingly sharp.
I've had them on my windowsill for years and years. People sometimes ask me about them, but I just have to tell them I don't know much. Any clues you could give me would be much appreciated.
Tom M. Woodstock NY.




Although not exactly classic, they do have an air of llegitimacy about them.
The hammer poll is of a type I've seen before and don't think someone would make
something so clunky on purpose ha ha. The spike is also on the clunky side and
if you had not said they were from different sources, I would think they were made by
the same person.
I suppose if from the same area, even if old that is not impossible. Over all both
styles are post 1750 with the heavy spike maybe even more recent Like post 1800ish.
Tim S
********************************************************
#8
Hi Tim,
Just reviewed your website and it's awesome. Couldn't find an AXE that
resembles the one I've pictured. A local man dug this from lower Desert
It was dug on the southern end of California's ANZA BORREGO DESERT about 20
miles above Mexican border,about 100 miles EAST of san Diego. . Along the
famous ANZA TRAIL(late 1700's) at or near COYOTE WELLS(used to be a major
watering hole for early travelers) many years ago using a Metal detector. Too bad he chose t
o grind off the rust/surface. The iron/patina is still there in cracks/crevices, so I
believe that it's old. Other old things were found in same area on the same outing.
He feels it is of Spanish origin? PLease give me your opinion on
the item. Thanks ahead of time.
Jim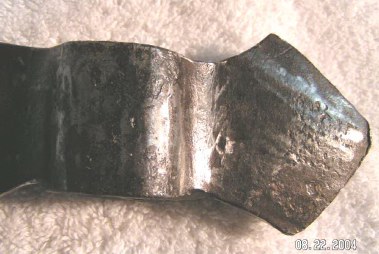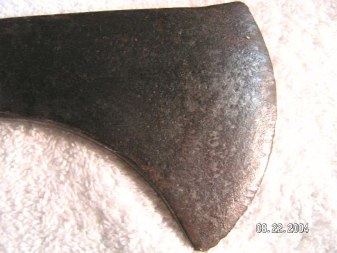 Tim;
Somehow the surface doesn't look like it was recently ground or polished as there are no abrasive wheel marks or the usual look that you get with a belt sander.The surface does look like it has some age and there is some peaning on the point of the spike but as I've said before you can recreate some pretty good pitting and coloration by boiling iron in Clorox and then applying one of the oxidizing agents currently available.There doesn't appear to be any steel wedge in the cutting edge but again this doesn't appear on all axes. We all fall into the trap of developing rather rigid opinions of what a belt ax or pipe ax should look like. I always try to keep an open mind as new specimens appear that challenge these preconceptions but I have to say that I have never seen one of these squat triangular spike axes that have proven to be real.Understand that this observation is based on only on a limited number of examples. This may be a good one and if the owner can get an affidavit from the guy that supposedly dug it that would certainly dispel any doubt.As always caution is in order and the old 'hug it,kiss,feel it rule still applies. If it is indeed legitimate then its a great example on which to compare other specimens.
Phil
Hi Tim. When I ponder a tomahawk, I always picture myself on horseback chasing down some white man (like me) and swinging it with an executioner's accuracy. But the diamond-shaped spike is pretty short to do lethal damage. In New York, when we mug somebody we usually do it with something longer than a 1 1/2 inch blade. So I wonder. Baldwin has an example on page 110 with a spontoon-like spike, but it's longer. Of course most tomahawks don't have any spike at all. So maybe it's more of a stylistic carry over from the halberd look. Also, it could have doubled as a tool and not just been a weapon.
It's a bit confusing, but I think it looks genuine.
Abram
Hi Jim.
In my opinion it looks okay. ie: real As to whenther it would have been Spanish? That is a tough call
as it appears there are just about no Spanish tomahawks around save the earlier Biscay trade axes to compare it to. It seems after around 1700 they stopped making their own and went to outsourcing
their trade goods to France and England. This piece has one thing that is pretty odd though. A mid 1700s blade config with a mid 1800s diamond spike set up. The thing to consider then is, is the spike worked down? I disagree that the spike is too short to do damage. I don't know about NY but here in Dallas
where the murder rates are a 1/3 to 1/2 again higher then NYC they kiil um with all sorts of things Short long big and little. A lil slot knocked out chur skull is gunna ruin yur day anytime . lol
Over all I say thumbs up.
Tim S.
********************************************************
#7
Hello Tim,
Could you please tell me anything about this pipe hatchet? The only marking that I can find is on
the top edge of the blade. It is a slash with a o on either side and looks something like this o/o only
the slash is not at as much of an angle. I tried to take a picture of it but it didn't come
out. Thank you for any help that you can offer.
Robert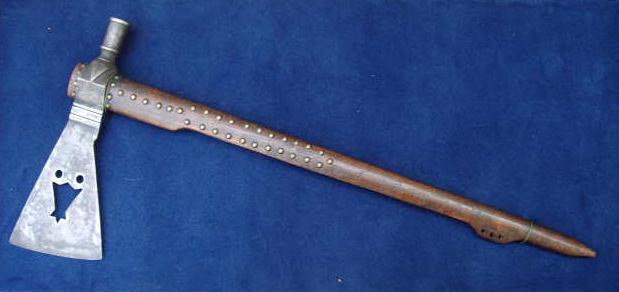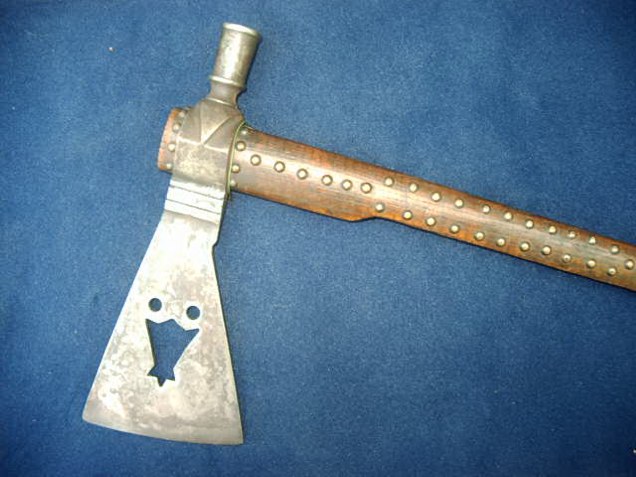 Hi Robert,
Sometimes I just feel like I'm in the bad news business.
As much as I'd like to say that's it is old, I think the Germans have
struck again. Read the one below and don't feel like the lone ranger.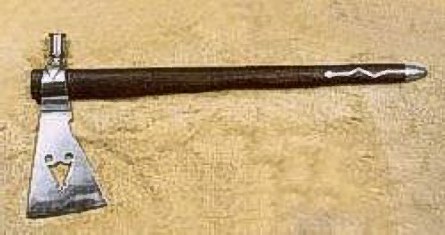 ********************************************************
#7
Q: Hi
. I found your website, and was amazed at how much you know that I
don't. In fact, I know next to nothing about tomahawks, but am eager
to learn. I recently bought an item at a large militaria auction. There were
many, many items of Native American origins. The collection was
immense and impressive. So, I bought this spontoon tomahawk. I know nothing of
its origins or history or identity. I'm taking the liberty of sending you just one
photo (dumbed down) in the hopes that you can tell me something about
it. I wouldn't mind knowing its value, although I have no desire at
the moment to sell it--I love the piece, and hope it is authentic.
Best wishes
Jack A.
A: Hi Jack
Well hell, few things I loath more then having to do anything to dampen the enthusiasm of a collecter just getting started on tomahawks. However this points up what we are all up against.
Second party "aging" Blueing/patinating etc. Now I'm not going to say that yours is one of those quality repros from Germany, however I am going to suggest you use your own judgment on this. I
also think someone is knocking out some very convincing file branded hafts we better learn to I.D.
I did have one of these posted in the repro
gallery but it seemed like trying to get a good photo of one of these German repros was like trying
to get a good snapshot of bigfoot. If you do conclude that it is one of these well done repros please
don't feel too bad as these things are fooling sometimes even advanced collectors
every week on ebay. I saw one of their other patterns go for $1600 last week. These things
are not made cheaply and go for $200-$250 new I believe.
As to your "being amazed at how much you know that I
don't"? Thanks for the vote of confidence but know that what I don't know
scares the hell out of me sometimes.
Also,I wonder if my knowledge is based less on how many real ones I've handled (hundreds)
then with how many repros I've seen ( thousands) and bought at times lol
Now the other possibilty.
There is one very close to it in Peterson's book (#270)
which brings up the other however remote possibility that yours is an old pattern cast or
made from a trip hammer blank that was the model for the the German ones. The thing to do then
is to try to find another one like it in a reliable context like an old or museum collection The thing is that sometimes people don't realize how "cookie cutter" some of the old ones were.
Because there are so many around of a given type values are not
as high as one of a kind pieces. These become prime candidates to be reproduced as the
fakers get their hands on one cheap and bada bing. 50 a day listed on ebay. The brass "vine" pipes are a case in point. I feel really bad for those who invested substantial amounts of money in these only to find a few years later that collectors are not intersted in trying to determine whether it is old or not.
The track record of the fakers is of reproducing patterns that were also mass reproduced during
during the 18-19th century. This sometimes makes calling a piece one way or the other very hard.
and from photos no less.
One of the German repros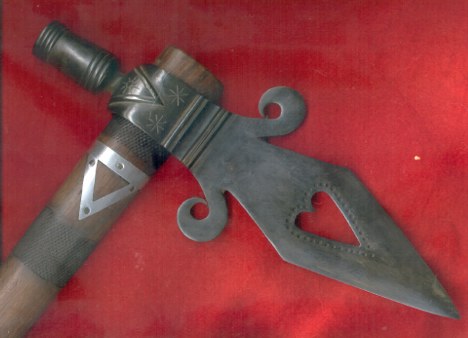 ********************************************************
#6
Tim,first I would like to say I loved your web site. I like your writing style! I have an axe,that's
VERY old,but I can't seem to find anything about it. Would you please take a look at the pictures
and tell me what you think I have. I live in North Carolina,and purchased it from a 85 y/o farmer,
he claims it was his fathers,but really doesn't know where his Dad got it. It is marked,but I cannot
make out all the letters. The second line of letters says ALARCON ( I think) I'd appreciate any
help that you could give me,
Thanks,Bob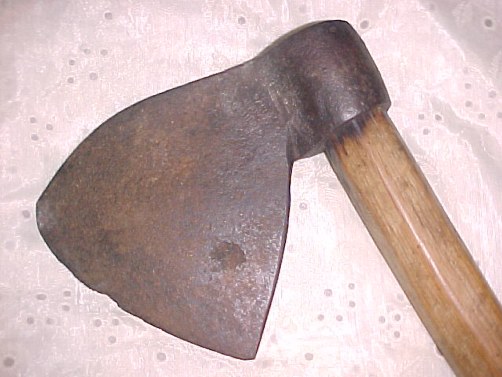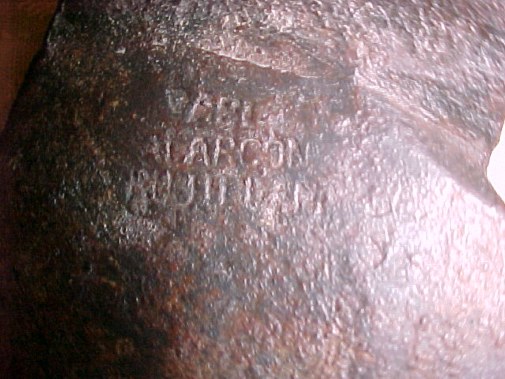 Hi Bob,
First thanks for the kudos.
I like the profile of this axe a lot.
Now I gotta tell you right off the bat that this nice axe has many features that tend to make me lean
towards it being quite old but probably not American. Alarcan is a common Mediterranean or southern
European surname. Now I could be wrong, it would not be the first time. but this name/word combined
with the other somewhat cryptic markings almost guarantee that this piece originated in either
Spain or Portuga maybe even France. As to whether it was imported 200 years ago or last year
is hard to say depending on how reliable your source is. Be aware that at some point in the last few
years someone imported hundreds of very old trade axe looking felling axes from Portugal. It is said
that there is a photo of a guy standing next to a pile of these things up to his armpits. I have also been told that a certain fur trade relic book recently published is packed with these things that the author was
totally unaware that they were recent imports. Watch for larger axes with strange touchmarks, many with original hafts in suspiciously great condititon.
********************************************************
#5
Hello,,
I'm not an ax collector ,,more of a military collector ,,but i recently stumbled on an old ax at a local flea market that i thought was very interesting and there was something about it that appealed to me,,beside the price tag of 4.00,,,when i saw the ax i thought it may be some sort of a fighting ax ,,and with closer inspection it appeares to be british,,it's marked London on the ax part along with the letters AFS and the numbers 13 space 9,,there are some numbers on the metal where the pins go thru the handle they are 1119 followed by what looks like a british broad arrow proof mark,,there are alot of numbers and letters and what looks like a crown stamped on the wooden handle between the metal on the sides ,,see pics,,xan you tell me anything about this ax,,i haven't been able to find anything about it and came across your web site while doing some searches,,wow are there alot of different types and shapes of axes that were made,,the closest thing to my ax is the british boarding axes,,could it be one of these? or is it some sort of a fighting ax?,,could you give me any idea as to age?,and possibly some sites that may clear up the mystery,,the condition of the ax is pretty good,,but the handle has seen better days ,,it has a crack in it,,any help you could give would be greatly appreicated
thanks in advance
Curt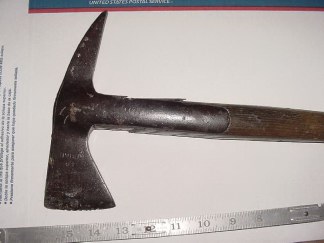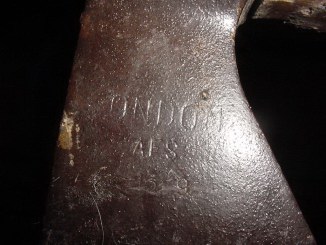 Hi Curtis,
If you are having trouble telling brit boarding axes apart. Welcome to the club. lol
The bottom line is unless you have some of the older touchmarks they are hard to tell apart. Brades and Perks are somewhat newer. The fact yours has AFS on it means it was used as a fire axe in London as AFS means "auxiliary fire service". Yours is a style that changed little over 200 years. Many many retired boarding axes ended up as fire axes but to ID them is far from easy without solid touchmarks or a unique pattern. Sorry I can't be more help.
Best regards,
Tim
********************************************************
#4
Hi,
Here is my bronze "axe" with tendon handle with bronze rod stiffener. In the drawing are depicted the stampings that seem to indicate a Hudson's Bay Company connection, but you tell me...
Thanks a lot! I really appreciate your efforts!
Gary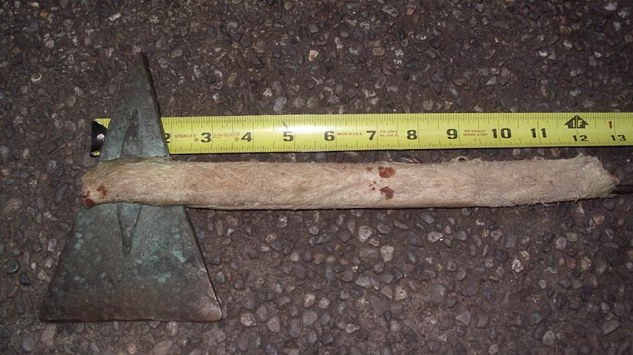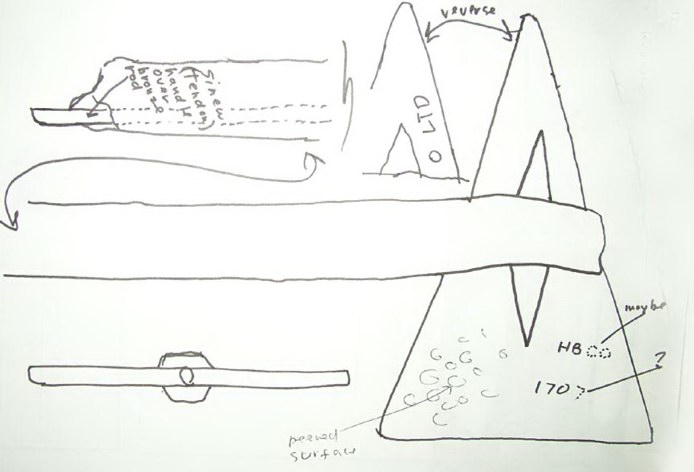 These are very interesting pieces that might very well have been an early version of
a trade axe during the beginnings of the "western expansion" era.
On the other hand it could mean that H.B. did produce these at some point as legit trade items but then re-issued them over a couple of hundred years as commemorative objects. I cannot say whether this would be one of the early ones or a little later or even more recent still like the bottom one, which by the way does show at least some sort of direct H.B. connection with this pattern but is obviously pretty late in the scheme of things.
It is also worth noting that Hendershott's was selling this one at one point sans the haft.
By the way these things do on occasion show up on ebay for pretty cheap. It does make me wonder though. The one most like it in Peterson's book #104 he does not mention the piece having a steel rod as part of the haft. That one was said to have been collected from a Ponca Indian in 1840. This suggest that these were cheaply produced crude trade items made for somewhat isolated, trade iron deprived tribes.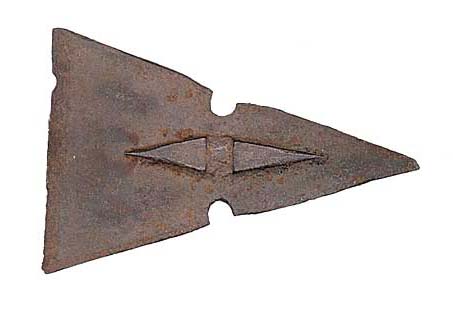 Later 1800s-early 1900 cast iron commemorative version?
H.B.C. LTD 1740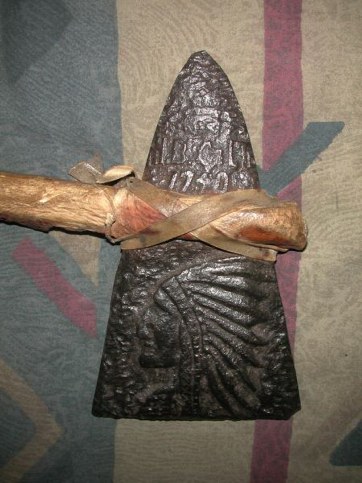 More on possible celt forms.
From Wess T.
This piece comes from Chatham, Ontario Canada. It's in great shape, and appears very old...although I could be wrong, I am no expert. It resembles the spike axes...however it's kind of bevelled on one side/face...and curves a little, rather than being straight like an axe blade. There is no hole for hafting...simply a "narrow" of sorts. Have you ever seen anything like this, and if so, could you tell me anything about it?? I am completely stumped and nobody seems to be able to give me any info. There doesn't appear to be a makers mark on this piece. Perhaps it's only an old settlers adze?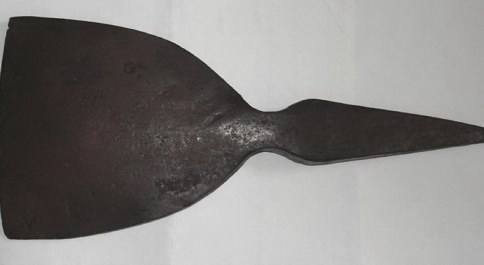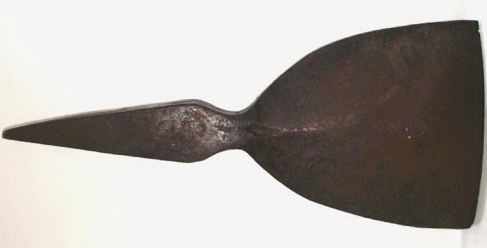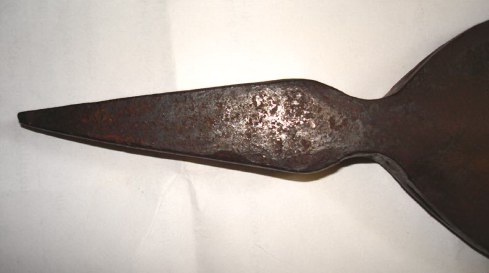 Hi,
It could possibly be a early hoe or adz form if the blade curvature is serious
enough or even a celt form spike axe if not. We do know they existed. This appears to have good metal work and out of decent iron. Probably not a hoe/gardin tool as these
are for the most part not made as well as this and made of pot metal and when they do show up more often then not will have two or more picks opposite the blade. Is it an adz? Well that is a good possibilty depending on how much curve to the blade as it does appear to have effort put in to a decent cutting edge although the spike looks out of proportion to the blade for a adz. These were also trade goods that were much in demand. Another possibility is it started as one and ended up the other. Many Indian and frontier arms were weapons of opportunity.
Obviously the most desirable possibilty is that it is a celt form spike tomahawk.
This is maybe not as far fetched as one might think. The spike to blade ratio looks
about right. Many of the early 18th century spike aes had spatulate blades.
I tend to lean a little towards this idea but I've been wrong before.
Thanks for sending it in.
Here's one in Hartzler and Knowles.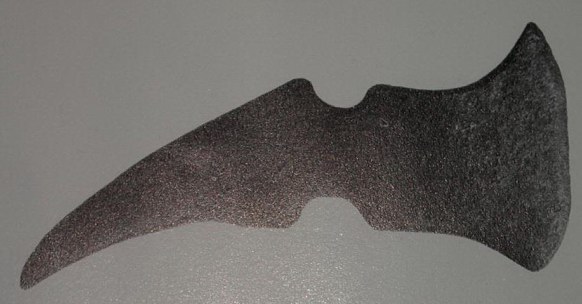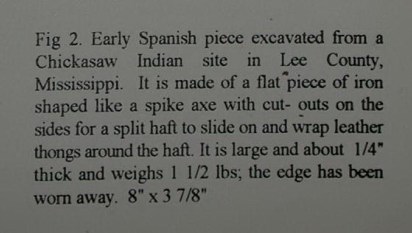 Here's mine. It does not have the wasted hafting area but never
the less had to be inserted into a slotted haft. some think it was part of a
halberd assembly.


********************************************************
#3
I have what I have been told is a ceremonial, 17th century war hatchet, possibly a museum piece, by someone local who admittedly isn't an expert. I was watching the Antiques Road Show today, and a hatchet similar but not nearly as ornamental as mine was appraised at over $100,000. Can you suggest how I can obtain an appraisal for mine?
Thank you for your help.
Response from our foreign axe specialist:
India again, very nice south india axe, but no way $100,000!
$500 is the best value to my estimation.
Sa'ar
********************************************************
#2
John wrote:
Hi...I'm a tool collector (mostly planes/levels) and I recently found this axe (pics attached). I was very impressed with your TATCA website. I was wondering what you could tell me about this axe. Overall length is 15-3/4", blade to poll measures 5", and has 2-3/4" blade. Any info would be great!
Thanks,
John


Hi John,
It is an interesting piece but hard to say what exactly it is. The blocky poll & eye are early and late
raits.That might sound like a contradiction, however that's the way it is with style and design
going in cycles. With this in mind that means either 1600 something or late 1800 or early 1900
something. I believe that latter date probably applies. As to what it is? Well could be a number
of things one of which is a or tile or mason's hammer, or a sheepherder's stockyard
"bull killer" axe for taking out small hooved stock or even bugs bunny.
Thanks for sending it in.
Response from our foreign axe specialist:
Reforged tool, probably a ball peen hammer. Note the
adze-eye socket, circa 1900. Bull killing device has a long slender
cylindrical spike or a very narrow long hammer poll. and it's
larger in general.
Sa'ar
***************************************
The question here is not so much is it modern, but how modern and made by who?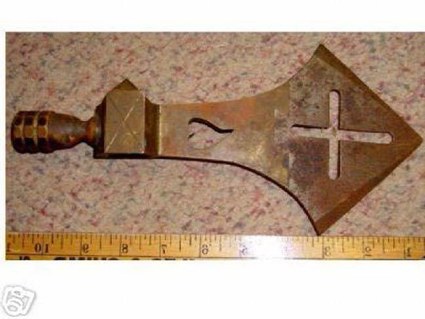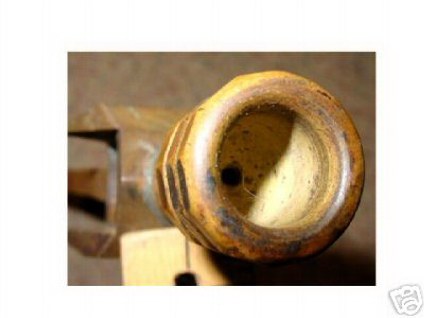 #1