TRADE AXE & TOMAHAWK COLLECTORS ASSOCIATION.
|
home




ARTIFAKES & GALLERY OF REPROS

MUST READ for newbies as well as pros.
For those just getting started, before spending any serious money on a tomahawk study these carefully. Please try to remember that "casual" tomahawk collectors are the fraud dealers best friend. The frustration and problems created by modern reproductions etc. is substantial but perhaps not insurmountable . Part of the problem is that reproductions started to appear almost before the original form had disappeared, sometimes blurring the line between artifact and artifake.

The main thing though is to remember to not think more bells and whistles
equals real as a piece is only as old as the head and tacked and branded
handles complete with or without drops are fearfully easy to fake
To be fair I have to say most of these were produced not to deceive
anyone but to provide an inexpensive way to own a copy of these pieces
of the past. I only believe a small percentage were produce solely to
perpetrate fraud.
If more producers were to do what a few conscientious forges and foundrys
like Delaronde and Allan do and clearly mark their product it would help to prevent much of the "second party" fraud that occurs when a low life takes a
modern piece and "ages" it to pass off as old.
These are roughly in the order of frequency of deception.
I have numbered the top ten offenders
Update:
A new trend is evolving in the fake factories. This may very well be
in no small part due to this website bringing attention to many of
these cast heads but here is what they're doing now.
Altering known modern heads to make them harder to spot.
This includes but not limited to adding cut outs to the blades in
some cases to remove the standard "weeping" heart cut outs,
Removing the possesses from spontoons, Turning standard
blades into spontoons and in one case of desperation grinding
the Slasinski foundry S off of the mouldings of one of
their cast spontoons.
All that is needed then is a tacked and branded haft.
A few other little quirks like a hole for an alledged now
missing drop. A vague rambling description something about how
this one has more tacks then the last one he sold. a stiff buy it now
just in case some rich sucker comes along, and no reserve to
get us poor folks attention. Also some modern pipe heads are being
offered with the bowl knocked off. This adds an air of legitimacy to an otherwise
easy to spot fake. I personally would rather buy a legit 1800th century potato
digger then one of these things. At least for the money being shelled out for them.
UP DATE!
IN THE LAST COUPLE OF MONTHS THESE
TWO NEW HEADS ARE CURRENTLY BEING
HEAVILY USED BY THE "FAKE FACTORIES'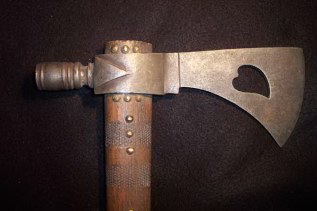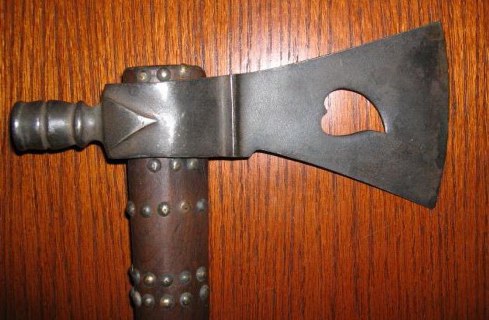 #1
Here's a re-cast that is appearing on ebay so often right now that the sellers need
to co-ordinate their listings better to avoid having two of them appear side by side.
The old forged head that these are probably cast from is pictured in one of Baldwin's books with the notation that it had been the model for a cast/mold. I have considered
the possibility that they are all old cast, however since in this case the original hand forged head has been indentified, that would seem to be highly unlikely.
(Disclaimer) To be fair I have to say it is merely my opinion that these are
all a bunch of latex mold salt bath bulls**t designed to suck the money
out of the pockets of the unsuspecting victim.
Look at the evidence and form your own opinion.
Maybe they are all the original. lol

In brass too.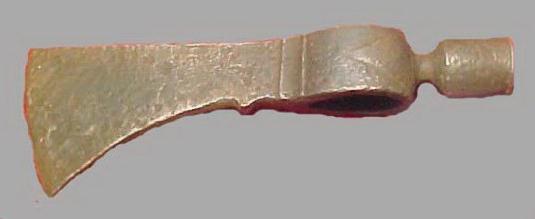 Here's daddy, owned by Mike Slasinski, could this be the guy
who also happens to own Slasinski Foundry?
I wonder if there's any connection? Ha ha.

#2
This head is the epitome of fraud. Cast to look as if it were made from a
gun barrel, complete with fake pitting and even filed in "forge welds" at the front
of the eye. It is a cast, with some type of thick oil based "patina" to simulate pitting.
Two of these sold on ebay in Aug 04 One tacked piece went for $2700 the
other a loose head for $550 something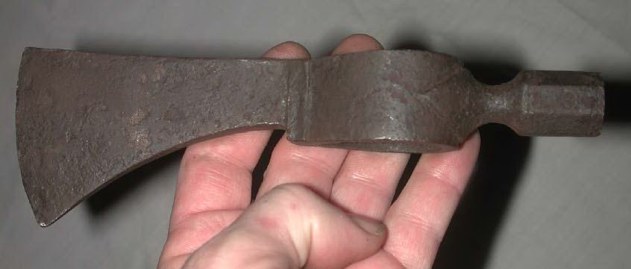 The filed in fake "forge weld" at the front of the eye.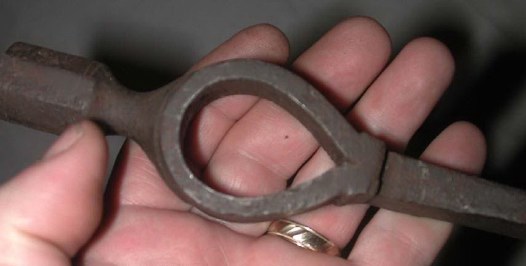 #3
An up and coming repro.
These "might" be from an old pattern-mold and
so as such some might be good but be very wary.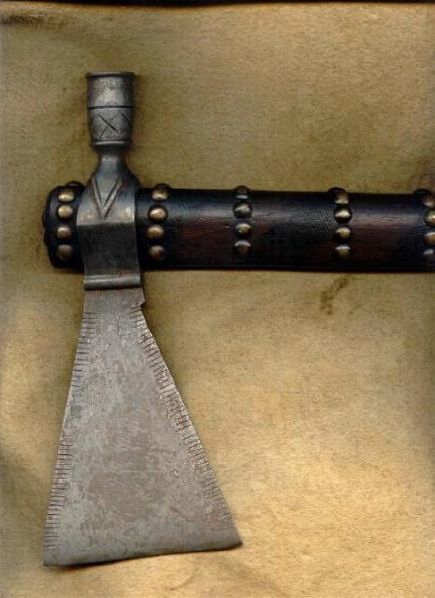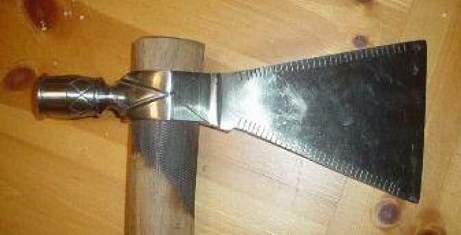 #4
Right now there is a maker that are giving their product
a heavy salt bath as part of the production process. While the producer
might just be trying to produce a nice old looking patina these are prime
candidates for "second party" BS. I got snookered on one of these early
in my collecting days whilr the pattern is a "classic" and likable just don't want the buy as old when not.
Watch out for these salt bath cast!
Look for a faint Slasinski Foundry S
on the moldings unless it has been sanded off.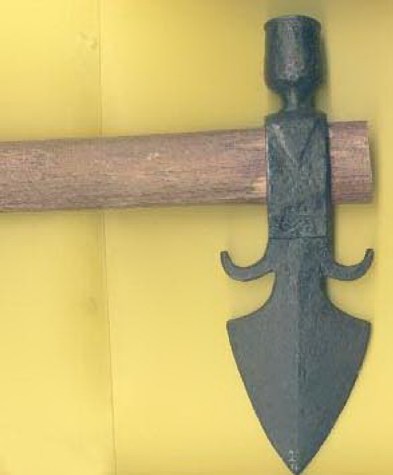 #5
A common repro
While a many brass pipe axes are copies of old originals I'm am unconvinced
that this one will ever be found in the historical record and as far as i cn tell are strictly a product of india.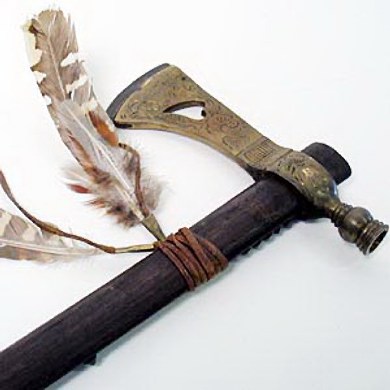 #6
The famous brass "vine hawk" w/steel
blade insert is being reproduced en mass. While the originals of these are fairly common, you can bet that the repros are even more so and it can be very difficult
to tell them apart. Best bet is to avoid brass cast hawks altogether, but if you must
at least take a hard look at the repros before you blow any "real" money on one
of these.
Legit "Vine hawk"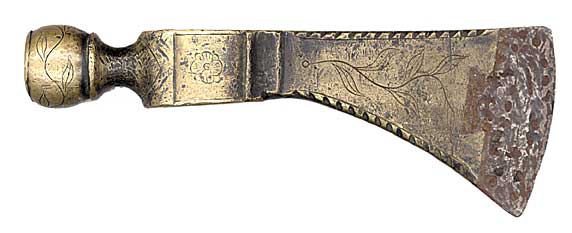 THE NEW ONES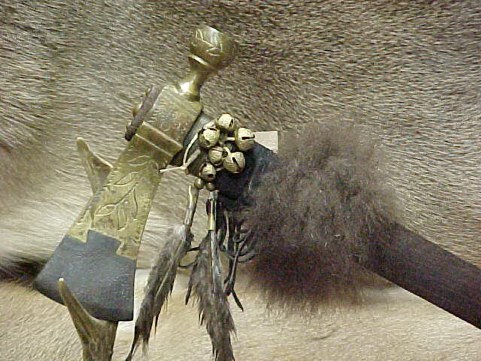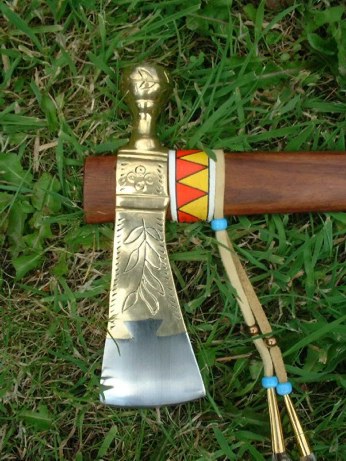 Here's one being sold the way it should be as an art
repro on ebay by billy2hats
#7
I could of sworn I saw one on these recently go on ebay for over $1000
Beware of claims of "this piece is ex-bla bla collection
when bla bla = a dead collector. These things with a slight rusting agent spayed
on the head and a little file branding on the haft and vola! $40=$1400 These also appear in brass complete with a flaky looking green brass "patina" one of which went in Aug 04 on a $995 burn it? I mean buy it now..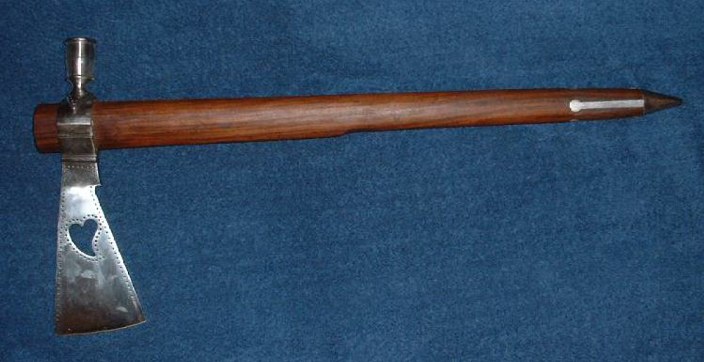 #8
"Somewhat" like-able "maybe" from
an old mold/pattern.
#9
Another head commonly passed off as legit
but also "maybe" from an old mold/pattern.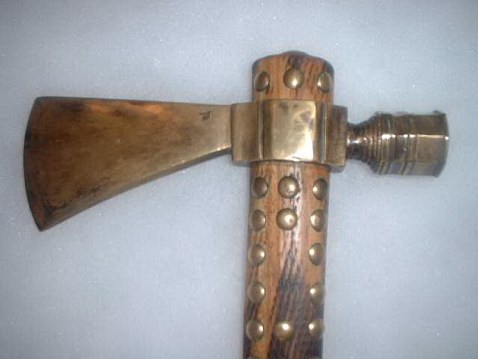 #10
The "windless steelcraft" spontoon knock off made in India.
Pretty well made but appearing on ebay as old.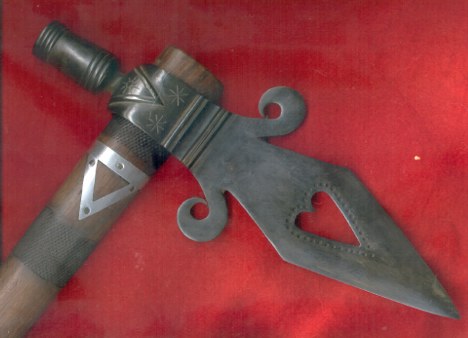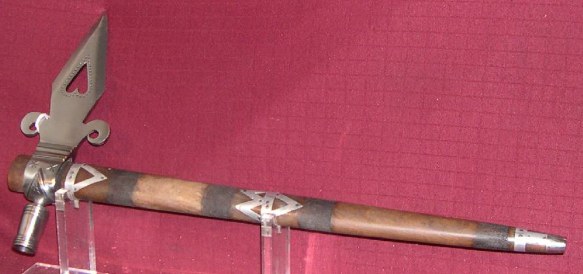 #11
The cast iron pipe axes
These are sort of newbie bait
These axes show up from coast to coast and many have pseudo
museum tags that say something like "Settlers traded to the red man for buffalo
hides." or something like that. They might be as early as the 1950s during the
"Davy Crockett" craze but are still being produced and sold to this day.


Rusted one with the
"Settlers traded to the red man for buffalo hides." tag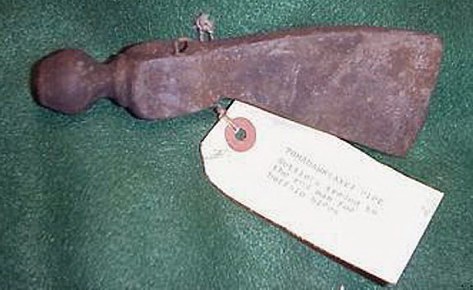 Allan foundry cast steel axes.
These sometimes show up up on ebay as alleged old trade axes.
Adding credibility to the claims is an unfortunate mistake by
Lar Hothem of including one in his book on trade relics.
These pieces are great for the re-enactor but are
well marked as to maker leaving only the most
uninformed prey. Kudos to Peter Allan for marking
most of his as well as he does. Some other foundry owners
should be as honest.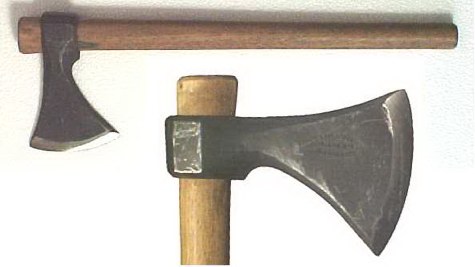 Have you ever seen one of these? It makes for a rather convincing
pipe axe with missing bowl thing. Another Allan foundy axe.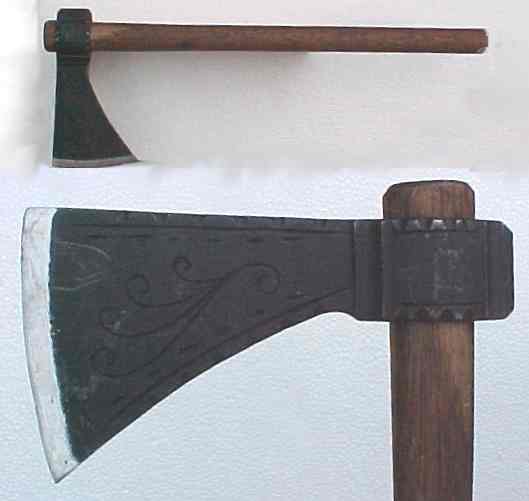 Copy of a classic. Another Slasinski Foundry creation.
I kind of like these.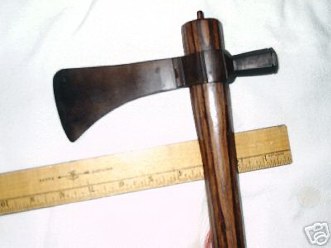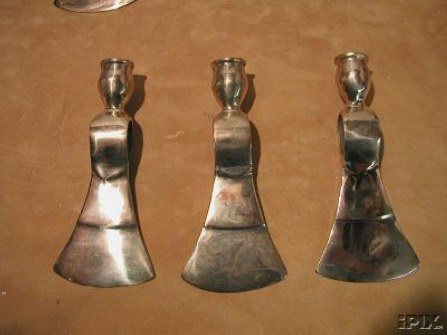 The Japanese spike axes
I saw a couple of these without the sheath and just didn't trust them
for some reason I'm glad I trusted my gut feeling on these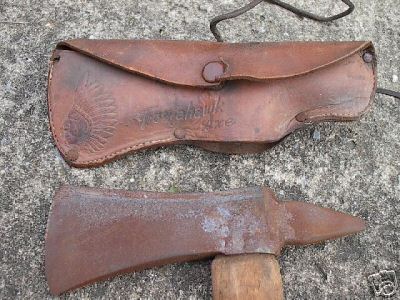 The diamond spike axes.
Some of these make no claims as to age while others claim to
date back to around 10 minutes after Columbus stepped off the boat
The truth is, this form has been produced and reproduced by many
different groups over the years, exactly how many years is still in debate.
I believe this one was made as early as the 1950s and maybe as late as
the 1970s? in Italy. There are other creditable claims that a version of this
axe was in a fur trade catalog in the 1840s.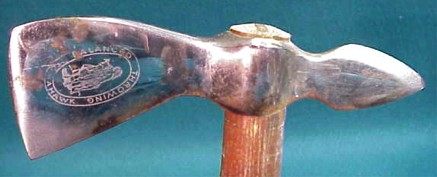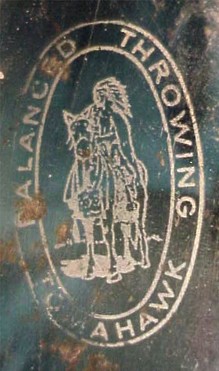 The PAB axes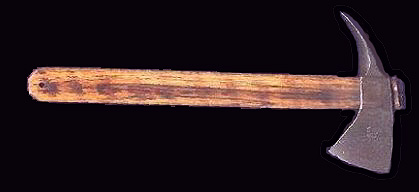 On the subject of the PAB axes above Michael writes:
Hello,
The PAB spike axe is a repro.I purchased one as a repro
in 1991 at a black powder shoot.The dealer
was Phil Ackerman and he had them cast from an
original in his collection.
Listed on ebay as a "Great Tomahawk Seneca Reservation"
Compare with this one that also appeared
on ebay but with the straight story
Where do they all come from?
MANY PEOPLE HAVE ASKED ME WHAT THE SOURCE OF ALL THE REPRODUCTIONS
AND UP UNTIL NOW ALL I'VE BEEN ABLE TO SAY IS INDIA BUT I BELIEVE I 'VE FINALLY
FOUND IT. CLICK ON THE BANNER BELOW TO READ ABOUT THE HISTORY OF THE
EAST "INDIAN TOMAHAWKS"

About our Firm :
We have been in this business of Arms since 1960, being the pioneers in India for exporting swords. We take pride in our heritage but also believe that with the changing times, we have to cope with the demands of our clients. For almost 40 years we have been including new weapon to our collection with more than 400 models.
This promo blurb explains a lot!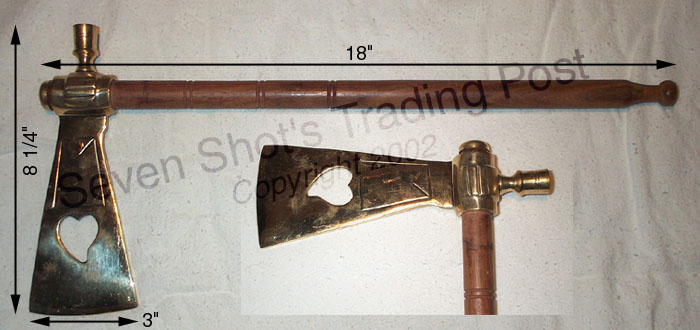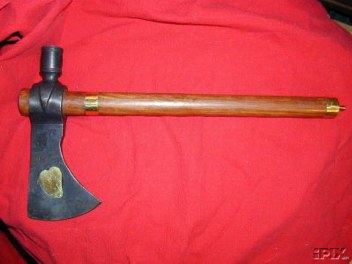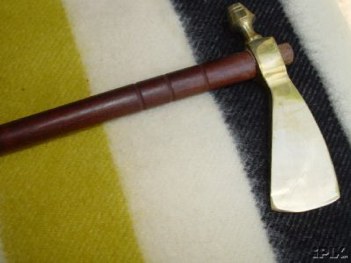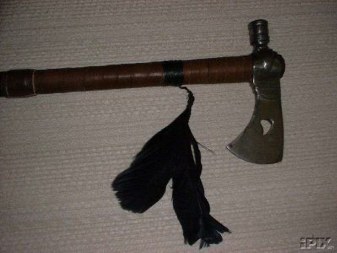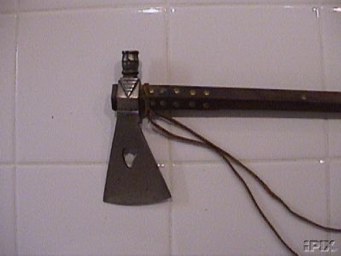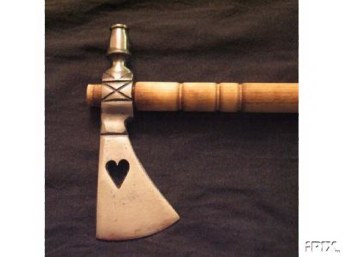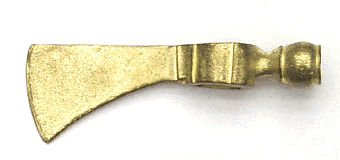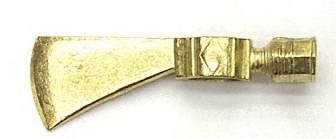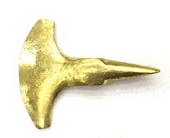 The subject of what is real vs fake can be a very slippery slope with
conflicts of ego and opinion, however I would always rather know the truth
no matter how painful but get the feeling not all people are hard wired like that
so I offer the following story
One time I was a prehistoric Indian artifact authenticator at a mineral show, and a
woman came up to me with the arrowheads she had found carefully wrapped and pulled
them out one by one, I told her the types, ages and market values, but she was not as
interested in these points near as much as her grand finally point, She then
proceeded to pull out one of those huge 8 inch cheesy clown prop looking Mexican gold
sheen obsidian, knapped with a hammer, novelty joke points. I could tell she was extra
proud of this bogus piece o junk, like it was the Rosetta stone . So as delicately as I
could I said I didn't know about this one, she snapped at me "Well then who
would know?" That did it guys, I mean I had done all I could to deflect her attention
to her other points, which one of was pretty decent paleo point, but she wanted
no part of that. So I lost my cool at that point, I told her, "I would know, and
do know and someday you'll too know" I think that the fact that my response
almost rhymed really ticked her off.
(I later got the impression that this women's husband had probably salted this point in
to their favorite hunting spot thinking no one would know the difference. She said she
was going to show it to some "real" experts S.M.U. or "TARL" If she did I'm sure they
laughed their collective asses off. )
As I sit here today I know she had to have
figured it out at some point and felt like the jack ass she was. The point of this
story is That there will always be people who would rather live in
a state of denial then admit they got cheated,
LOUSY "!!*#%%&*ing"
Hack jobs
Anatomy of a "Tom-nah-hack"
OR
How someone did a hatchet job on my wallet
In what must surely be considered the most purely evil form of tomahawk fakery
is the no talent blacksmith hack job, While the vast majority of modern blacksmiths
have my undying respect, the lower life forms that perpetrate this kind of fraud are
seemingly unable to use their talent to create something worthy in its own right .
instead they depend on butchering real period tools to make these worse then worthless
aberrations. It begins with maybe a late 1800s roofing hatchet or maybe a ball peen hammer
or a snow hammer / hoof pick. With the old Germantown style roofing hammers all that
usually needs to be done is grind off the nail pulling notch as these notches are a time
marker that does not generally appear on hatchets until the mid 1800s and once removed
the ground off lower blade edge ends up with a droopy 1700s belt axe/tomahawk look.
All that is left is to put a listing on ebay and wait for some poor sucker to come
along,,, like me. As collecting anything involves a learning process I suppose
I had to learn about this one sooner or later but I am explaining this to hopefully
spare others the aggravation of discovering that their 1700s belt axe is in
reality a chewed up and ruined roofing hammer. The primary giveaway
to these "tomnohawks" is the surface texture of the cut edge VS the rest of
the surface of the axe. In close examination of the one I bought I found the
entire surface of my axe had substantial pitting with the exception of the
bottom edge. The bottom edge had been cold blued in an attempted to
further conceal the crime.
In the pictures on the left is a legit Germantown roofing hatchet on ebay
being sold the way it should be. On the right are photo shopped
versions of the way this hatchet would look with the alterations described
above. The photo bottom middle is the one I bought .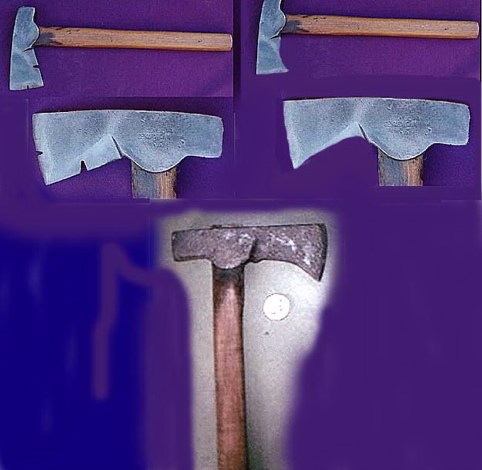 The same seller that burned me on the hack job above is back with what
is almost certainly another butchered roofing hatchet
To quote the seller:
"The axe is old. But has been cleaned up, some minor pitting.
Some is shiney, some is dark colored"
Hummm? Let me guess? I'll bet the farm that the bottom of the
blade where "someone"cut and ground off the nail notch is the "shiney"
part. Any takers?????
"Alleged" altered roofing hatchet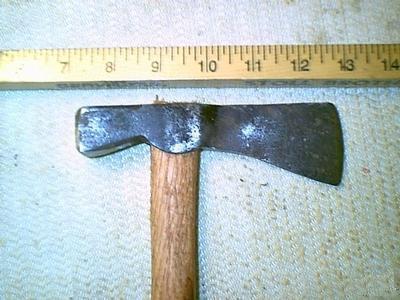 Legit hammer poll axe

"Alleged" Altered/hacked on "Alleged" Germantown or
otherwise "Alleged" ruined "Alleged" roofing "Alleged" hammer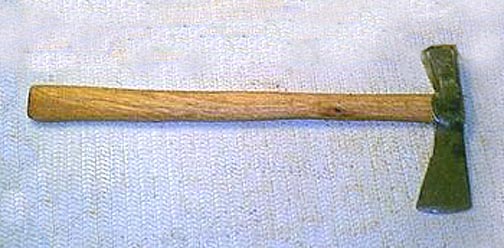 I cannot, and will not to attempt prove that this seller knows that he is selling
"Alleged" altered goods but use your own judgment. I'll admit that I left this seller good
feedback before I discovered I'd been burned but am trying to make up for it by
posting this now.
O.M.G.
More hack jobs
This "Alleged" ebay selling "person" is pushing "Alleged" butchered
shinging hatchets that have been totally destroyed/ruined/toasted as far
as antique tool collectors are concerned At the same time these are the worst kind
of pure D junk as far as tomahawk collectors are concerned
Note the wierd angled "Alleged" shortened and or other wise "Alleged" hacked
on blades with name brands like "Plumb" and other makers that
never produced tomahawks.
The seller says these might make great throwing axes. I whole heartily
agree but only if being thrown into the nearest dumpster!
I'll give this guy credit for one thing. In his recent auctions he is
stating that his axes have (0) collector value. While that it is an understatement
it is an improvement.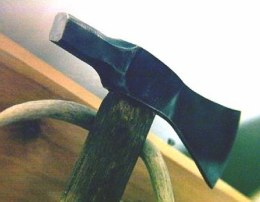 Information on other forms of evil blacksmithing will be posted as soon as I can
figure out more about it.
Next page