TRADE AXE & TOMAHAWK COLLECTORS ASSOCIATION.
|
home



BUY- SELL -TRADE

Here is a place to buy sell and trade

your period items.

Early tomahawk collector.

"Ah forget her, she's just being dramatic,
I don't blow all my money on rusty junk,
by the way,
I 'll give you cash on the barrel head for that tomahawk!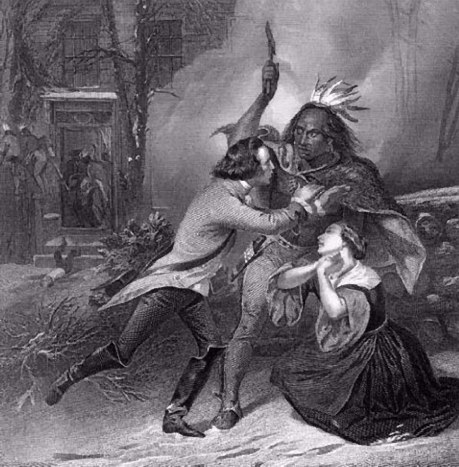 For sale

OUR kind of video.

This DVD shows some of the best of the best up close

and personal. Well worth the cost.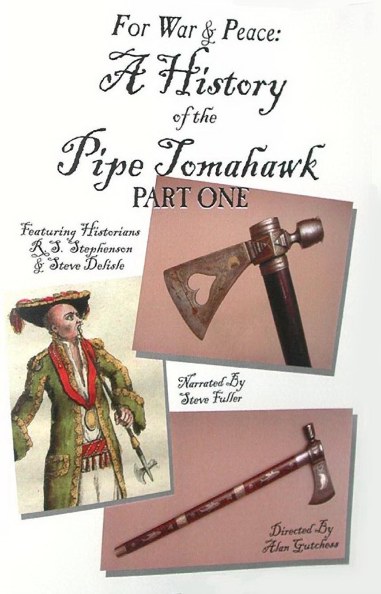 DVD $29.95

VHS $24.95

Also A Great Pipe Axe Kit.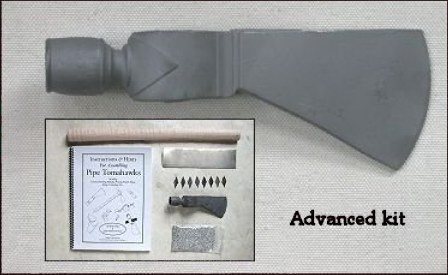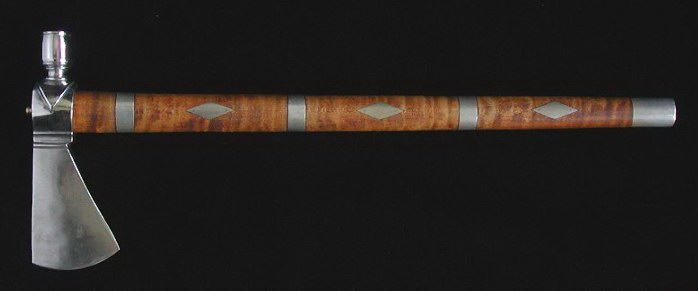 Request information below or go to:




Fantastic Museum Quality Documented Pewter Presentation Pipe Tomahawk
pictures and full description Email John: pitdigger@myrealbox.com

Fill out this form to buy, sell or state your wants, for the sake of clarity

please include the words wanted, for sale etc.


Great news

The new 4th edition book "Indian Tomahawks & Frontiersman Axes," by Jim Knowles and Dan Hartzler has just come out. There are 160 new tomahawks and trade axes added since the first edition, it has 279 pages, eight of which are in color and also a list of 205 makers' names. There are 15 chapters from the earliest known tomahawks to present day.
This book is a comprehensive study of iron trade axes and provides new insight on the history of the trade that went on with the Indians for hundred years.
There are some of the finest tomahawks in the country shown in this book with 31 color plates. A must for any serious tomahawk collector. The price is $65.00 per copy with a discount for ten (10) or more. Email jamieknow@aol.com for ordering infomation.
Right now the best way to get your hands on the 4th edition is to
FOR SALE
Fine Antique longrifles, bowies, tomahawks, axes, and powder horns at
AmericanBowie.com and SouthernWeapons.com
"A morsel of genuine history is a thing so rare as to be always valuable." ~ Thomas Jefferson

Functional modern, Repro's and throwers for sale or wanted:

This is our latest addtion to our tomahawk series- "Sioux Little Bighorn Tomahawk." The basis for this tomahawk is from the Gordon Wheeler collection. The original museum piece was collected by the well known Gordon Wheeler of Wheeler Indian Tranding Post and Museum in the early 1960's. Wheelers collection resides in Sedona, Arizona and contains many one-of-a-kind Indian artifacts. This is a museum authorized reproduction. The original tomahawk was found in the Superstition mountains of Arizona by and old Spanish gold prospector in about 1906. We will be using the authentic type of Winchester handled tomahawk to recreate my variations of the golden age of the American West.Our Winchester handled tomahawk reproduction is totally handcrafted. Absolutely no Winchesters were harmed in the crafting of the this piece. Our barrel is an accurate rendition of a .44-40 caliber commercial Winchester repeating rifle of the time period, entirely hand crafted in our studio in the U.S.A. I add this disclaimer due to the many gun shows I sell at. Our Winchester reproduction is so convinving, at first glance it even fools seasoned collectors.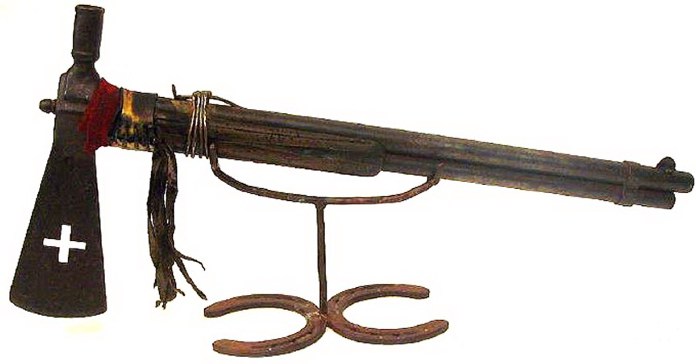 As you can tell, we are constantly improving our work and I personally feel this is our best work to date. Collectors have requested that we mark our work as not to confuse folks in the future so we have done this. Close examination by a trained appraiser or Winchester collector will spot that this is a high-grade reproduction. Thanks to eBay we have now sent our work all over the world. We have had to add the disclaimer because of rigid gun control laws in various countries. Shipments to Britain, Canada and France have to have the statement "These are museum grade pipe reproductions and no gun parts were used in their crafting" added to the customs documentation. We consider this the best compliment ever. Even trained customs agents have a tough time identifying our work from the originals.The walnut forend is crafted to have the look of patina of a rifle that has been well used. Rawhide has been used to repair the heavily cracked and worn wood. Please pay special attention to the bottom of the forearm where 7 coupe marks have been crudely filed in. Coupe marks often would represent how many elk, buffalo or men the rifle had taken.
The Sioux Little Bighorn tomahawk has many elements of the time period. The hand forged head has a cross cut into the blade. If you will also note the smoking bowl is the tall type that was classic to the high plains Indians. On the hawk end is a .44 caliber Finial. Of special interest, this piece has the famous "buck horn rear sight" made famous by the 1840's Hawkin Rifle Co and a coin front site. This would show the rifle had hard use on the plains and was a frontier repair. The buckhorn rear site is copper telegraph wire wrapped. This could have been and "Indian" repair to the rifle as well. June 25, 1876- As we all know, on June 25, 1876 Sioux and Cheyenne Indians left their reservations, outraged aver the continued intrusions of whites into their sacred lands in the Black Hills. The battle of June 25 became knows as "Custer's Last Stand." Little Bighorn was the pinnacle of the American Indian's power. Within a year, the Sioux nation was defeated and broken. "Custer's Last Stand" was their stand as well.
Measurements:
* 21.5" Long
* 9.75" Tall
* .44 Cal.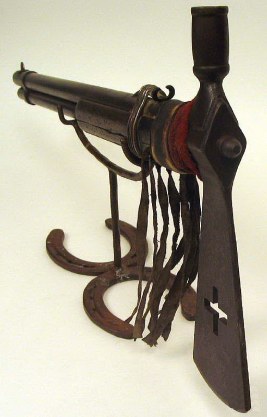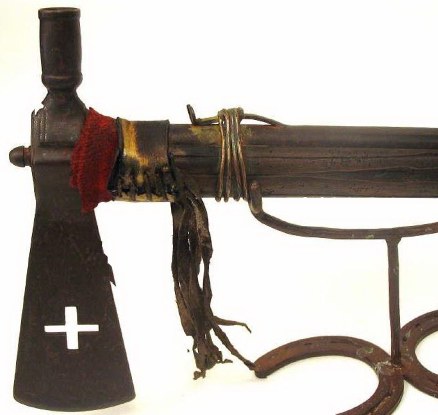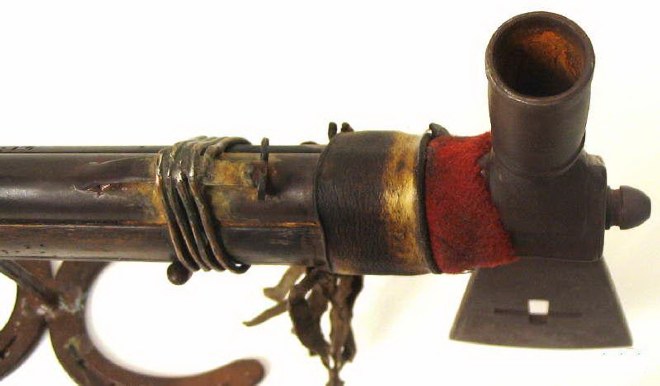 The Guarantee:
This pipe hawk retails for up to $395 in galleries. This is an authentic authorized museum/ investment grade piece. The antiquing on the leather and metal are correct. Absolutely no corners were cut or expenses spared in the crafting of this piece. Historically, investment grade work of this magnitude has appreciated in value.
b4har@aol.com $295.00
To order the above product please fill out the form below.
I call the above tomahawk a fantasy art piece in the nicest way. That is to say
the design is not a fantasy, it is based on an existing artifact. I am saying it is
the perfect fantasy to find something like this in grandpaws attic or a dry cave.
Tim
A hammer poll tomahawk made by a gifted Israeli blacksmith. It is made
of 01 toolsteel (high- carbon), differentialy hardened both on edge
and hammer face. Weight is 13 1/2 Oz. edge is 2", head width is 5" 6/8, handle
is of stained local hardwood to Israel (a kind of oak, common for hard-using tools) and
is 12" long. I thought it is an opportunity to expose his work to the USA public (he also
makes fantasy, utility and period knives as well). Price including airmail and bank fees
is reasonable $100 (with money order to his name). Please submit any questions or
orders by filling out the form above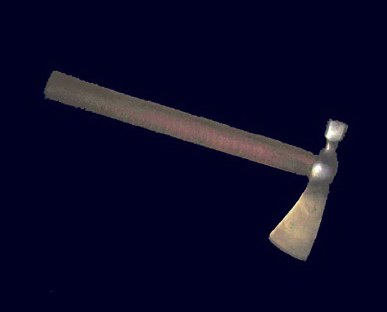 People interested in modern throwers should start out by checking out

the "Blade forum" for modern throwing axe info by clicking on this banner


People interested in "The Patriot" type reproductions should check out our links page by clicking on the banner below


Classifieds.

I am attaching (3) pictures of an original axe I have had for many years.
I got it from a retired Wildlife Officer from Yancey country, NC.
I have been active as a re-enactor, flintlock rifle maker and student of early
American frontier history for 38 years and have carried and shown this axe to many
over the years, including Earl Lanning of NC, a fellow member of the Contemporary
Longrifle Association, who upon seeing it and authenticating it about 5 years ago, expressed
a desire to buy it if I should ever decide to sell.
It is now for sale and I hope to get information, approximate value and offers
before I sell. I will try to provide better pictures if you are interested.
This axe is approximately 4-1/2" from hook point to hook point, 4-7/8" from poll
to edge and has a 1" diameter eye, which is about 3/4" deep.
If interested respond to this email and I will furnish other contact info as necesary.
Thank you.......Don B.
Dbanjoman@aol.com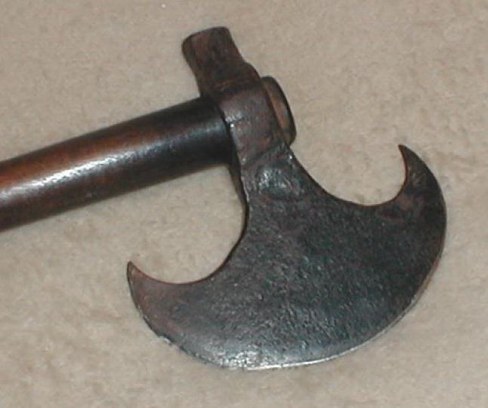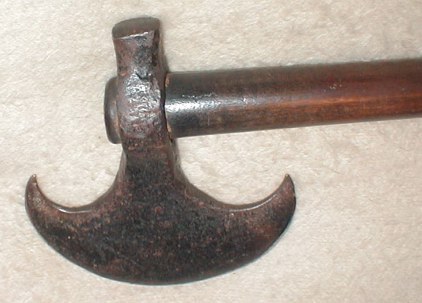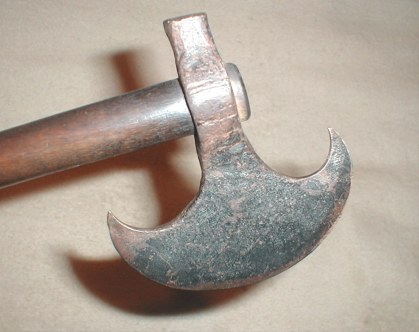 FOR SALE: Green pelts Mink, muskrat, Otter, Racoon and Beaver.
Name: david bryant
Email: davidnbryant@hotmail.com
BUY & SELL real old authentic Bowie knives! Contact me first with price.
Over 50 years of service!
Name: Rick Mack
Email: quantrill@alltel.net
Period axes wanted:
WANTED :Halberd, Spike, & Pipe axes
of the 18th century.
Warren M.
Email: wkmoser@comcast.net
*******************
WANTED : Small spike or hammer poll axes or belt/bag axes
whatever you've got that's real deal I'd like to see,
Tim S.
Email: (pipeax@lycos.com)
********************

WANTED: Pipe Axes and spike axes Native American pre 1900
I am interested in all real Native American Pipe Axes and
spike axes and other related weapons
Email: jasbebelle@home.com
*********************

WANTED: Naval Boarding Axes any period any country any condition
Ron M
Email: manz914@aol.com
********************
WANTED: Trade hawks of the Ohio Rver Valley, preferably 1750-1850
Robert Swim
Email: trentcom@hotmail.com
********************
Want to buy -Middle Eastern -Sugar Axe-
N.P.Z.Mueller
Email: muelernk@tnics.com
********************
Wanted: Old "Viking" style fire axes.
Al Henning
Email: ahenning@netpluscom.com
********************
WANTED: Early British or American naval boarding axes
in good condition; highest prices paid.
John P
Email: preheiscox.net
********************
Fill out this form to buy, sell or state your wants, for the sake of clarity

please include the words wanted, for sale etc.


Wanted

Wanted- I am looking for tomahawk makers that sell wholesale to the trade. I sell only tomahawks made by American blacksmiths. I am also interested in finding the address to 3J''s tomahawks out of Oregon if anyone can help.

Email: wishbone@dwave.net



Next page