TRADE AXE & TOMAHAWK COLLECTORS ASSOCIATION.
|
home




PAGE SIX



More of Mike's outstanding collection

SPIKE TOMAHAWK Circa 1700 - 1750
(Classic Design)
Beautiful and rare Iroquois curved head spike tomahawk. Hand forged of two pieces of wrought iron without a steel bit. It is only 1/2" thick at the eye. Very light weight with a thin walled 1 1/4" long elliptical eye. The downward curved head was created by design to serve function. The curved blade circular swung with the head on a long haft would strike the victim with the full edge of the blade. Likewise, the spike would strike its victim at a 90-degree angle. The spike is diamond shape in cross section. It begins at the eye slightly eight sided reducing to four and tapering to a sharp point. Displays rounded ears for added strength. Both blade and spike have four vertical line decorations incised at their base. Found by an archeologist on the Cuyahoga war trail in Greensburg, Ohio.
Length: 7 1/2" Width: 2 5/8" Weight: 7 1/2 oz. (210 grams)
See: INDIAN TOMAHAWKS & FRONTIERSMEN BELT AXES by
Hartzler & Knowles 1995. Page 38 Fig. 5 for a similar specimen.
Michael S. collection Dayton, Ohio
Below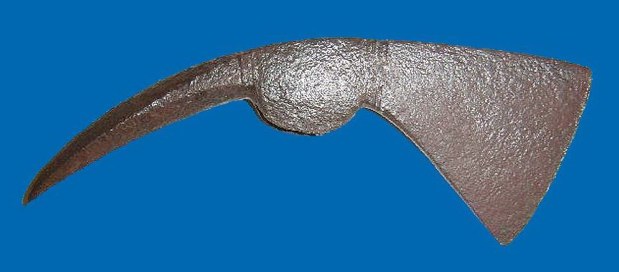 PIPE TOMAHAWK Circa 1870s - 1900s

(Collected from the Nez Perce)
Designs such has this have been seen on axes coming out of Canada.
This unusual specimen boasts a heavy half axe English style head with
blade spur, chevron and wide fuller molding. A decorative overlay of
brass has been secured to both sides of the iron blade using 12 brass
pins per side. This overlay starts at the fuller molding and extends 2 ¾"
ending at an angle or > towards the bit. The overlay is very tight suggesting
that it was placed on hot. A large sun sign has been engraved in the
middle of the overlay with a small star punched in the middle.
The > end of the overlay has seven arrows pointing towards the bit
with the remaining three sides outlined with punch-decorated stars.
The pedestal of the pipe bowl shows signs of a period repair. Using a
hard wood, hafting was done from the top, with a wooden wedge being
driven in to secure the head. Once secure the wedge was drilled or
burned to meet the original smoke hole in the haft and the clean out
plug added. Brass banding decorated with triangular arrowhead
design was added to the haft above and below the eye with the design
moving in opposite directions. 6 1/8" from the eye another brass ring
was inlayed into the haft. The final decorative brass band was placed
16 3/8" from the eye just above the 2" curved horn mouthpiece.
A stylized weeping heart with a middle sun sign surrounded by star
decorated edging was placed on both sides of the upper haft.
Height: 8 5/8" Width: 3 1/4" Length: 20 1/2"
Below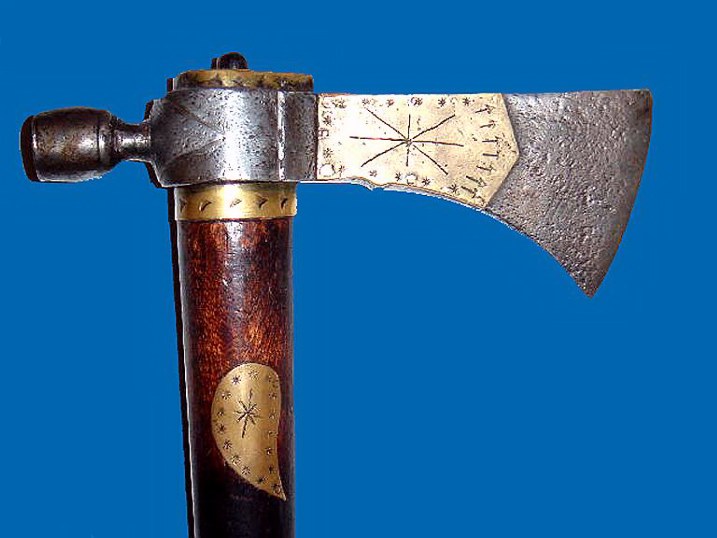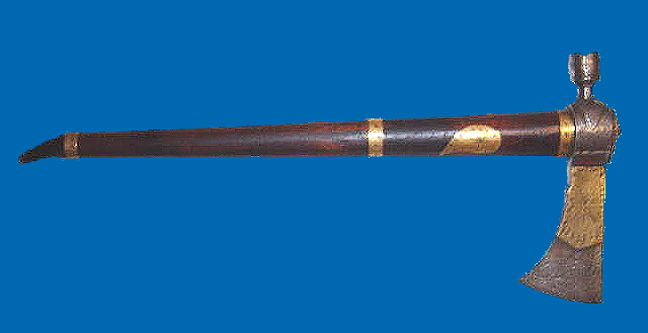 Purchased by Duane Alderman Pendleton, Oregon from the past curator (now deceased)
of the Nez Perce Park, Stephen Shawley after he retired.
The story: "Steve Shawley was curator of the Nez Perce Historical Park at Lapwai,
Idaho. He helped me to get it from a family who stated that their family member was in
the Nez Perce War. He escaped during The Battle At Big Hole, Montana where Chief
Joseph surrenders in 1877. He stayed in Canada until the Nez Perce was allowed to
return from Oklahoma in 1889. He came back to Lapwai and this tomahawk was found
in his belongings when they were preparing for his give away funeral feast. One of the
family members laid claim to it and when he died in the 1960s it stayed in the family.
They were hard up for money and Steve took me to them and I bought it. Seems to me
that it was 1989."
Duane Alderman
The finely styled spike axe below has always been one of my favorites
after seeing it in Kucks book Tomahawks Illustrated where it is shown
on page 67 #112 TS

SPIKE TOMAHAWK circa: 1750
This perfectly preserved hand forged iron relic was found in Northwest Ohio
The 1" x 9/16" eye opening is oval and very heavy in its circular design.
The beaver-tailed blade is all iron never having a steel bit. The spike is
3 5/16" in length, beginning octagonal from the poll for 3/4" then reducing in its
octagonal size to 1 5/8" ,to end in a 1 1/4" square tapering point.
The walnut haft is secured buy a 3/8" square (nail?) iron wedge.
Height: 7 3/8" Width: 1 3/4" Length: 12 5/16"
Ex. Robert Kuck collection #112, Ex. Gerald Wynn collection, Ohio
Below
It warms my heart to see the pipe axe below as it almost appears
to be out of the same mold as mine which either means we both have
us a couple of respectable western brass pipe axes or that we both
got burned . I tend to lean towards the former. TS
BRASS PIPE TOMAHAWK Circa 1870
(western)
All brass, classic western-shaped piece. The slender tapering bowl
sit on a long neck slanted back, with top and bottom relief moldings.
The eye is a teardrop. This tomahawk has sharply cut chevrons
with eye and blade moldings. The blade has a diamond
cut out filled with pewter on it's face and flares towards the heal.
The curly maple haft is a replacement with a bone mouthpiece.
Height: 7 1/8" Width: 3 1/16" Length: 16 15/16"
Ex. Dunham and Seaman collection, Missouri. Cataloged as #156.
Pictures in Who's Who In Indian Relics No. 9, page 322.
See: Indian tomahawks & Frontiersmen Belt Axes by Daniel D. Hartzler & James Knowles 1995, page 182, Fig. 33.
Below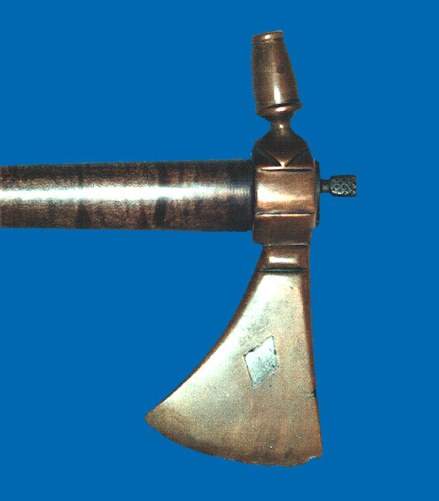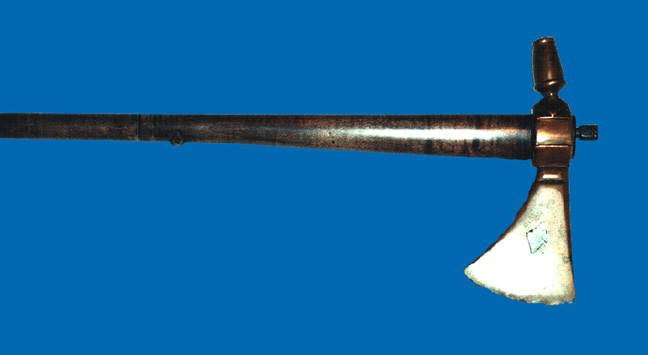 BRASS PIPE TOMAHAWK Circa 1820 - 1840
(original haft, transitional western)
A period of renaissance occurred between 1820 and 1840.
Pipe tomahawks created during this period displayed solid art
features of the earlier forms. This example with its tear drop eye
displays the barrel-shaped bowl of the western prairies and plains
but retains the early British design seen in the eastern United States.
The 18th century English style followed the half ax design with the heel
curving towards the haft. The blade spur, chevron below the bowl on the shoulder and the fuller-molding are all standard features of this style.The
high barrel-shaped bowl accompanied by the line file decorations around the upper and lower ring moldings, upper fuller-molding and line tracing around
the chevron add tremendous character to this relic. These ax head features,
in concert with the western haft, decorated with 31 tacks, 25 carved rings
and leather gasket demonstrate this intermediate step towards the full development of the triangular, high bowl design of the western pipe
tomahawk
Height: 8 9/16" Width: 2 7/16" Length: 17 1/4" Length below eye: 15 15/16"
Ex. Gerald Wynn collection, Ohio.
Below
SPIKED TOMAHAWK Circa 1700-1740
(original haft)
This hand forged, spiked tomahawk from Connecticut
is one of the more exotic forms. Having a hoe or spatula
shaped blade, it hasthe dimensions of a full ax but the
weight remains relatively light so it can be used with one hand.
The 4 1/2" curved spike protrudes from the poll 2 3/4" and is
rectangular in cross section with a sharp point. There is evidence
of a possible makers mark on the obverseside of the spike. This
simple hook with a point on the end was used for catching and hauling.
The thin, flat, symmetrically flaring blade has small upper and lower lobe
protuberance at its base. The steeling on the blades edge is well defined.
The head is forged from a single piece of iron that has been split and drifted
to form the teardrop eye. Hafting was done using a hard wood, showing
much age and having a wooden wedge at its fore-end. This fantastic form flourished during the 18th century having been introduced
by the British. It was confined largely to the Atlantic coastal
region in the areas north of Pennsylvania. This form was
highly favored by the Iroquois of this region.
Height: 8 1/4" Width: 5 3/8" Length: 16 1/8" Length below the eye: 15 1/16"
Ex. Thomas collection, Southbury, Connecticut
Below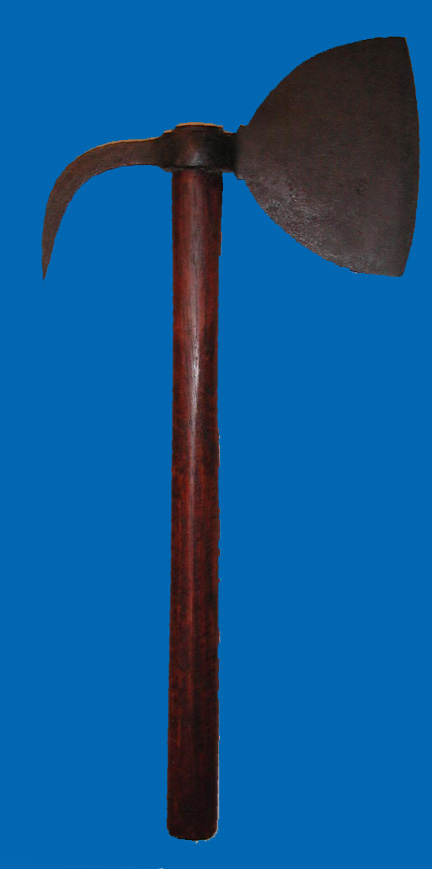 SPIKED TOMAHAWK Circa 1800
(original haft)
Spiked Tomahawk of unusual construction and design.
Both the blade and the spike are formed from sheets of steel.
These are formed together by two straps of iron which are
bent outward in the space between, to form the eye, which is in the
shape of a pointed ellipse. The haft is a hard wood with checkered
fore-end and butt. Attributed to the New York Seneca.
Height: 7 3/8" Width: 3 7/8" Length: 19 3/8" Length Below Eye: 17"
For a similar example see: AMERICAN INDIAN TOMAHAWKS by Harold L. Peterson
1971. #82, page 97.
Ex. Gerald Wynn collection, Parma, Ohio
Below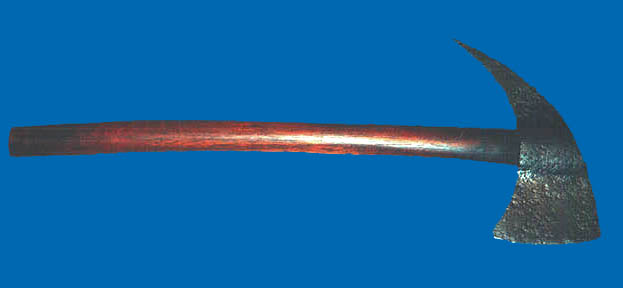 SPIKE TOMAHAWK Circa 1700 - 1750
(museum hafted)
Large spiked tomahawk from the Iroquoin woodland of New York State. This beautifully preserved relic has a rectangular almost
oval eye measuring 1 7/16" x 9/16" . The long curved spike is rectangular in design tapering to a sharp point. The small rounded
ears helped to secure the handle, adding weight and balance near the top. The long narrow blade curves slightly downward towards
the haft with a well worn lower indentation at the base of the eye from being carried in a belt or thong. The haft appears to be an old
replacement with a grooved design.
HEIGHT: 8 1/2" WIDTH: 1 17/16" LENGTH: 19 7/8"
Ex. Gerald Wynn Collection Parma, Ohio.
See: American Indian Tomahawks by Harold L. Peterson 1965, #68.
Swords & Blades of the American Revolution by George C. Neumann 1973
page 268, 51 A.
Below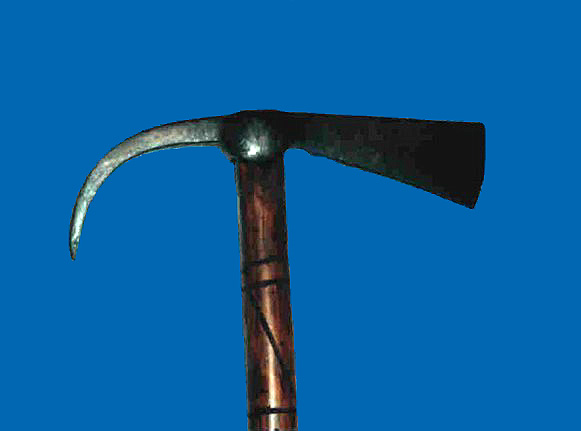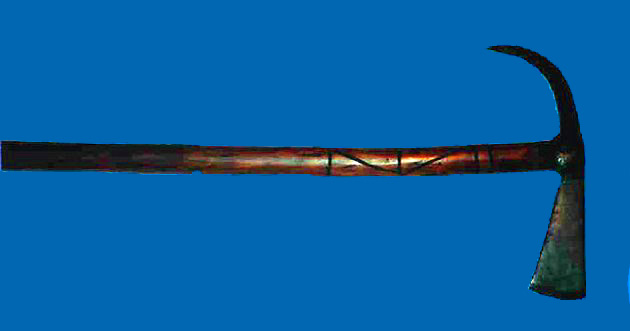 MISSOURI WAR HATCHET Circa 1800s
(brass)
Large cast brass head with 1" eye. "Bleeding Heart" shaped piercing
in blade surrounded by a dot design. Hand engraved leafy
spray on both sides of blade using the chasing method
(cutter pushed by mallet). Blade has two sets of lower edge notching.
The eye has a zigzag line filing around its circumference.
The cutting edge has been beveled. The head has an even dark
black patina.
Height: 7 3/4" Width: 4 5/16"
Ex. Dale Anderson collection Gettysburg, Pa.
See: AMERICAN INDIAN TOMAHAWKS by Harold L. Peterson, reprint 1994, #50.
Below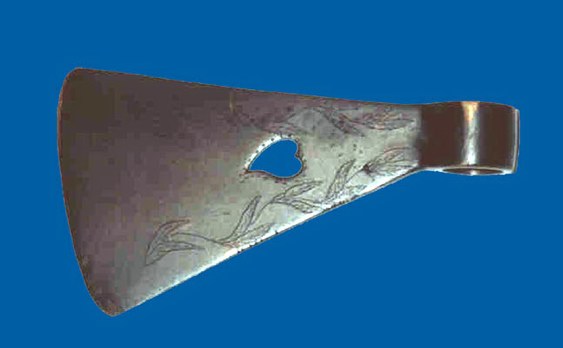 HAMMER POLL TOMAHAWK Circa 1700
(Tomahawks Illustrated C # 213)
This crude hand forged hammer poll tomahawk has a rectangular eye. It's small size would suggest that it was carried in or on a
hunting bag. The hammer poll is 1" long and round in design.
Height: 4 1/8" Width: 1 1/8"
Ex. Robert Kuck collection, New Knoxville, Ohio. Pictured in TOMAHAWKS ILLUSTRATED by Robert Kuck 1977, page 81. C # 213.
RIFLEMEN BELT AXE Circa 1700
(original helve)
Heavier axe that was slab-forged. Slightly thickened poll, round eye,
blade touch marked "F" on the reverse. Remains of old ash
handle still present. Pictured in
INDIAN TOMAHAWKS & FRONTIERSMEN BELT AXES
by Daniel D. Hartzler & James A. Knowles,
revised 1995 edition. Pictured on page 100, Fig 54.
Ex. Brian Ebosh collection, Ohio.
Ex. Brown collection, Penn.
Below
HAMMER POLL TOMAHAWK Circa 1750
(Blade tally marked)
This small tomahawk from eastern Pennsylvania is the type used
by troops called Rangers and highly prized by the Indians.
The eye is elliptical measuring 1 1/4" x 7/16". The 1 5/8" hammer
is rectangular at its base becoming square in section. It is
decorated with three filed lines around its circumference. The half-ax
style blade has two crude vertical filings at its base (in front of the eye)
with three tally marks on the obverse side and two on the reverse on
the upper edge. On the lower edge of the blade are five tallymarks on the
observe side and seven on the reverse side. These tally marks may
represent seventeen kills for this relic. Visible weld seams show that the tomahawk was forged from two pieces of iron with a steel bit insert,
small ears on the poll add weight and stability. The hard wood haft has
a 3/16" silver band at its mid point held in place by four nails. The helve is decorated with three engraved lines above and below the band.
Height: 5 1/2" Width: 2 1/8" Length: 15 1/4" Length below eye: 14 1/16"
Weight: 10oz (285 grams)
Ex. Gerald Wynn collection, Parma, Ohio.
See American Indian Tomahawks by Harold L. Peterson 1965, # 92.
Below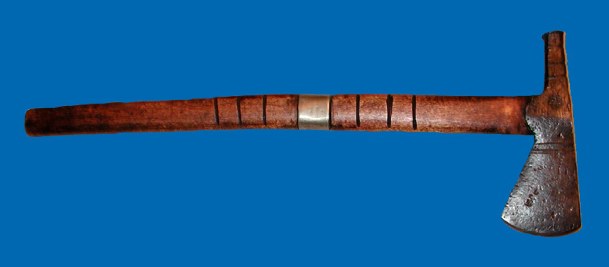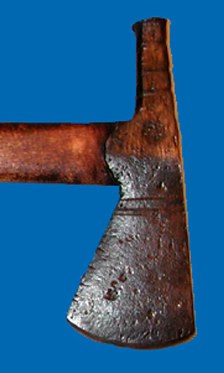 BAG AXE Circa 1800
(original handle)
This small size axe was perfect for carrying in a frontiersmen's
possibles bag. It is light weight and perfect for dismembering game.
As a weapon this rare hand forged beauty could deliver a killing
stroke. This uniquely designed axe was found in an old barn near
the site of Fort Defiance, Defiance Co., Ohio. The heavy eye is an
elongated oval with a half axe style blade. The blades angle has
been filed into the poll giving it a very pleasing flow of design.
Height: 3 3/8" Width: 2 1/8" Length: 8 5/8" Length from eye: 7 7/16"
Below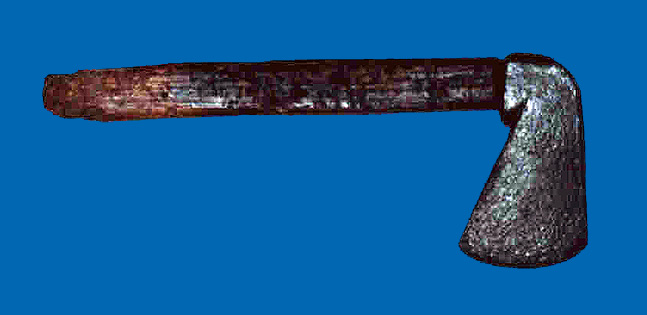 BRITISH PIPE TOMAHAWK Circa 1750
Pipe tomahawk with head of the classic form for the mid-18th century.
All of the normal hand forged features for which one looks in
dating a piece of this period are present in their most typical
shapes and proportions: The large teardrop eye, the ample bulbous
low thick bowl sloping inward toward the top, the concave molding
at the base of the blade, the small (spur) projection from the rear
of the blade just below the base and the heavy functional blade itself
with its steel edge. The bowl has a lower circular incised line
around its circumference. Distress from pounding around the
bowls rim, would suggest that the smoke hole in the eye was made to
small causing the pipe to clog often. Attributed to the Great Lakes
region of Ohio.
Height: 7 3/4" Width: 2 3/4"
See: AMERICAN INDIAN TOMAHAWKS by Harold L. Peterson 1965, #119,
Below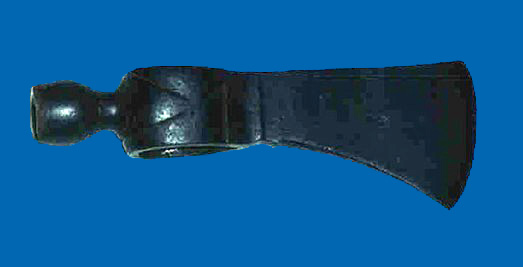 Next page