TRADE AXE & TOMAHAWK COLLECTORS ASSOCIATION.
|
home




PAGE TWO

From TATCA member Wayne in North Carolina comes these super looking axes.

This top one is a classic riflemans belt axe with double ears, a hammer poll, and

what looks to be a nicely polished cigar shaped original haft.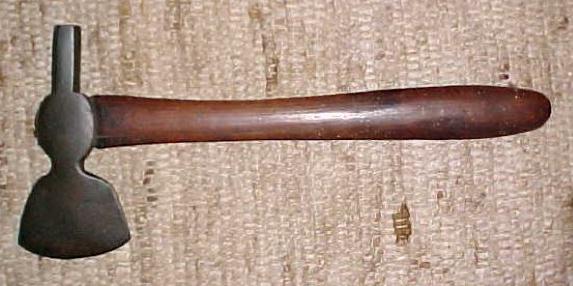 Below: A super group of axes, a virtual "Flock of hawks" if you will. One hammer poll,

three outstanding pipe axes, and a spike axe that looks more than a little

familiar as I have one of these fluted blade pattern spike axes myself

I am of the opinion that these were early casts, and were produced during the first half

of the 1900th century , forty to fifty years beyond what was typically considered

the period vogue for spike axes. Wayne has also stated this is one of two of

these he owns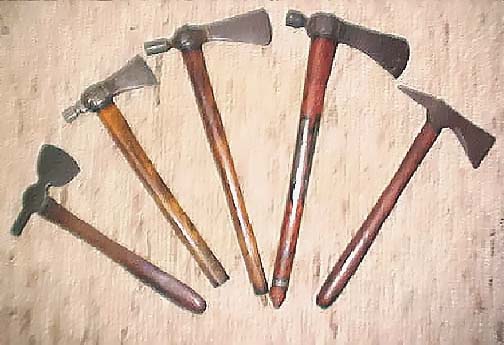 This bottom axe is in the classic Eastern woodlands style,

large, short necked bowl with a heavily inlayed haft with what I'm

guessing is pewter? They don't make um like this anymore.

Thanks Wayne.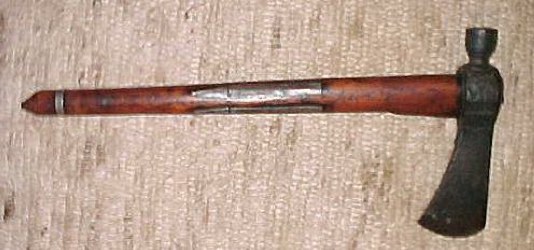 From Dick B.comes this letter and photo from his collection.
Dear Sir,
I have enjoyed your axe pictures and information for a couple of years.
Thank you for producing such an informative web site.
I am sending you a picture of a group of items in my collection. These pieces are pictured in Dillin's book "The Kentucky Rifle". Everything in the picture was found with or in the bag. Unfortunately the bag was sold in the 1960's but everything else remains together. There is also a postcard from Dillin to John G. Laidacker who owned most of the rifles in the book (also the axe set) telling him that the book is finally going to press. The outfit was owned by G. W. Weiser riflemaker of northeastern Pennsylvania included are targets dated 1839. J. G. Laidacker had a personal collection of over 1500 Kentucky's in 1911. He had thousands more in a barn in Shichshinny Pa. Those were the days when he bought rifles for 25 cents and sold them if he was lucky for 75 cents.
Dick B.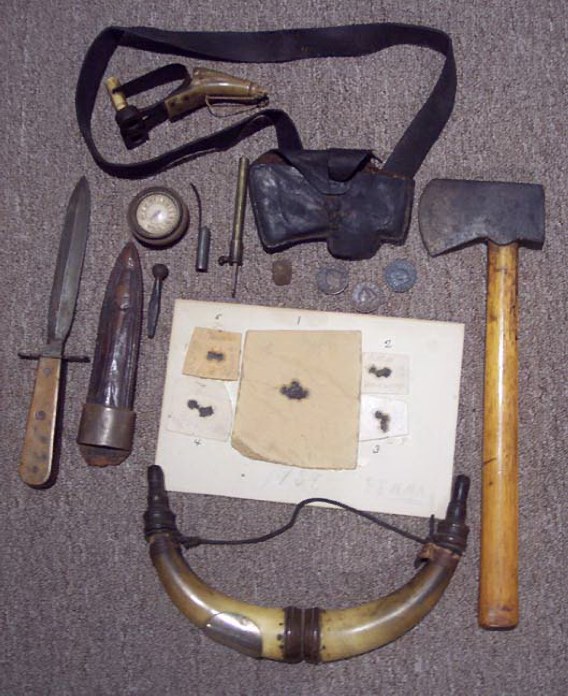 From TATCA member Mohawk Allies comes this superb pipe axe

with silver lidded bowl, original haft, fluer de leis in the center of the

head, with MONTREAL silver mark. Circa 1760. This is the stuff!

Thanks Mo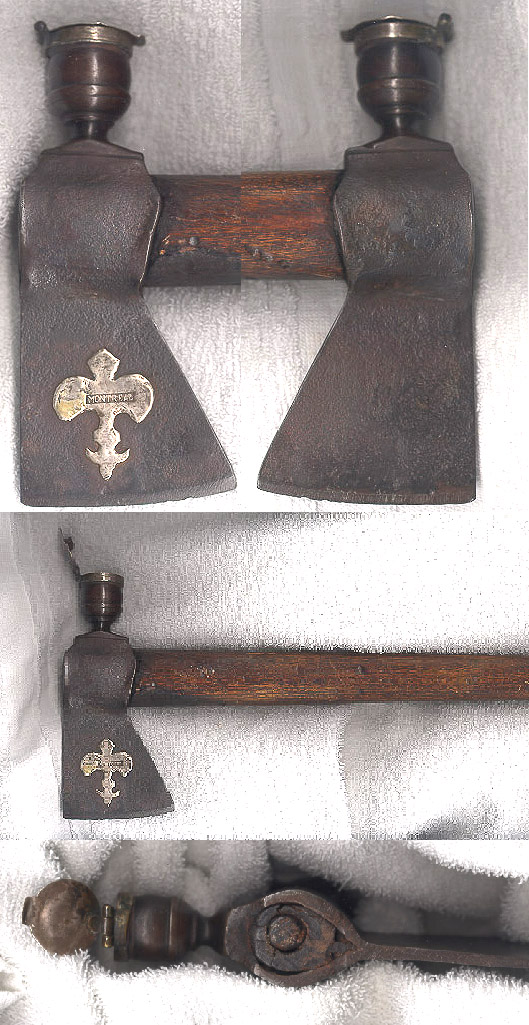 Spectacular silver trade crown.
It is a one of a kind. Made by American silversmith Daniel Van Voorhis circa 1780. Van
Voorhis made silver items for members of the Continental Congress. Overall
length 24 inches. Roughly hat size 7 5/8. height is 2 1/8 inches This presentation
crown was made for an Iroquois chief as noted by the crown ridge known as a
"sky dome" design.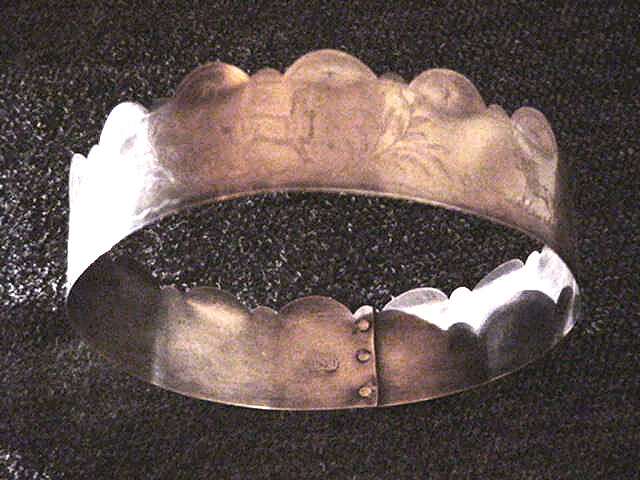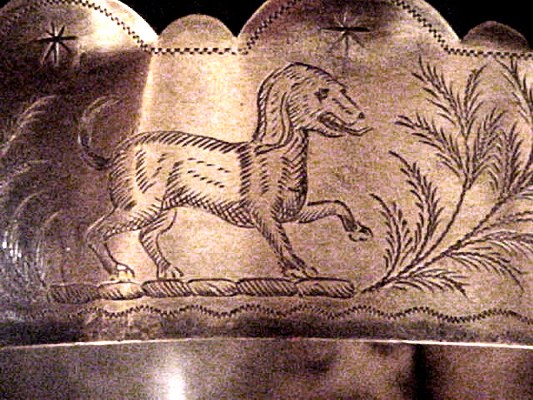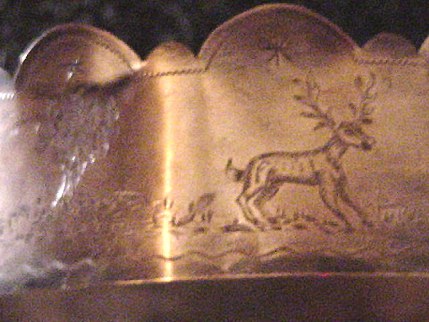 More Mo.
Spike axe
This next item is a fine spike axe with tons
of provenance. This axe was taken from a Shawnee or Wyandotte warrior
during a combined raid on the town of Morgantown West Virginia in 1777. The
axe was taken by Captain Joseph Hoagland. Handle has file markings down the
spine. Haft is 16 1/4 inches. Head is 6 1/4 inches and the blade edge is 2
1/8 inches. It has a steel bit in the blade and in the blunted spike. This came
from the Hoagland family, and is a FIGHTER!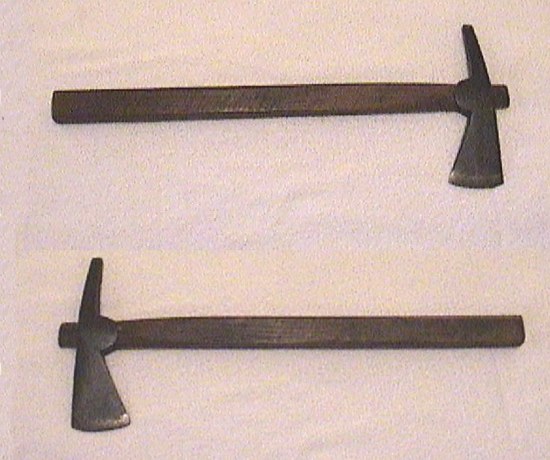 Outstanding double eared spike axe.
Length of wooden handle: 16 inches, axe head 7 1/2 inches.
Originally displayed at the Niagara FallsMuseum. Canada's oldest museum,
founded in 1827.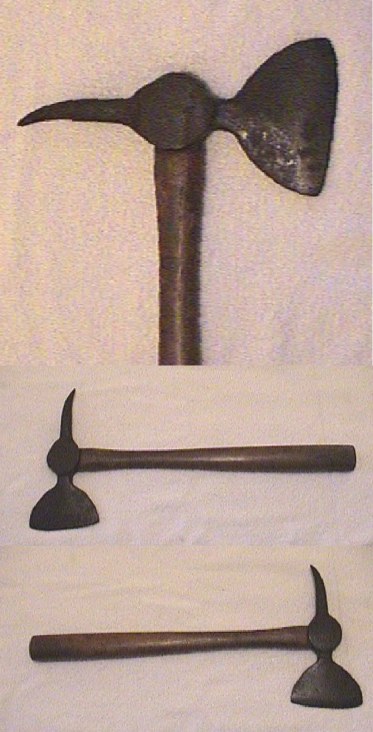 Classic trade axe
with makers mark JAR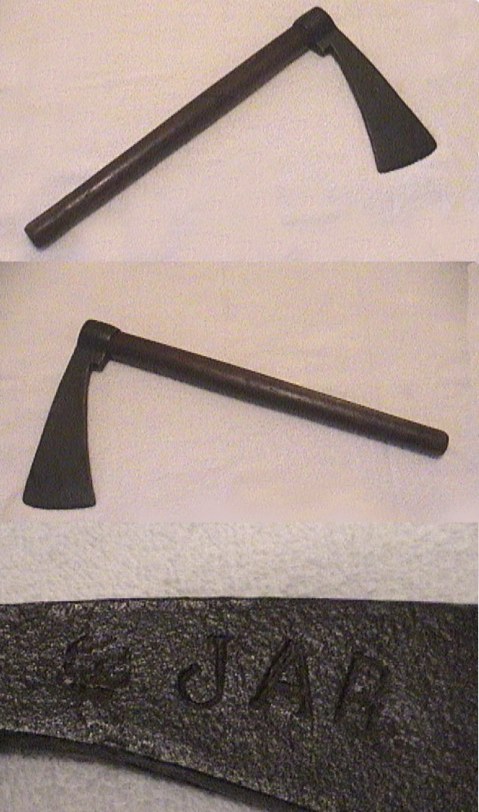 FROM C. S. in Oklahoma comes the following image and story.
Dear Tim
I received your e-mail awhile ago and I'm sending you a photo of a couple of my carvings and the Pipe-axe. If I may, let me bore you with "the rest of the story" about the HAWK. Some time in the 1930's my uncle loaned a fellow some cash to open a "honky-tonk". Oklahoma being a dry state required this establishment to be located somewhat out of the public eye. That wasn't to hard to do around here. Accordingly the place tended to draw some seeder types. Being located less than 20 miles from "wet" Kansas, Booze was readily available, so the patrons always had a rousing good time. Well the story goes, as told me by uncle, one Saturday night things got out of hand, a fight broke out and the owner grabbed his pistol from under the bar and preceded to go quell the fracas. As luck would have it the lights mysteriously went out, shots were fired, and when they came on again, one lay dying on the floor, and only the owner stood there holding a smoking gun, with a roomful of witnesses looking on. The outcome is predictable and the owner went for a long vacation to the state pen. He sent word to my uncle to go to the club and take what he could to try to settle the debt.
Uncle said that by the time he arranged to go to the club, the only things left were the decorations on the walls. That happened to be Western and Indian items. He said he opened the back seat doors to his Buick and piled as many old rifles and shotguns as he could get in along with "some old Indian junk".
For 10 or 15 years it was stored (piled) in his garage until they decided to move. He again opened the Buick's doors and piled the guns in and took them to Claremore Okla. to the J.M. Davis Hotel. Mr. Davis was a "GUN" collector, big time. ***side note*** Before Mr.Davis's death, The Smithsonian Inst. appraisers estimated he had 30,000 guns in the hotel. But that's another story.
Years later, preparing to move again, Uncle discovered that he didn't give all of the "Indian junk" away and was headed for the alley to put it in the trash. My aunt told him that I might like to have the " "pile of junk" so she carried it back to to the garage and called me . I was there "Quick".
The "pile" included the pipe-axe, a Plains-Indian bow and arrows, an Indian stick-ball racket, rawhide covered drum, and an hourglass shaped drum from New Zealand ( or that part of the world).
If you have read this far and haven't fallen asleep Thanks.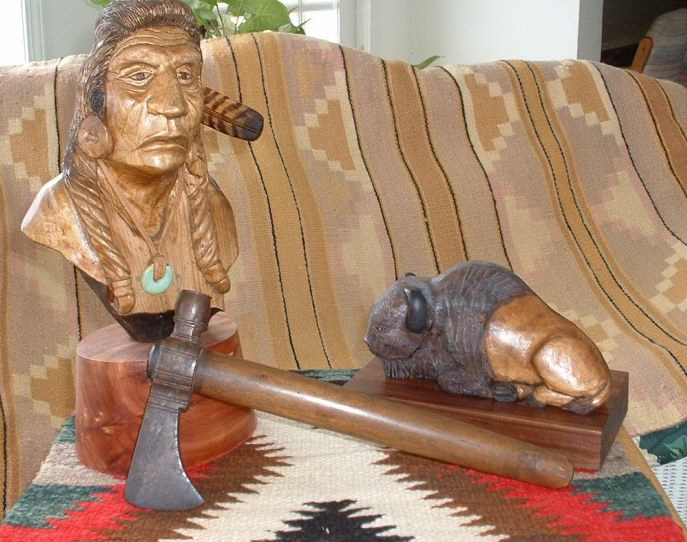 Holy cow! What I would do to find such great "junk" in my uncle's trash?
A couple of Don F's axes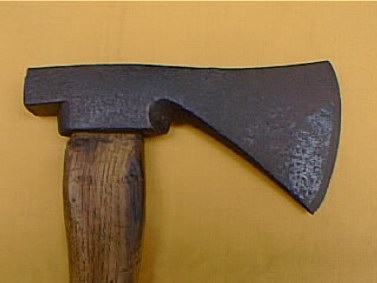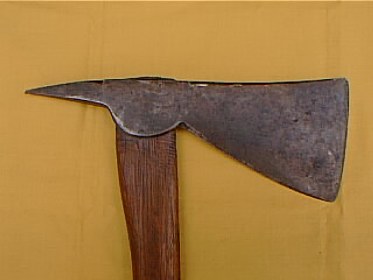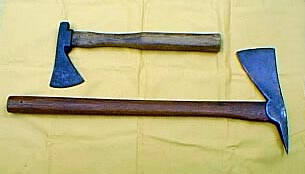 From Kevin in Michigan comes some found and some

bought fur trade goodies. Check it out.

Found Trade axe.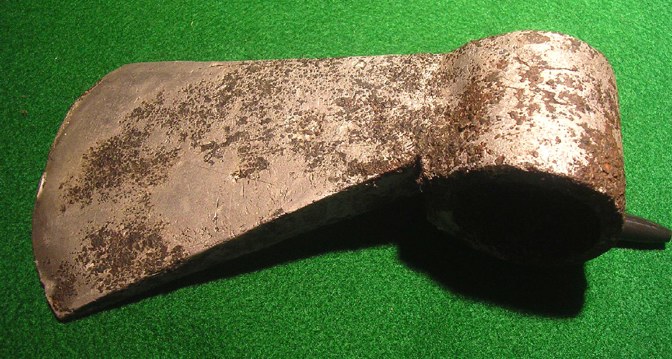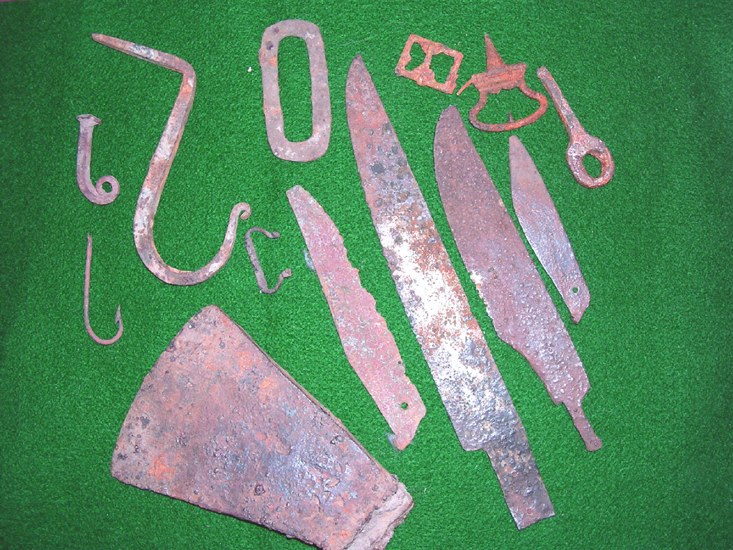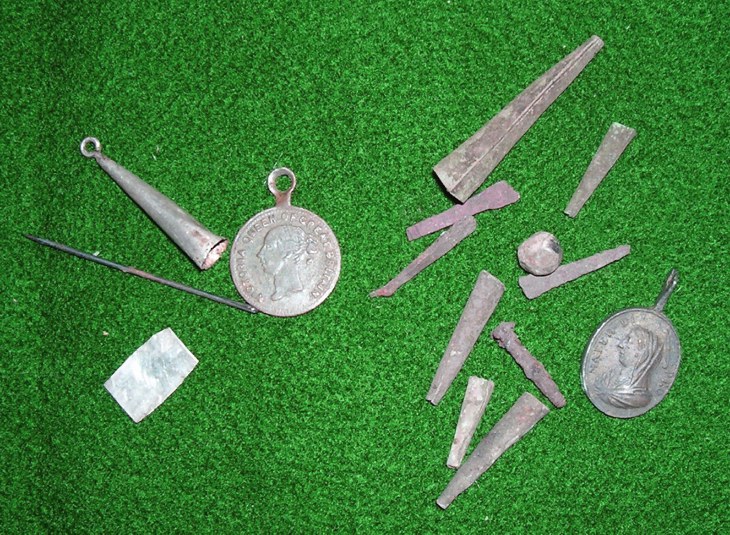 Bought piece.


Thanks guys,


NEXT PAGE