TRADE AXE & TOMAHAWK COLLECTORS ASSOCIATION.
|
home




FOREIGN AXES

French

A French/Brit? ebay seller has been "salvaging" some of his countries older axes and has been making some great deals on them. The thing to keep in perspective is that even though many French axes have an 18th century look to them, they were made in the same double flaired blade hammer poll style up until the turn of the 20th century and even beyond.These axes are unlikely to have ever been used as weapons/tomahawks but are gangbusters for the re-enactor that doesn't want to risk trashing or loosing a legit $400-$1000 tomahawk in the field. A few are older, very collectable and even might have conceivably ended up as trade goods in the Americas but didn't. And more then a couple of them bare a striking resemblance to the fighting axes used by the French Grenadiers in the early 1700s.

Click on the picture below to go to the current ebay auctions of

Jerome le Barbichu.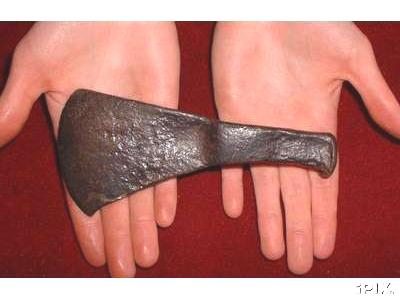 I believe this hammer poll axe form was the predecessor

and inspiration for what later became pipe axes


If you've ever wondered what interesting things a European axe colllector might find looking scavaging the countryside, wonder no more. From the personal collection of our newest international member Jerome in France comes these great axes

Medieval battle axe from about the 12th century (found metal detecting)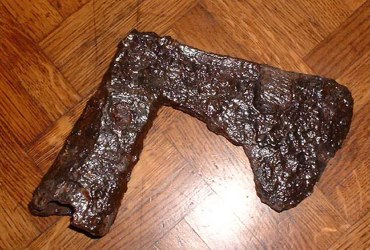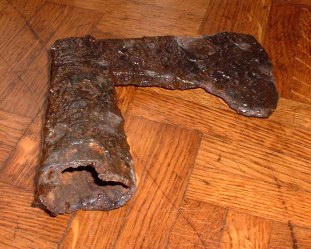 This bronze axe is ....I don't know what exactly?

(Sa'ar thinks it is a cane handle! Tim thinks

maybe part of a halberd assembly )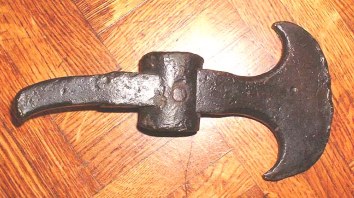 Great 18th century, highly stylized"bearded axe"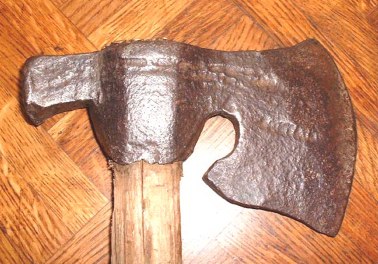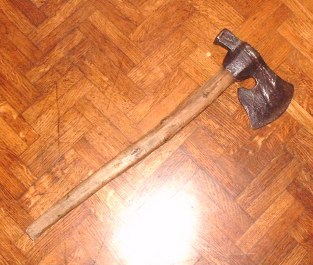 This "cooper" is a cooper hatchet (my best one so far)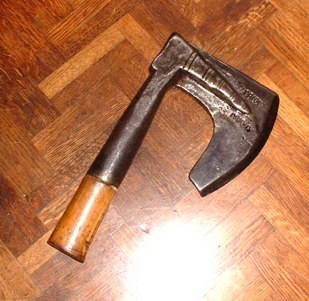 A marking hatchet with the initials MG?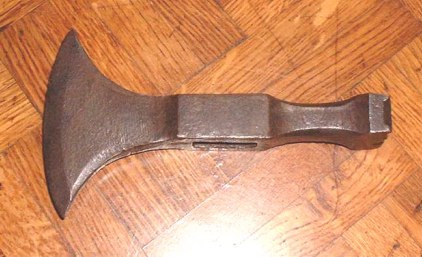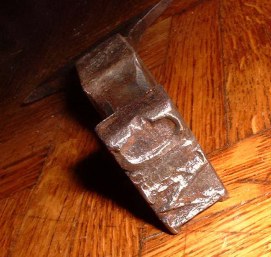 Thanks Jerome, keep them coming.

Middle eastern/Indo-Persian
Click on the picture below to go to ebay auctions of oriental-arms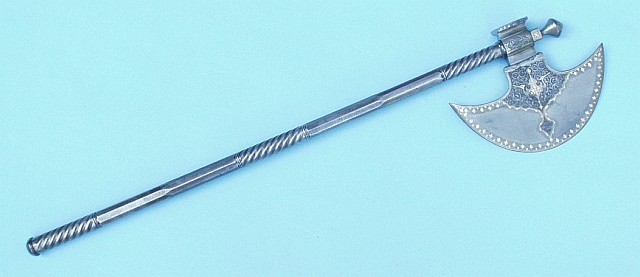 Above is an outstanding Qajar style, Indo-Persian war axe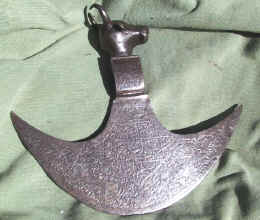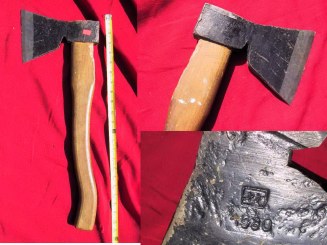 Iraqi tank axe. Desert storm war trophy
Afghani battle axes
Fraud is too harsh a word to describe these real battle axes as
these are nice weapons in their own right. However they do work their
way into collections and appear on ebay with with bogus origins on a
regular basis. The thing to watch for is the brass inlays on the base of the blade
or the poll
Click on the picture below to go to enchanted-treasures auctions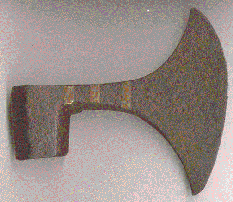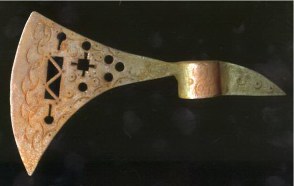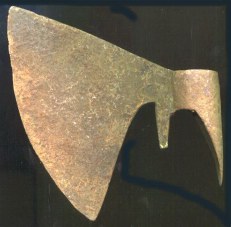 AFRICAN battle axes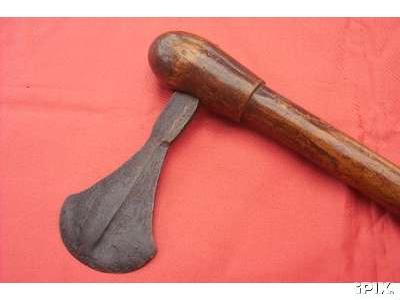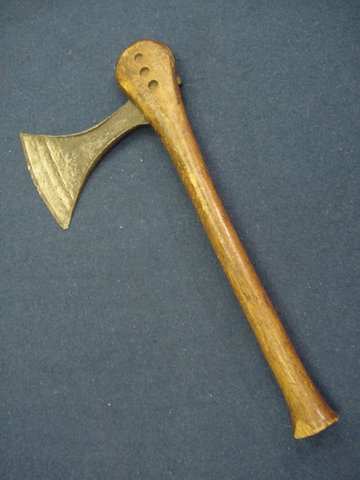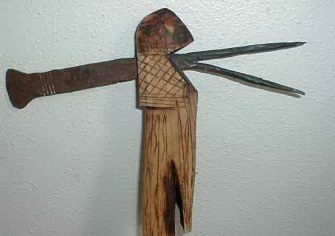 Weird tourist? spike axe from the Burkino
Fasso Area, Western Sudan, Mali
Polish Hungarian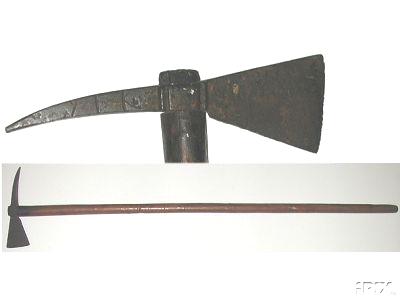 The Hungarian fokos
By: Sa"ar Nudel
There is not any special design for it's working head/handle. The
word itself stands for "a cane with a handle suitable for fighting". I saw several patterns in
Budapest museums and also several patterns for sale. This could be in the form of an axe
(with or without back spike or hammer poll) or hammer- plain or war hammer type. I saw a
simple machinist hammer head, about 3" long, nickel-plated (mounted an old cane. The head was
old as well, the plating was pealing-off). During the 1920's the Hungarian parliament had passed a law
forbidding the use and production of iron-headed fokos due to extra violence incidents. The fokos
went out of use merely at the eve of W.W.II, so there are real fokos with brass heads. These have patina
and the cast is good, much better than the new, tourist junk fokos.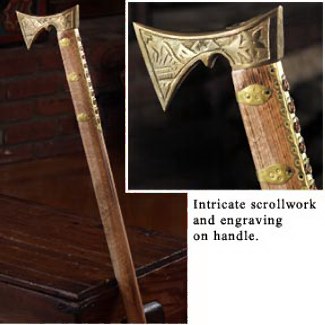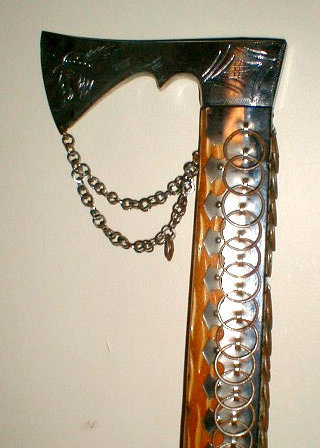 1. Two handles/axeheads (unmounted yet) as bought on Echeri fleamarket (Budapest). Upper one is dated, 1979-83 obviously a presentation piece, brass.
lower, smaller one is older, bronze.
2.Low left- small scale fokos (for woman?), iron spike axe head, dated 1888, original haft, recently bought on Budapest, like the upper two heads.
Right- a commemorative fokos sold to the attendants of the great Jamboree in Hungary, 1933, brass. This one was bought in Israel but I saw the same for sale in a Hungarian town and another one in the Hungarian national museum (the hall of achievements of the 20th century).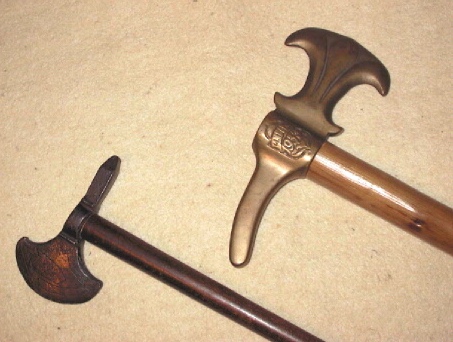 3.Low left- a true cane shaft (rattan) mounted with a small (1/2 pound)19th century english blacksmith's hammer. This was common in Brittany, France for making rubble at home- an occupation reserved usualy for old people.
Right- a cane mounted with a turned stainless knob. This was comissioned at my family some 30 years ago to walk the dogs and serve as protectionat night (but still looks
non-agressive).
4. Left- Western Balkan fokos, very long curved viscious spike
with a very small axe blade.
Right- Israeli arab "clinq", very old (an identical was excavated on a 15th century Mameluk site). Virtualy a war-hammer with a hook to entrap horsemen.
5. A massively-built fokos made by a late Romanian-born machinist, some 20 years ago, one of several items he made, but only two fokos.
Right- typical all-wooden tourist grade fokos, but this on has seen heavy
use as evidenced from its repaired head.
Recent Spanish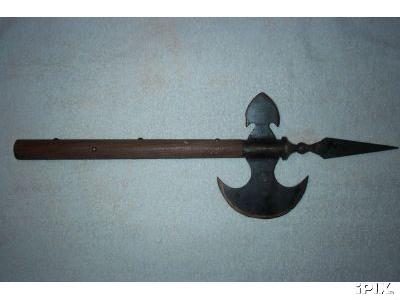 20th century Spanish wall art halberd
Same axe with the pike or
point ground or broken off
Next page