TRADE AXE & TOMAHAWK COLLECTORS ASSOCIATION.
|
home




BOARDING AXES


By Sa'ar Nudel. Adopted and modified from his article:
"The Weapons of the Pirate, 16th - 19th centuries".
From the exhibition catalog Pirates- the Skull & Crossbones,
The Israeli National Maritime Museum, Haifa.
Combat aboard ship was more hazardous than on dry land, because of the restricted, crowded and cluttered space. For fighting, it was necessary to close in with the enemy vessel, either head-on or laterally, to neutralize it either by ramming or with cannon, and to board it. If opposition was shown, the ensuing hand-to-hand fighting on deck was chaotic, noisy and bloody. In such a situation it was difficult to wield traditional land weapons - long spears and swords - so that, with time, seamen took to using shortened versions of these arms. The long lance of the knights became the boarding pike, 1.5-2.5 meters long. The "land" sword was modified into the "sea sword" during the 16th century, with a shorter broad, heavy blade, usually curved, and with a practical handguard. The name "cutlass" indicates the differentiation from other types of sword. In the Far East there were swords and knives specific to the tribes of the South China Sea, such as the Barong or the Mandau.
When gunpowder was first invented, the seamen were quick to adopt it to maintain their ascendancy. For hundreds of years, weapons for stabbing and slashing continued to be used together with firearms because of the latters' fallibility - the powder's sensitivity to fire or to damp, and the complicated mechanisms. Edged weapons were also necessary because of the nature of the sailing vessel - built of wood (till the end of the 19th century), and carrying sails and all the tackle that sometimes needed to be cut away. Tools for maintaining and repairing vessels or, for instance, whale-hunting - mallets, axes, harpoons, flensing implements, etc. - could also be used as weapons.
The axe is a very ancient instrument, a weapon and a tool, and boarding axes were used on ships for both purposes. Most boarding axes has a sharp pick (or spike) opposed to the cutting blade. There is at least one example of a Viking axe, attributed to the 10th century CE, that has maritime characteristics. Sweden was the first country (probably) to officially issue boarding axes, at the beginning of the 17th century, followed by Denmark, Spain, Britain, Holland, France and America.
An axe was a very important tool on board a wooden vessel. It could hack out openings, smash the deck or sides of a burning ship for escape, drag away burning objects, cut loose an anchor at a single stroke, dig out embedded "hot-shot", or provide handhold for scaling the sides of a vessel.
A boarding axe was a dangerous weapon, used to mutilate, to cleave helmets, skulls, or even penetrate armor with its sharp pick. It was ultimately modified to become the fireman's axe, both on land and at sea, as we know it today.
It is a logical conclusion to assume that settlers and natives at North America have encountered seamen armed with boarding axes, and soon adopted its basic design for their own purposes as a weapon and a tool of survival, hence the relatively large numbers of the so-called "Spike Axe".
Note the boarding axe wielded in defense from pirates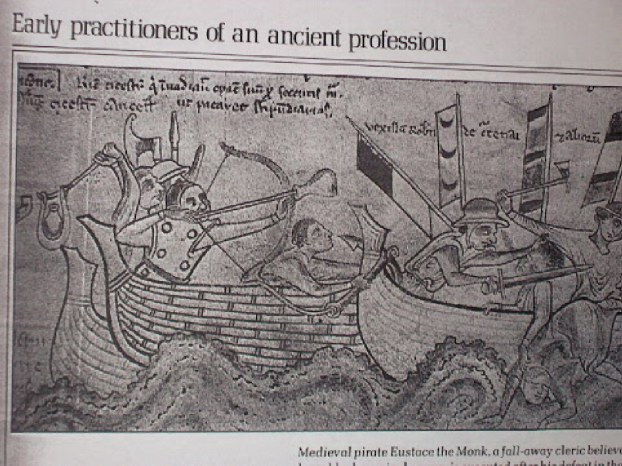 American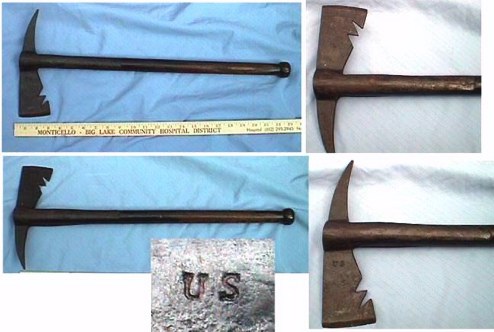 French.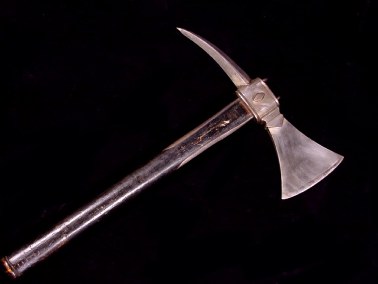 British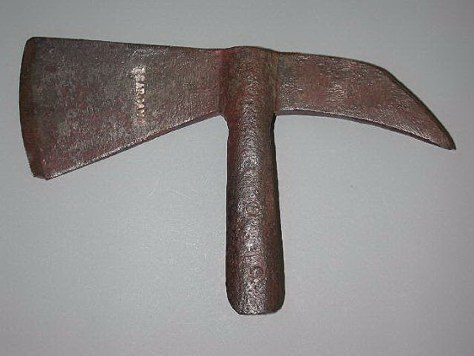 For more info on these fascinating weapons go to: