TRADE AXE & TOMAHAWK COLLECTORS ASSOCIATION.
|
home




PAGE FIVE



More of Mike's top shelf collection.

HALBERD BATTLE AXE Circa 1850
(Brass Inlaid)
Massive Indian Pipe Tomahawk, remarkable in its size, styling and quality of manufacture. Based on its design it was undoubtedly created in the mid-19th century. By its heavy weight and construction it was obviously meant to inflict damage and not merely ceremonial. Its weight alone of two pounds places it far heavier than others of this known form. Remarkable in its proportions and exceptional in its decoration of the blade which has 16 small round brass inlays bordering the edge of both sides of the blade. Each inlay simply engraved with a four petal floral design all being connected by delicate engraving on the steel. A very large circular brass inlay in the center of the blade, its edges and borders engraved on both the brass and adjacent steel. These were cut completely through the metal and are the same on both sides. Subtle differences in engraving exist on the blade, making each side unique. Each side of the oval eye has a circular brass insert with a house and silo engraved on the obverse and an angled five-pointed star with circular center on the reverse. These inlays are also engraved on the edges and surrounding outer steel area as well. The large 9" removable, double-edged spike has a relief ring turned base and 6" tapered blade with large engraved punch and zigzag line design on both sides. The threaded base screws into a punch and zigzag line decorated, brass tapped insert on the fore-end. Fully inserted, the spike is horizontal to the blade. Integral cast pipe bowl for tobacco 1 1/2" high, decorated around its circumference with incised upper and lower rings and center punch design, had a fitted, hinged metal lid, now lacking. In original untouched condition. Patina an aged light brown. A spectacular and very rare relic. Pictured in Tomahawks & Frontiersmen Belt Axes by Hartzler and Knowles 1995, page 63.
Height: 7 1/2" Width: 7 1/2" Length: 13 1/2"
Ex. Norm Flayderman's private collection Fort Lauderdale, Florida.
Michael S. collection Dayton, Ohio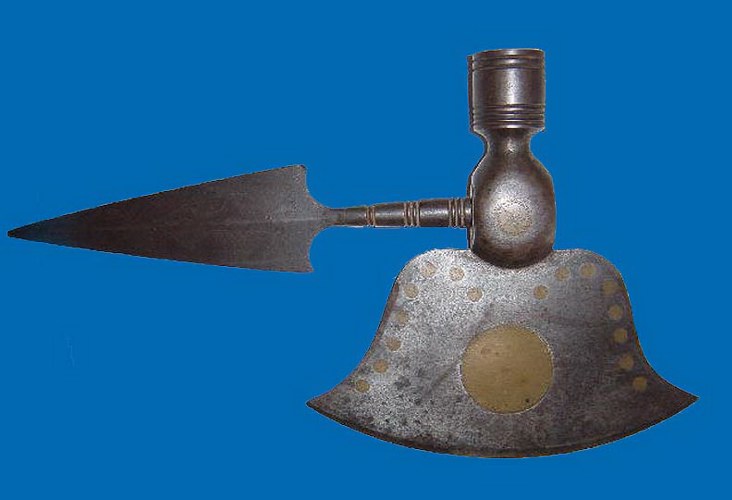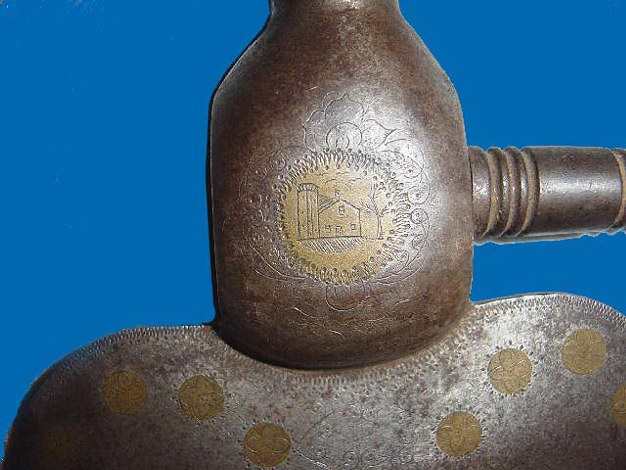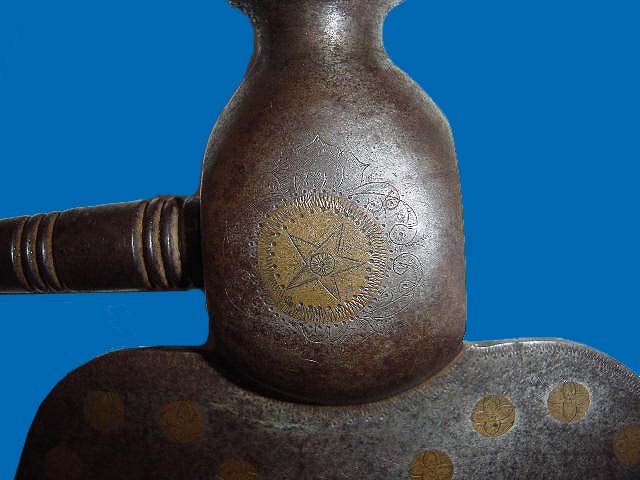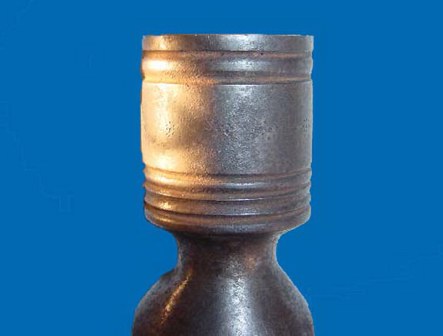 PIPE TOMAHAWK Circa 1790 - 1810
(original haft)
This hand-forged tomahawk has a very ornate relief turned vase
shaped bowl with an inside diameter of 11/16". The bowl has a flared
rim and incised ridge. The multi-turned circular stem to form the
bottom pedestal has three circular step-down rings with an inverted
ring for a base. The large chevron is in relief. There is an extremely
broad fuller molding at the base of the blade. Following the English
turn of the century style the long blade has an attenuated appearance
and features a spur at its belly. The metal around the large
1 15/16" x 1 1/2" eye is very thick. Lead has been used as a gasket,
having been poured around the smaller fore-end of the ash haft.
Forty-four brass tacks decorate the upper portion. The haft is short for a
head this size undoubtedly due to burn through.The haft, now age
cracked with faint traces of red paint, has a smoke hole burned
through the pith. Without any taper a separate tubular mouthpiece
(now missing) was used.
Height: 8 3/4" Width: 2 11/16" Length: 15 7/16" Length below the eye: 14"
Ex. John Barnhill collection Indiana, listed # JB241.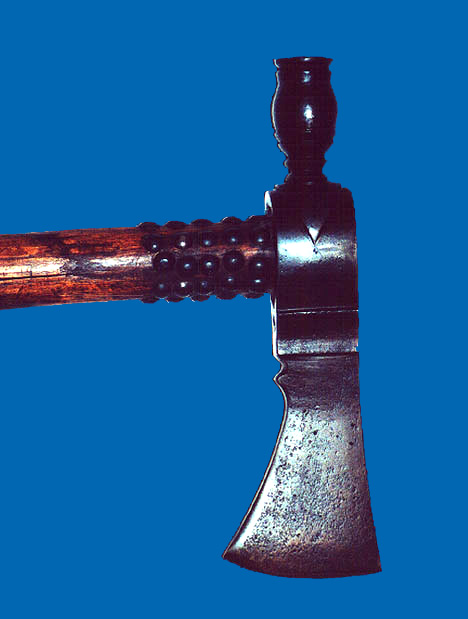 ENGLISH PIPE TOMAHAWK Circa 1740
(original haft, vase shaped bowl)
This pipe tomahawk is of the heavy, utilitarian class.
The vase shaped bowl resembles the original Native American
specimens carved in stone. The distressed bowl has an inside
width of 13/16" and extends from the poll 1 3/4". The flat bottomed
bowl has arim molding and rests on a small pedestal base with upper
molding and small chevron design. The entire chevron attachment has
anincised filed line around its circumference. The eye is a 2" x 1"
teardrop. The blade, with its steel bit, has intricately sculptured flute
molding with side ridges at its base. This side fluting extends on three
sides going underneath the head where it splits to show the
raised V (tear shape) of the eye. The haft is ash with the original
leather gasket still in place. The wood clean out plug is present on
the rounded fore end. This original pipe tomahawk is a tribute to the
blacksmiths art of fabrication and design.
Pictured in Pipe Axes-Of The American Frontier
by John Baldwin 1995, page 121. #323.
Height: 8 1/2" Width: 3" Length: 22 3/4" Length below the eye: 20 11/16"
Ex. Basco and Wynn collections, Ohio.
Below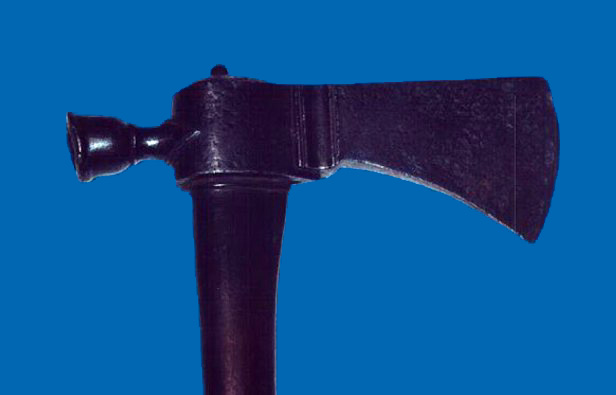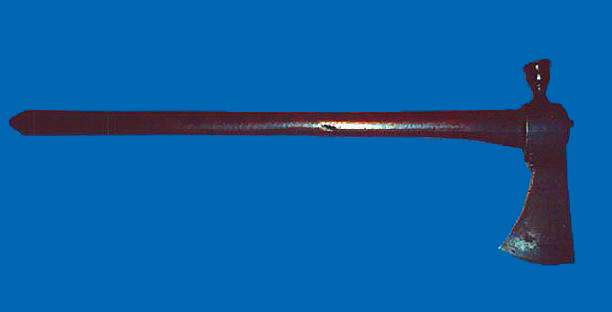 AX-ADZ TOMAHAWK Circa 1700s
(rare)
The military of Spain are known to have brought this ax
design to America. In side view, the implement looks like a spiked
tomahawk, but the end view reveals that the "spike" in reality, is
a well-proportioned small adz 3" x 1 11/16" . In the hands of a
white man it was probably used as a tool with a secondary use as a
weapon, but when found in an Indian camp or Indian grave and
considering its undamaged condition it would be classed as a war ax.
Found in Ohio, this hand-forged tomahawk is made like a
spike ax with a visible center seam between the two pieces of iron.
The eye is a large oval 1 1/2" x 1 1/16". Some Spanish
ax-adz tomahawks had a 21" haft.
Length: 7 1/2" Width: 2 1/2"
Ex. Robert Kuck collection, listed as # 427.
See: Firearms, Traps, & Tools of the Mountain Man by Carl P. Russell 1988, page 298 and 299 Fig. 80.
Below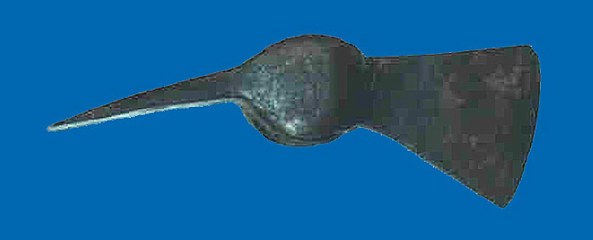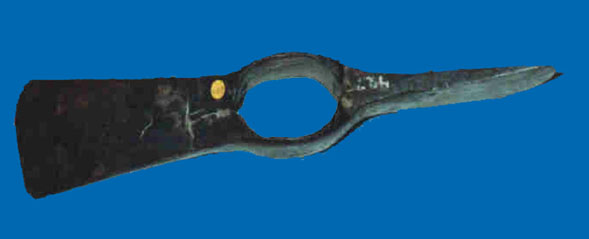 ENGLISH BRASS PIPE TOMAHAWK Circa 1790 - 1800
(dovetailed blade, early example)
This is one of the earliest forms of the brass pipe tomahawk with
dovetailed steel edge. The potbelly pipe bowl has a flat bottom.
Having a heavy rim on the top of the bowl and a heavy ridge at the
bottom, it rises on its strong neck 1 3/8" from the poll. Adding
strength, the decorative molded line that denotes the bottom of the
pipe on the poll is seen often in this design. A fuller molding is
cast at the base of the blade providing decoration and slight
reinforcement. The head is plain, which is a sign of early
manufacturing. The 1 1/8" x 3/4" eye is teardrop in shape.
Found near Portland, Indiana, Jay County just west of
Fort Recovery and half way to Fort Wayne.
Height: 6" Width: 1 7/8"
Strong probability that this tomahawk was lost along a war trail or during a skirmish.
Below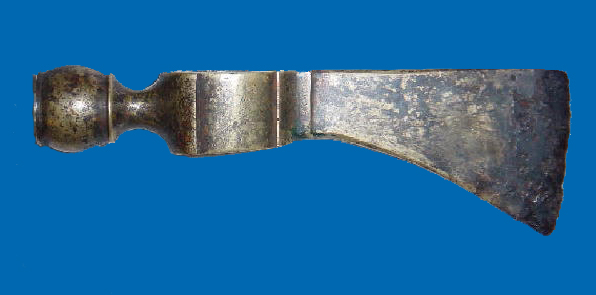 PIPE TOMAHAWK Circa 1790 - 1812
(decoratively stamped)
Large, rugged English tomahawk, constructed from three pieces of
wrought iron with an added steel cutting edge and features a series
of decorative marks stamped into the blade. The lightly impressed
design depicts a bird with the letters BE, a sun with a face, a quarter
moon with a face and seven six pointed stars. The rings on the pipe
stem, the chevron, the molding and the outline of the blade with spur
are English fashioned. The bowl has a flat bottom. Pictured in INDIANS
OF THE LAKE ERIE BASIN 1965 page 327, fig. 149 and YESTERDAY'S
OHIOANS by Raymond C. Vietzen, 1973. Page 170. "The Greene Ville
Treaty pipe tomahawk" a present to an Indian chief at the treaty signing.
A bird with letters "B" and "E" under it, a midday sun, a crescent moon and
a cluster of seven stars make up a part of its engraving. It was found south
of Elyria in Carlisle Township, Ohio on the West bank of the East branch
of Black River."
Height: 9 1/16" Width: 2 15/16"
A tomahawk carried by Tecumseh with identical markings is shown in AMERICAN INDIAN TOMAHAWKS by Harold Peterson page
104, fig. 120.
Below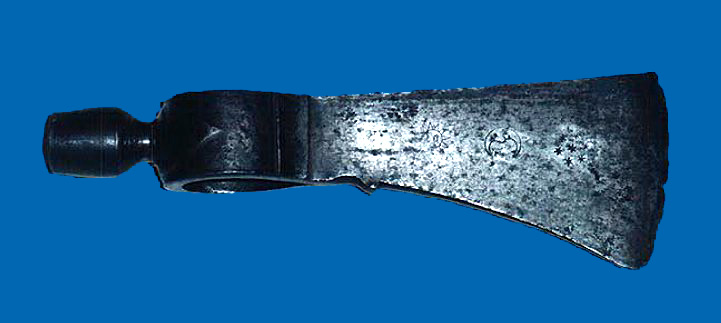 SOLID METAL SPIKE TOMAHAWK circa: 1700
It is rare to find a tomahawk made entirely of iron. This one is also in
Tomahawks Illustrated # 187, by Robert Kuck, 1977, page 101 and
is eastern in design. The metal haft measures 8 7/8" with an
over-all haft and head length of 10".
Height: 6 1/2" Width: 1 5/8" Spike: 3"
Ex. Robert Kuck collection
Below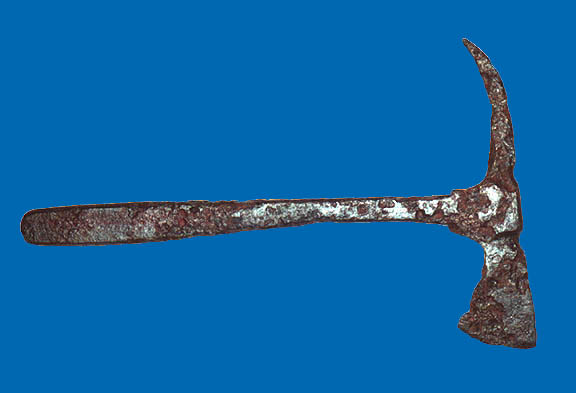 ENGLISH PIPE TOMAHAWK CIRCA 1794
(museum hafted)
This style began to appear at the end of the 18th century.
The form still followed the early half ax design with lower blade
spur so predominate in the British axes, but exhibited the taller
thinner pipe bowl so prevalent in the emerging western styled
tomahawks.This specimen is hand-forged wrought iron with a steel bit
insert. The eye is a tear drop measuring 1 11/16" x 1 1/16" , with a deep
chevron on the shoulder. There are well defined flute moldings at the
base of the blade behind the spur. The cylindrical, rounded bottom bowl
rises 1 5/16" from the poll with nice top and bottom molding, it has a 1/2" diameter. The neck of the pipe bowl is well defined. Axes of this type were
known to have been used at the battle of Fallen Timbers, Maume River,
near Toledo, Ohio in 1794.
Height: 7 3/8" Width: 2 7/16" Length: 22" Length below the eye: 21"
Ex. Scott Ellis collection, Ohio.
Ex. Ernest Back collection, Tipp City Ohio.
SEE: TOMAHAWKS ILLUSTRATED by Robert Kuck 1977, page 40, C # 30.
Below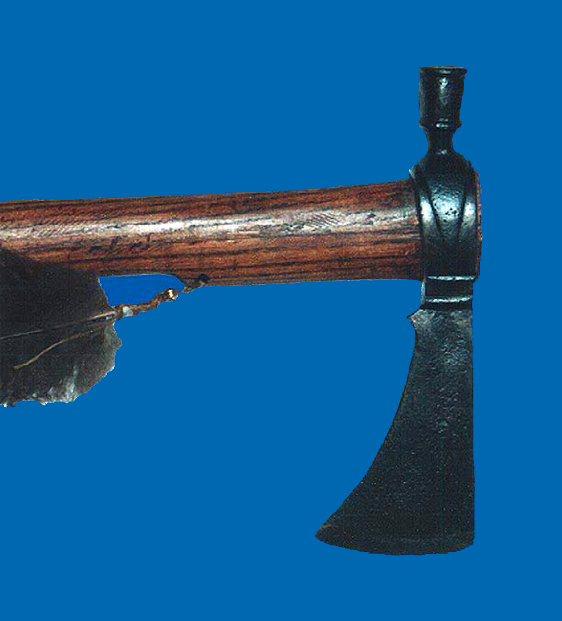 SQUARE POLL BELT AX Circa 1750
(excavated, original haft)
The built-up of iron on the poll, plus the pointed ears, illustrates
early efforts to raise the ax's center of balance-although in this
specimen the blade remains high. The rectangular eye dimensions
are 1" x 5/16". It was excavated in Ohio and pictured in
TOMAHAWKS ILLUSTRATED by Robert Kuck 1977, page 88, # 85.
Height: 4 13/16" Width: 1 3/4" Length: 8 14/16" Length below eye: 6 15/16"
Weight: 9 1/2 oz (270gm.)
Ex. Robert Kuck collection, cataloged as # 85.
This relic is really light and thin something you just can't get from a picture!
Below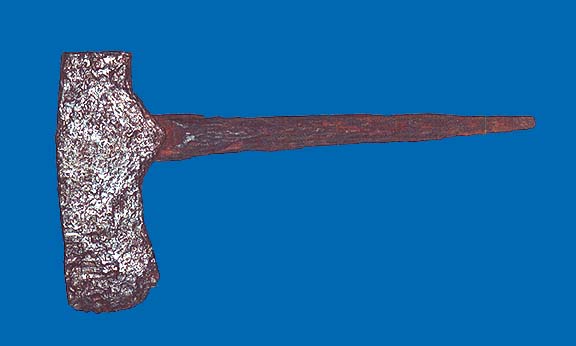 SPIKE TOMAHAWK Circa 1675 - 1678
(very old haft)
This is a very early spike tomahawk used in the East by the New
England Algonkian (Powhatan) tribes during the "King Philip's
War". This hand forged specimen, found in Maryland, has a
straight 1 5/16" flat profiled, sharpened spike that was welded
on separately to the pole. The spike has a > mark on both sides
possibly denoting a British blacksmith. The large 1 1/8" x 7/8" oval
eye is ample size for the sturdy haft which is undoubtedly an old
replacement. The blade has a very slight upsweep to the half axe
design. The blade is decorated on both sides with a tree emanating
from a flower just above the bit. The tree is surrounded by a
circle design that also extends around the top and bottom of the eye.
Height: 5 7/8" Width: 1 7/8" Length: 10 7/8" Length from eye: 9 7/8"
Ex. Brian Ebosh collection, Ohio.
See: INDIAN TOMAHAWKS & FRONTIERSMEN BELT AXES by Daniel D. Hartzler & James A. Knowles 1995. Page 112 Fig. 3 and
201 Fig. 15.
Below
SPIKE TOMAHAWK Circa 1700
(frontier repair)
Found in Racine Wisconsin, this style of spike tomahawk
was forged out of two pieces of iron with a steel bit inserted.
This specimen began to separate and was repaired by having
two pins forged in place on either side of the oval eye. The ability
to have their metal implements repaired by blacksmiths located
at nearby (frontier) forts and trading posts was very important
to the American Indian. Many blacksmith working and living in
the Indian villages acted as interpreters and liaisons between native
Americans and the European countries attempting to control the land.
Height: 6 7/8" Width: 2 15/16"
Below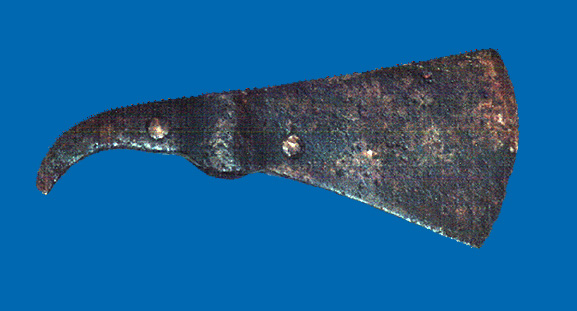 SPONTOON PIPE TOMAHAWK Circa 1775
(knife blade)
This rare handforged specimen has a slight downward cast to the
blade as is common in early specimens. The acorn bowl has a
curved bottom. The eye is an elongated tear drop. Chevrons are
visible on the pole below the bowl. The bowl shows circular
decorative filing around its' circumference. Found in North Baltimore,
Ohio by Jon Ansbaugh.
Height: 7 1/4" Width: 1 5/8"
Ex. Robert Kuck collection, author of Tomahawks Illustrated,
1977. Page 36, #C 70.
Below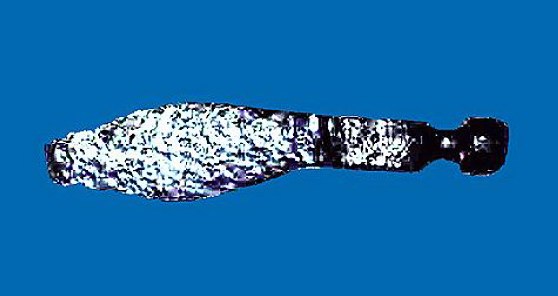 Back to the top

Next page