TRADE AXE & TOMAHAWK COLLECTORS ASSOCIATION.

|
home



The MYSTERY PAGE

Submit photos of your mystery axes for help with questions as to who, what, and when
Hello,
I am seeking information on an early pipe-tomahawk trade ax. An image is
attached showing two examples of early trade axes. The one with the rounded
blade is an example of which I have found no information. It has an
impression on the blade which may or may not be a makers mark. Is this a
Spontoon form? Are these of European make?
These are not for sale; I am a private researcher gathering information for a
local institution.
I enjoyed the TATCA site very much and thank you in advance for your
assistance.
Dale B. (Midwest)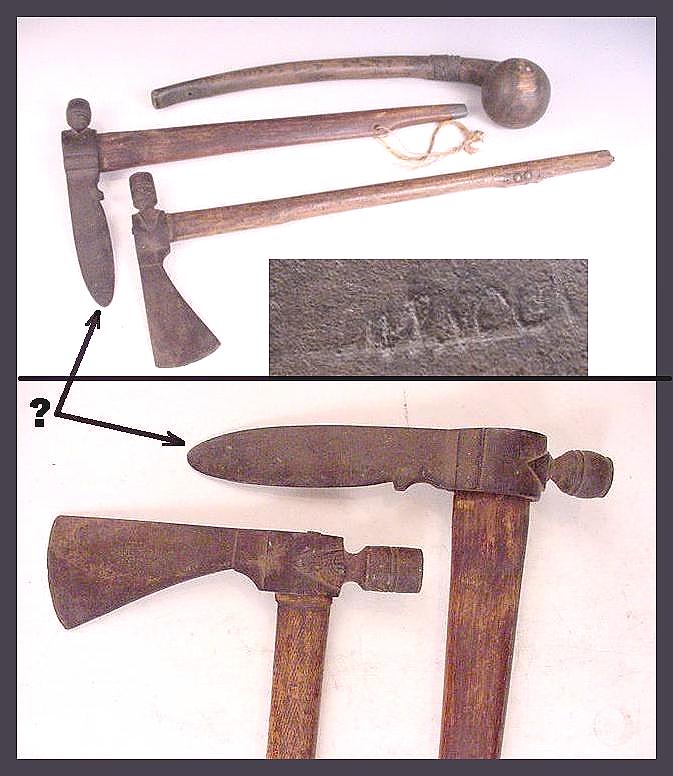 All right, let's address the obvious first. Yes, this would definitely qualify as a
a spontoon form pipe axe. The bulk of the earlier ones were produced and
traded by the French with later models made by American smiths. The lack of
basal processes with a "lobed" following edge leads me to believe that it is
likely to be a product of an American smith and the dates of the bulk of similar
axes seems to center around the middle of the 1800th century The short, squat,
"acorn" bowl configuration is is compatable with this date as is the haft set up.
It is also thought that this an early form of the American version of the spontoon
pipe axe with the kite shaped "Minnewauken" appearing later on the scene
Similar axes have been attributed to the Winnebago and the Seneca.
Please post any information or opinions regarding the maker"s mark or
any other aspects of this axe in the forum. TS
Okay guys, Bob has submitted this great classic trade axe for help identifying the
IV touch mark. Help us out guys.
Bob R writes,
I have done some
limited research, in Russell's book ref. is "French" type, Henry the IV ?
This head is cast with hardened edge. The poll is somewhat battered, probably
used for hammering. The French contracted trade axes with northern Spain,
"Biscayan" hatchets were traded to Indians for furs and were smaller than
felling axes and had to weigh one to one and a half pd. This head weighs 22
oz. It was plowed up in early nineteenth century by a farmer on the battle of
fallen timbers area. It was supposed to have a remnant of wood haft in the
eye at that time but was lost.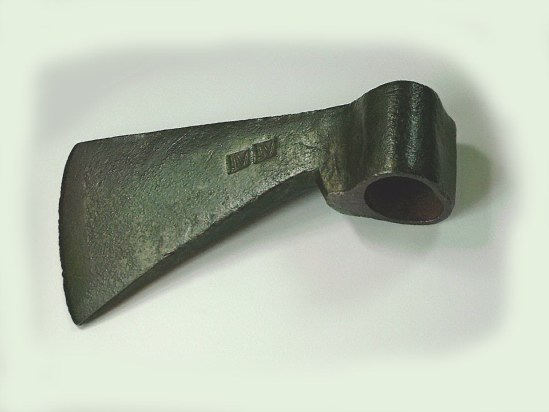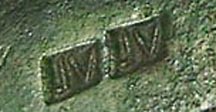 I'm sure that I've seen this touchmark before but I can't seem to place it right now,
any ideas are welcome. I would be pretty surprised if this axe were cast as
it has a classic forged period look. As to whether it is French I'd say that's probably
right on the money.. although some Dutch axes have this same style. At the very least
I'll say it appears to be an import and not a domestic product. As to whether it is a
Spanish Biscay? I don't believe so as most of the Biscay's I've seen have been real
heavy clunkers with thick, flat sided blades that were flush with the poll as opposed to the thinner
bladed, butt welded conture of of the slightly later imports.. Over all this axe has great
lines and is definitely a keeper. Much thanks Bob for sending it in...
The Fort Randall trade axe: Who?
Help!,
I have this Ax I received in a trade. The story is, it was found on the
Missourri Riverin the 1940's near the site of Fort Randall. I use it, it is
in real fine shape. Looking for info on the touchmarks and initials (.A.V.).
Any help would be great. Thanks, Karl
This axe was submitted by Karl K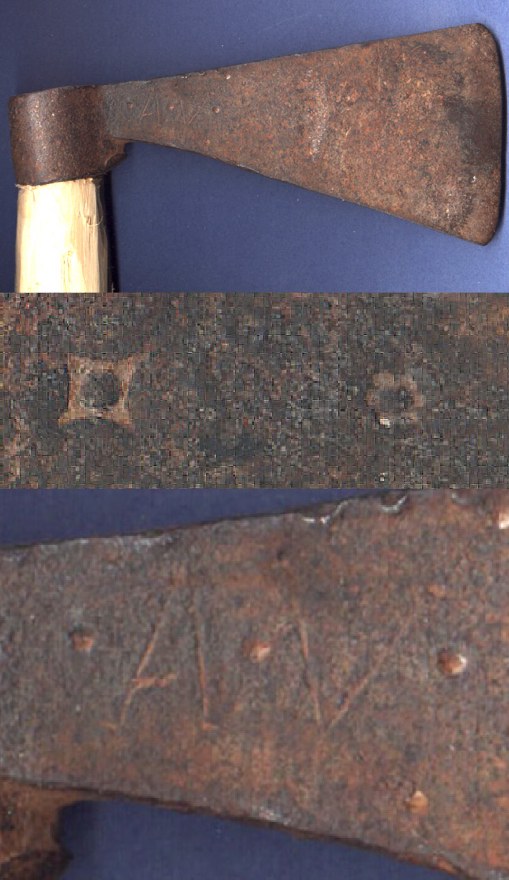 I'd say we have two marks here that have a good chance of being identified
The hot stamped maker's marks are the ones to look at as the other mark is likely to
be the owners initials "AV" cold chiseled in and without Fort Randal army rosters would be
very difficult to pin down. Of the two hot stamps the flower looks like a variant of the
seven peddled flower of Dutch origin. The star burst or diamond stamp I'm not
familiar with so guys scratch your heads and let us know
ANSWER:
Someone wrote to say that A.V. was the famous early collector. A Vietzen.
Makes sense to me.
These are intersting. They are cast with a round eye and appear in
small numbers in various conditions. My best guess is that they are
mid 20th century "tourist" pieces but at this point until further notice
they "could" be late 1900th century. nah mid 20th century at most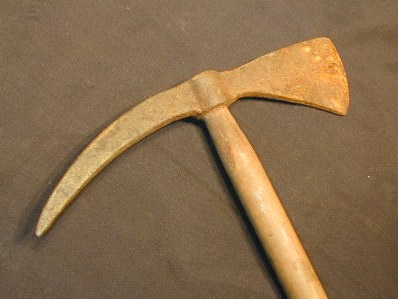 Here's one with possible modern haft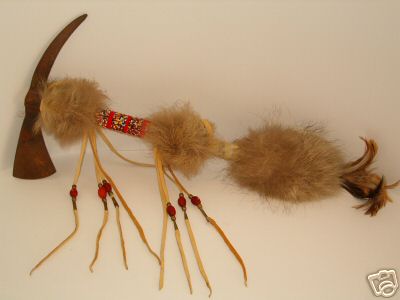 There was this one. Looked like it had possibilities but I didn't bid
as it just didn't look right. to me . It went for around $100

Then along came this one. As I try not to collect anything mid 20th century I was
glad I followed my instincts on this thing.
The golden border ax
From Lynnette comes the following.
This axe was found in a cave by a U.S. Army Corporal
on the Mexican, American border in 1916 during the
Poncho Via campaign.The handle is wood and has tacks in
it that appears to be made of either bronze, copper, or brass
because of the tarnish. The ornately decorated blade is unrefined
gold. The handle is 20" long. The blade is 11 3/4" long.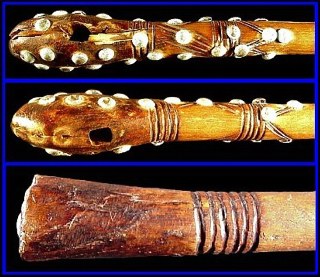 What do you guys think? While the story is very interesting It looks Middle eastern or
African to me and I do have to say that I have a working knowledge of border caves
and what is likely to come out of them however, the things I don't know could fill
the library of congress. Please post opinions on the forum
under the title "Golden celt mystery axe. TS
THE CASE OF THE ring poll HAMMER POLL TOMAHAWKS: Who,When?
THE FIRST ONE SHOWN IS THE ONE THAT HENDERSHOTT'S HAS AND THAT KUCK
SHOWS IN HIS BOOK WITH A NOTE THAT THIS TYPE IS CURRENTLY
BEING REPRODUCED. I AM ASSUMING THAT THIS ONE IS
FORGED IRON AND MAY VERY WELL BE THE MODEL FOR THE REPRODUCTIONS.
THE MYSTERY HAMMER HAWKS ARE SHOWING UP EITHER DONE IN CAST IRON OR
BRASS. I'VE SEEN BOTH RECENTLY ON EBAY. THESE THINGS HAVE A VERY FOGGY
HISTORY AND BARE SOME HEAVY SCRUTINY. I SUSPECT THE REPROS WERE
MADE 20-40?? YEARS OR SO AGO SO SOME OF THEM MIGHT APPEAR TO
HAVE SOME AGE.

HERE IS FOUR OF THE 'ahem" MYSTERY HAMMER HAWKS.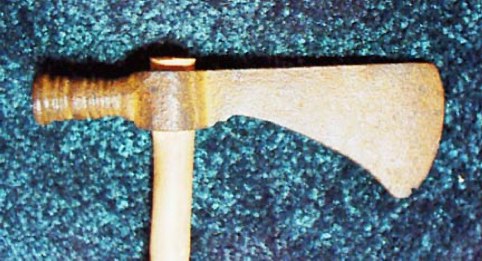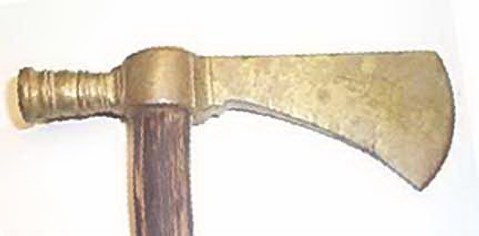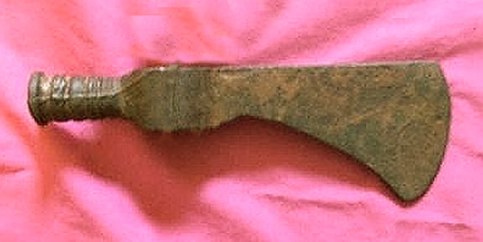 The mini spike axes.Who? When?
These small (5 1/2) spike axes have a very foggy background as they certainly are
casts However they also have some characteristics that lead me to believe that they
are pre- twentieth century, but not classic eighteenth century stike axe era either.
I've noticed these come in a wide range of condition from heavily pitted to nickel
plated.Nickel plating was all the rage beginning in the late 1890s until around
1910, Two other features that point to a 1840s-1890s age bracket
are the slightly cigar shaped hafts and the presence of fluted blades on several
examples. Cast axe heads with scalloped or fluted blades came on the scene as early
as 1840 but lasted until the turn of the century.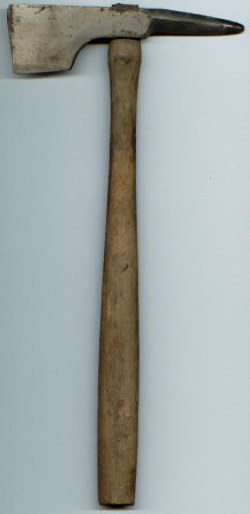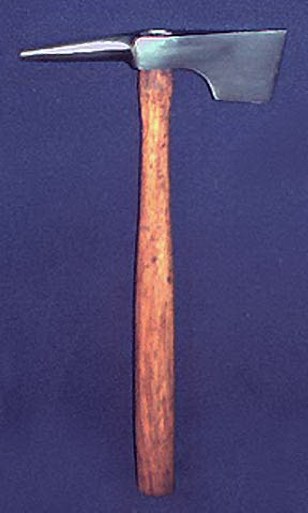 More on the mini spikes
Saar from Israel says that at some point he ran across a firefighter museum
web site that was displaying one of these as an axe carried by fire chiefs
around the turn of the century to chip the ice off of fire plugs. It is
unknown at this time whether this is documented or mere
speculation by a fire axe collector, but it would go a long way towards
explaining way these appear somewhat pitted and old, but factory
made so not spike tomahawk era either. This is Saar's,
I own the two above and have come to believe that they were
produced in the late 1800s as specialty items like fraternal regalia
and might have even been a pre litigation "toy tomahawk"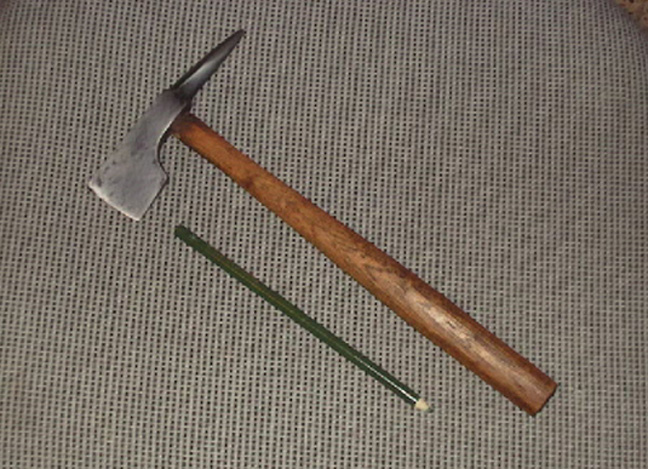 Next page


Back to the top.