TRADE AXE & TOMAHAWK COLLECTORS ASSOCIATION.
|
home




PAGE SEVEN

SPONTOON PIPE TOMAHAWK Circa 1850 - 1860
(original haft)
This spontoon has been called the finest and largest of its kind in the
country! The eye is a diamond and the blade kite-shaped on this excellent
example of the classic "Minnewauken" spontoon form. The bowl, made
from a rifle barrel is tall, rising 2 1/2" from the poll with (inside) rifling
1 3/4". The bowl has two narrow moldings around its base and a singular
ring molding at its rim. The haft retains its original leather gasket and is
decorated with 43 brass tacks (originally 44), twenty-two on each side.
Hot file branding has been applied to the lower ridge of the haft and to the
first 3 3/4" of the upper ridge of the haft just below the eye followed by a
shallow scallop design which continues for its entire length ending at the
tapered mouthpiece. A well worn drop attachment hole has been placed
on the lower haft 4 1/2" from its end. The original clean out plug is
present, protruding 7/8" from the haft.
Height: 13" Width: 2 11/16" Length: 23 7/8" Length below eye: 22
9/16"
Ex. Ritter, Dunham and Seaman collections. Pictured in Who's Who
in Indian Relics No. 9, pages 322 & 323.
This tomahawk also came with a long slender split tail beaded drop.
John Baldwin examined this tomahawk and stated that it very well
may be older than 1850. The present haft may be its second one!
Below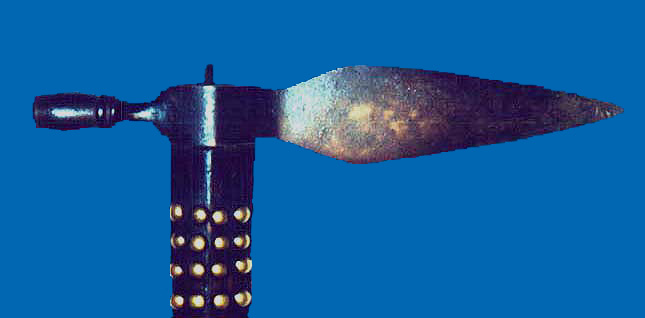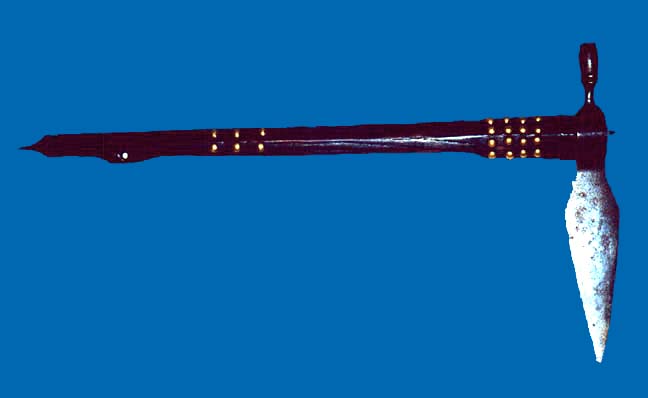 SPIKE TOMAHAWK Circa 1754 - 1763
(original haft)
French and Indian war style attributed to the western Great Lakes
to New England. Its 3 1/4" straight spike is rectangular in cross
section. Its teared eye is 1 1/8" x 5/8" . The steel bit is on one side
only. Found in the Fort Meigs area of Northern Ohio.
Height: 8" Width: 2 1/4" Length: 18" Length below eye: 16 3/8"
Ex. Col. Raymond C. Vietzen collection Elyria, Ohio.
Ex. Gerald Wynn collection Parma, Ohio.
SEE: Tomahawks Illustrated by Robert Kuck, 1977, page 100.
North American Artifacts 5th Edition by Lar Hothem, 1994 page 167.
Below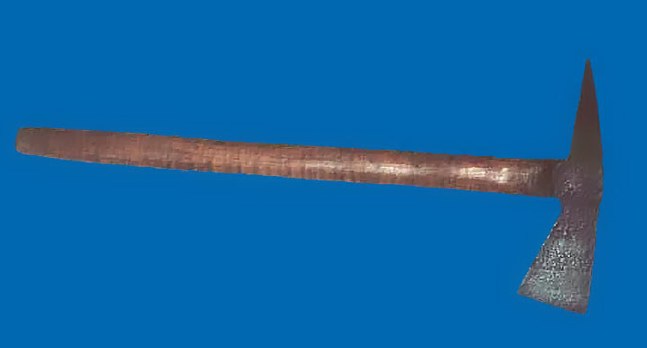 FRENCH TRADE AXE 1700 OR OLDER
(old haft with intestine?)
Round poll with extended rear ear and round eye. The poll is
deeply filed with parallel engraved vertical grooves. The blade is
intricately decorated with three vertical brass band inlays, chevron
patterns and etching on either side of the blade. The haft is a
hard wood with an iron fore-end cap. It is uniquely decorated with
a 3 7/8" piece of what is believed to be human intestine and six
tally marks. Attributed to the Huron.
Height: 6 3/8" Width: 4 3/8" Length: 27 1/8"
The haft looks like an old cut off broom handle that was cracked and the intestine put on wet so when it dried it helped to add
strength to the crack. Could the broom handle haft be of colonial vintage from an Indian raid? Who knows?
Below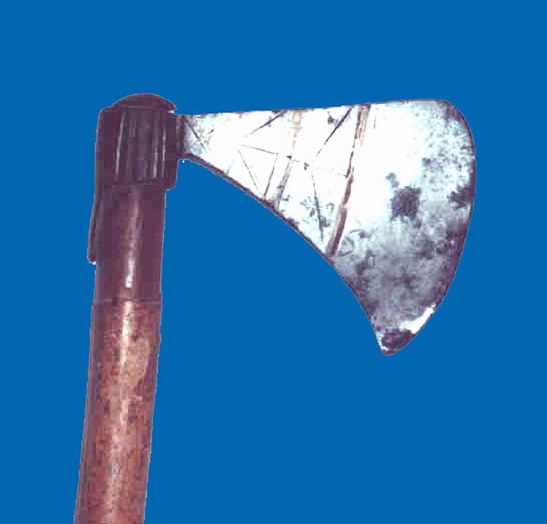 BUTTERFLY, DOUBLE-HEADED BATTLE AXE Circa 1700 - 1800
(irregular category)
This double headed ax has all of the attributes of a halberd
except that instead of a bill another ax blade has been added.
This specimen is hand forged with a forged spike snaking from the
fore-end 3 15/16". The spike is secured by a slightly tapering 3/4"
brass ring. There is evidence that a butt cap was once attached to the
haft. There is also a 1/2" brass ring just below the head (no
seem) that has moved down the haft due to shrinkage of the wood.
The 1" eye is round and is 1 1/4" at its face. This weapon was
designed for close quarter, one armed combat.
Height: 7 9/16" Width: 3 7/8" Length: 22 13/16" Length below eye: 16 1/2"
Ex. Schneider collection Nokomis, Florida.
SEE: INDIAN TOMANAHAWKS & BELT AXES by Hartzler and knowls revised addition, 1995 page 229, Fig. 23.
Below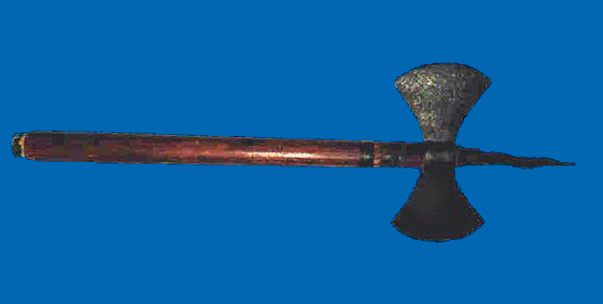 Round Poll Belt Axe Circa 1778
(original Indian hafted relic)
From the Wyoming Pennsylvania massacre of 1778, Revolutionary War.
There are two unique features here besides the specimens history. First,
the head is only 3 1/2" high with a round eye 1 /5/8" in diameter. It could
deliver a killing stroke and perform light work such as dressing game. Secondly, the forward end of the round poll has been hammered down to help secure it to the branch like helve (a common practice among the Indians). The head has an incised line running horizontally around its poll and shows traces of
red vermilion paint. This is the Indian war hatchet of Esther Spencer
a survivor of the massacre and traced directly to her. Story published in Muzzleloader magazine September/October 2000 page 73. Ohio Archaeologist Volume 48 No. 4, Fall 1998.
Height: 3 1/2" Width: 2 3/4" Length: 13 7/8" Length below the eye: 11 5/8"
Ex. Robert Manchester collection Schenectady, New York.
The war hatchet was already in the gold
shadow box when I received it. It is early 1800.
Below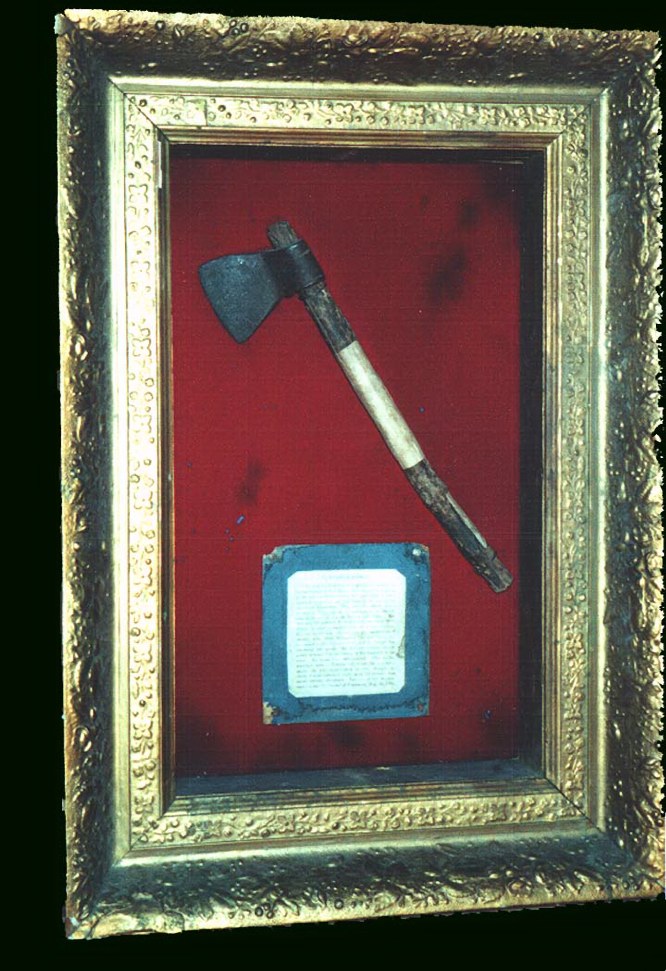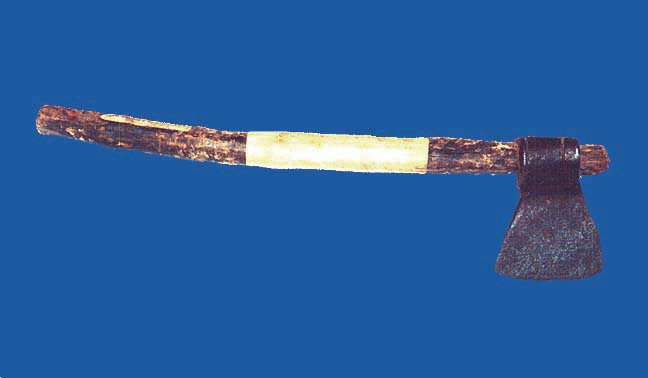 US HAMMER POLL TOMAHAWK Circa 1776 - 1795
(First Government Issued Tomahawk)
(Only the third one known)
Tomahawk with Hammer poll. Excavated from a site near Greenville, Ohio in the 1940s. It is made of wrought iron with a steel edge. The eye is elliptical in design; the hammer is square in section with chamfered edges flaring outward at the hammer. Hammer shows minor distress from use. On the obverse is a maker's name, now illegible, stamped in a rectangular cartouche, below which are the large letters US of the form commonly used during the Revolution and immediately thereafter to denote government property. Therefore, it may well have been issued to troops or possible given to friendly Indians, though the former is more likely.
In 1792 General "Mad Anthony" Wayne organized his forcers preparatory to his campaign against the British-supported Indians of the Old Northwest, he equipped
his companies of riflemen and light infantry with tomahawks of this design.
Height: 5 7/8" Width: 2" Weight: 11 oz. (315 grams)
See: American Indian Tomahawks by Harold L. Peterson # 302.
Book of The Continental Soldier by Harold L. Peterson page 106.
Ex. Norm Flayderman collection Fort Lauderdale, Florida.
Michael J. S collection Dayton, Ohio.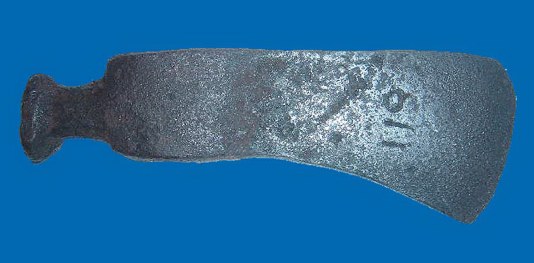 Mike and his beautiful daughter Skylar, future collector in training.
Much thanks Mike.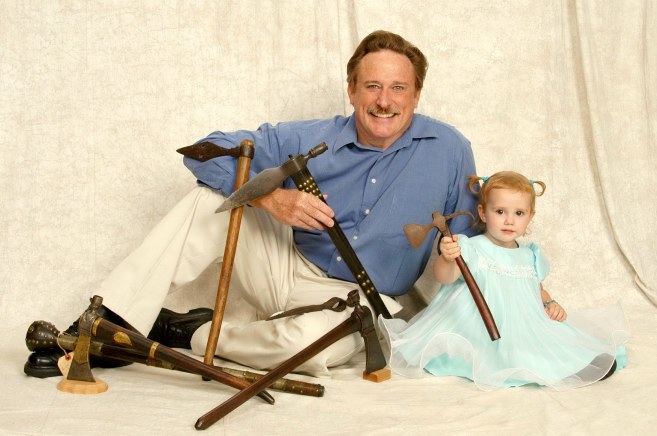 Next page