TRADE AXE & TOMAHAWK COLLECTORS ASSOCIATION.
|
home




FOUND.

This section is for those skilled with a metal detector, or just lucky enough to have found trade goods or even an early trade axe or tomahawk.
Tim,
I am an avid flint hunter in NW Iowa and I have found a site in
southern Minnesota where I have been picking up trade goods for years now. I
have not ever given them much thought other than they are kind of neat to
find. On the same site I have found several Plainview's points from another more sought after occupation that holds my interest more. Last Sunday I was out and found a belt axe (?), which looks almost identical to the one pictured
at the bottom of page 5 along with a small more normal axe along two blue
glass trade beads, another civil war button as well as a few more recent era
points. I now have a spoon bill adze and a straight bill adze both with the
same hafting as the belt axe, two 7-8" curved blades from what appear to be
skinning knifes. 3 more normal axes, a 41" muskrat spear, several beads &
buttons, both shell & glass, an old pistol barrel and many more unidentified
pc's. The reason I am writing is to ask if I get a few photo's of a few pc's
to you is if you could or would give me an idea how old this trade site may
be?
Thanks for your time!
Greg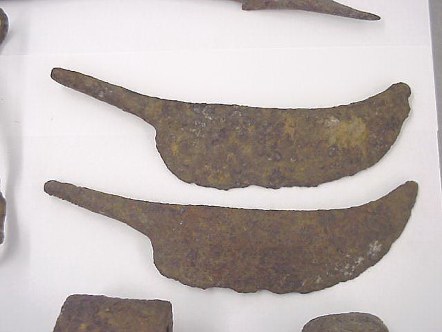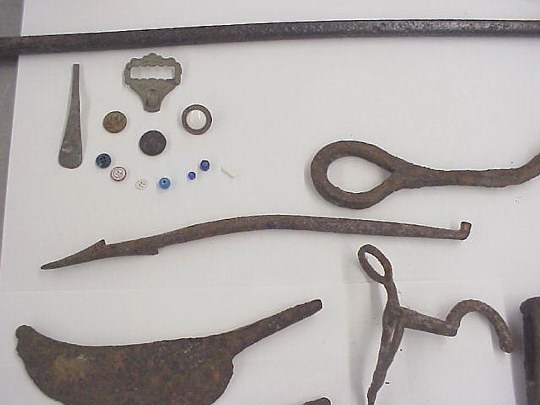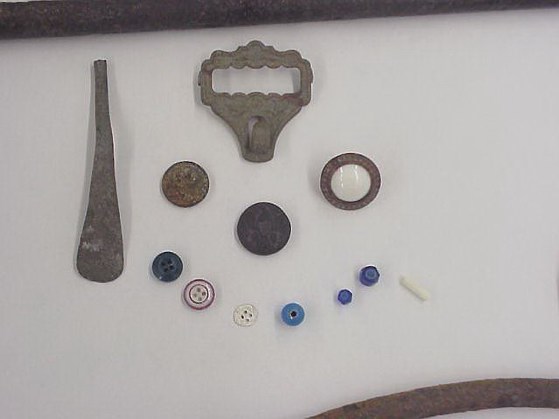 From George C in Colorado comes this bunch of nifty fur trade era stuff.
Tim-
Please find enclosed picture of my heart-breaker.
The blade is maker marked with two Cís or less than quarter circles.I am also enclosing
a picture of another axe found at the same site. (also broken) It is impressed with an American
eagle, not unlike the eagles on militarybuttons of the Civil War and Indian War period.
Any ideas?
We seem to have a lot of things in common. I probably cut my teeth on an piece of flint,
and was hunting arrowheads with my folks as soon as I could walk. Added metal detecting
to the mix about eight years back andnow I have over 4000 metal relics from Indian sites.
Still love the flint, though! (esp. paleo !) Any time you might
have the occasion to be in NE CO, Iíll take you out to the hills!
Oh, forgot to mention that tomahawks can be used as chisels, too! LOL Ė George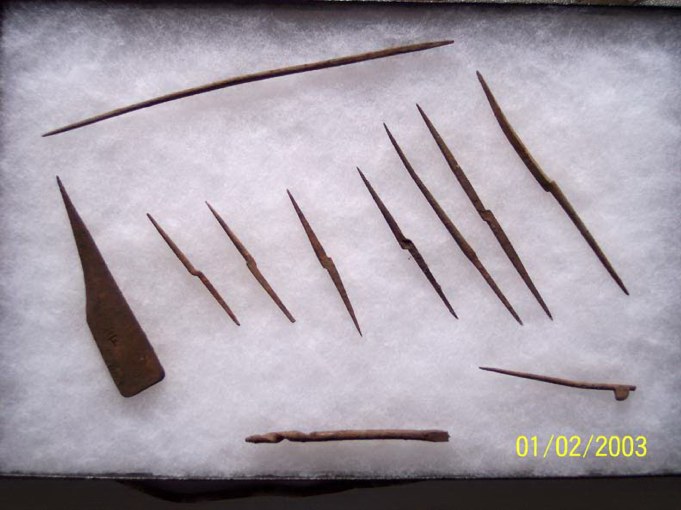 From Mike M in Ontario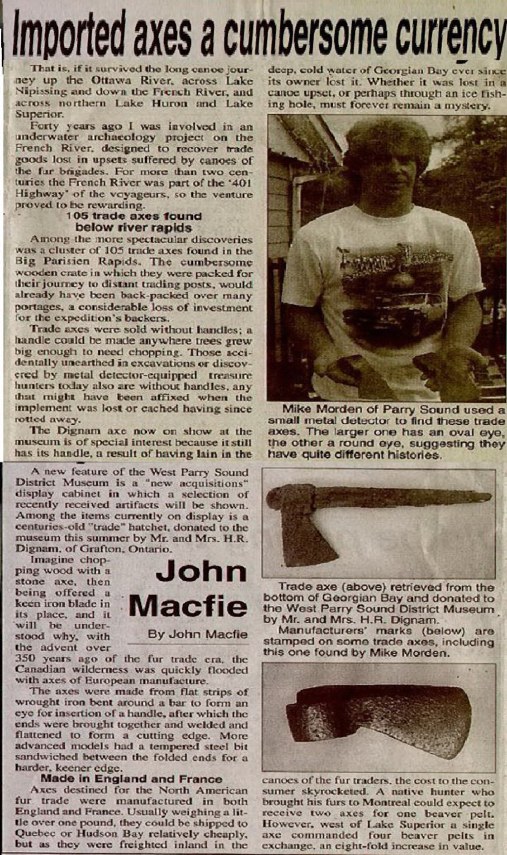 Borrowed from the nice folks at Blade forum
I found this Tomahawk.
I live in the Mollogon mountains in southwest nm there was
a lot of Indian activity in this area well into the late 1800's. It is obviously hand forged, My question is did the Apache's carry or use anything like this? I can't imagine who else would have had anything like this in this area. Steel arrow heads can occasionally be found in their camps so I suppose it would be reasonable to assume they could have had steelhawks. Any help or comments would be greatly appreciated. I think I'll clean it up, put a handle in it and use it for rendevous.
Thanks
Leonard
Hi I found your site while trying to find some info on a trade axe I
found while out metal detecting for War of 1812 artifacts. Here are a
couple of pix I guess that is a pipe bowl on the end.
Thanks Rick


Next page

More to come.