TRADE AXE & TOMAHAWK COLLECTORS ASSOCIATION.

|
home




MEMBER'S AXES

Have you ever been to a museum and come away feeling like

"They have some great stuff but seeing it in there makes me realize

I have a couple of decent ones my collection too"?

But then,,,

someone comes along with something so special, so outragously

"better" then anything you've ever seen for the category you're left

feeling like "Yeah, I've got me a bunch uh rusty junk"

Yup, an object so superior that all of the sudden the piece that you

were so proud of, the one you'd been propping up so that you could

lay in bed and glance at it with minimal effort suddenly starts to

look like a meteor fragment on a stick?

This is such a piece.

From Warren comes what for shear quality could quite

possibly be the best spike tomahawk known, in or outside a

museum and if you disagree, I invite you to show us better.


It is signed "J.DEMUTH", who had a tobacco shop in Lancaster, Pa. in the late 18th century. The family was still in business in the 20th century. He apparently also sold guns, as there are several around with his name on them. It's not thought that he was a gunsmith, he just signed this stuff and sold it. There is a write up in Kauffman's " The Pennsylvania - Kentucky Rifle" on the Demuth family.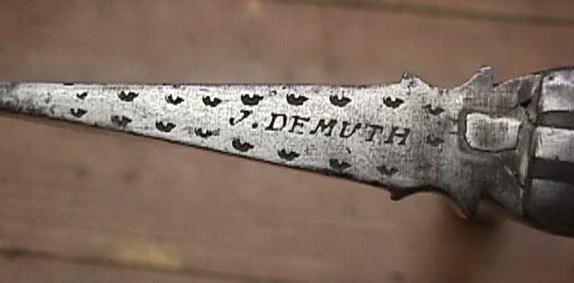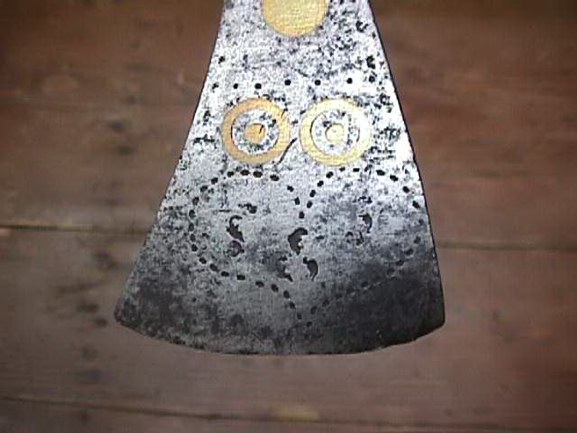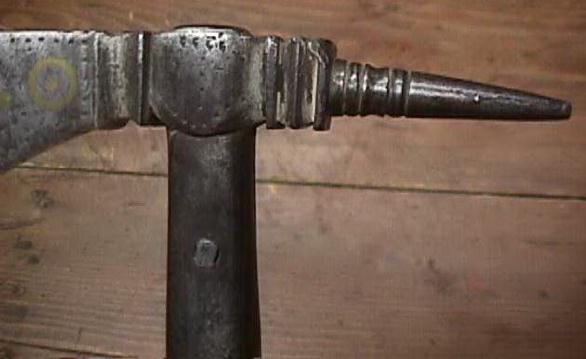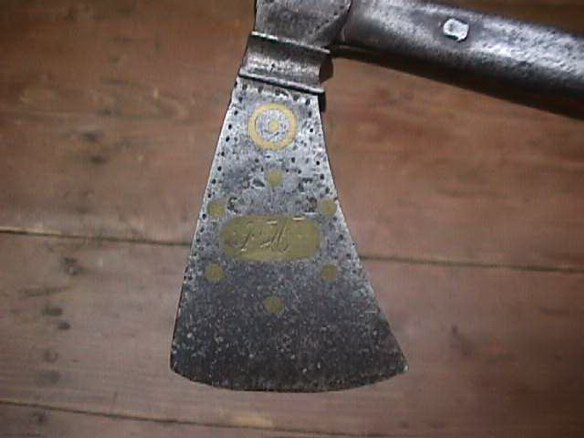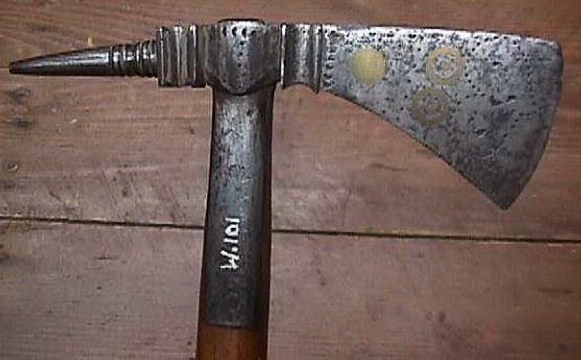 A nice brass western style pipe axe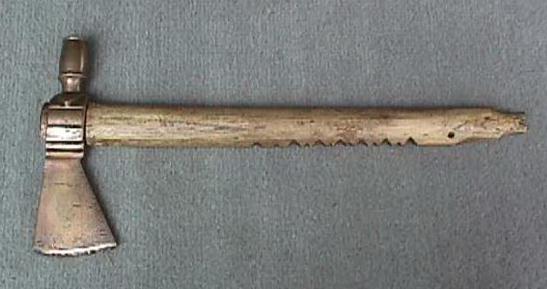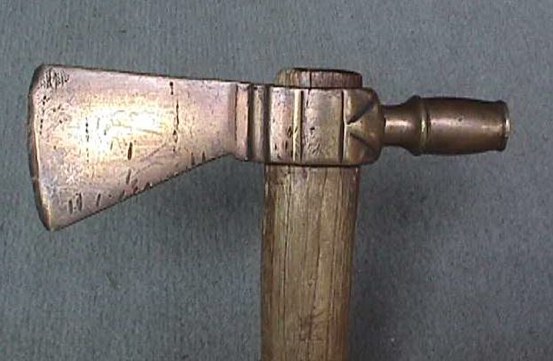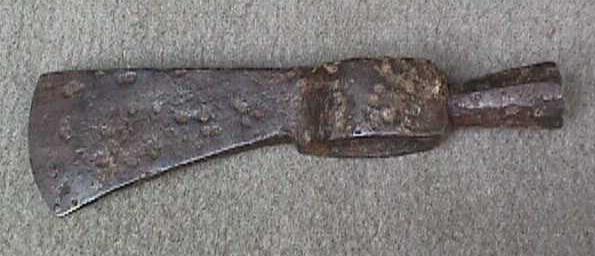 An English C.1800 type with original haft. Blade has
the broad arrow, haft is double stamped with a crown,
broad arrow and " SR OR".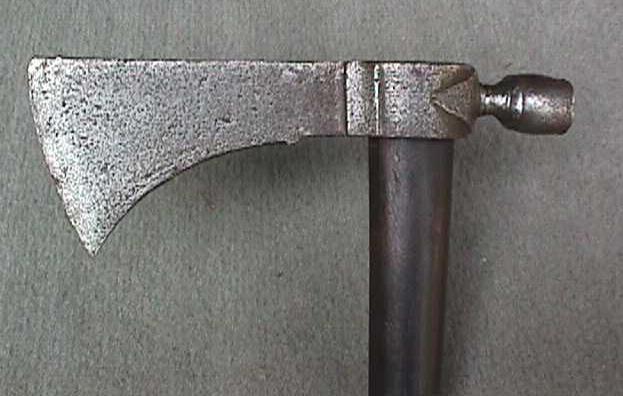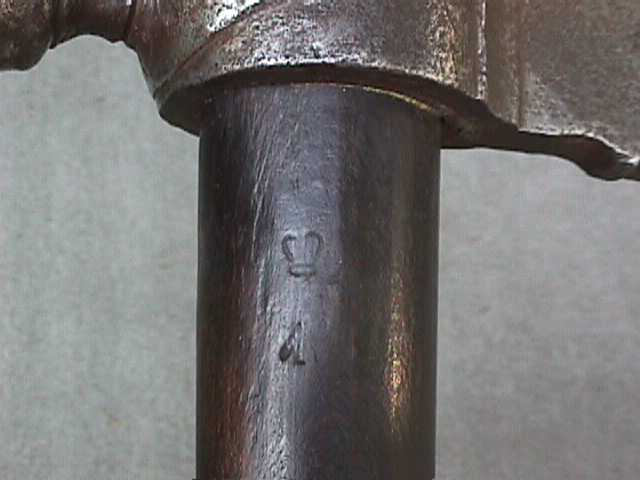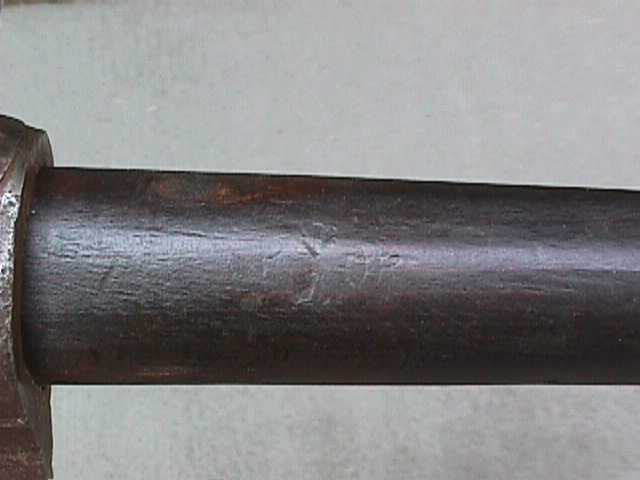 A French pipe ax with screw off
bowl & floral engraved blade.

The wonderful "MP" spike axe, speaking of which, anyone that has any
information on a blacksmith that used this MP touchmark in the
New Hampshire/ New England area please let us know

First rate piece from stem to stern. A very ornate blade with an intricately carved handle. The slightly unorthadox style is indicative of the individual nature of 1800th century blacksmithing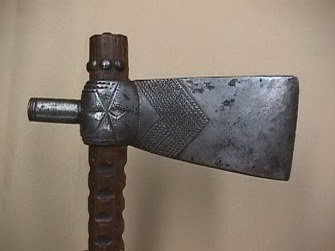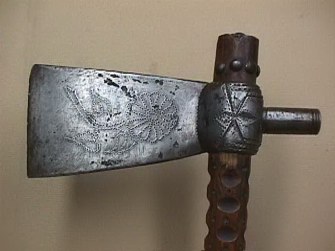 Another super axe from WM
This outstanding spike tomahawk was found in a house in

Cherry Valley, N.Y., scene of the Cherry Valley Massacre in 1778

and could conceivably be from that event. There were a lot of Indian

engagements in the area. The head is 8" long with a 2 1/4" wide blade.

The original ash haft is 19" long.

Note the nice file work at the front of the blade & spike. It is very

thin & delicate weighing only 11.4 oz.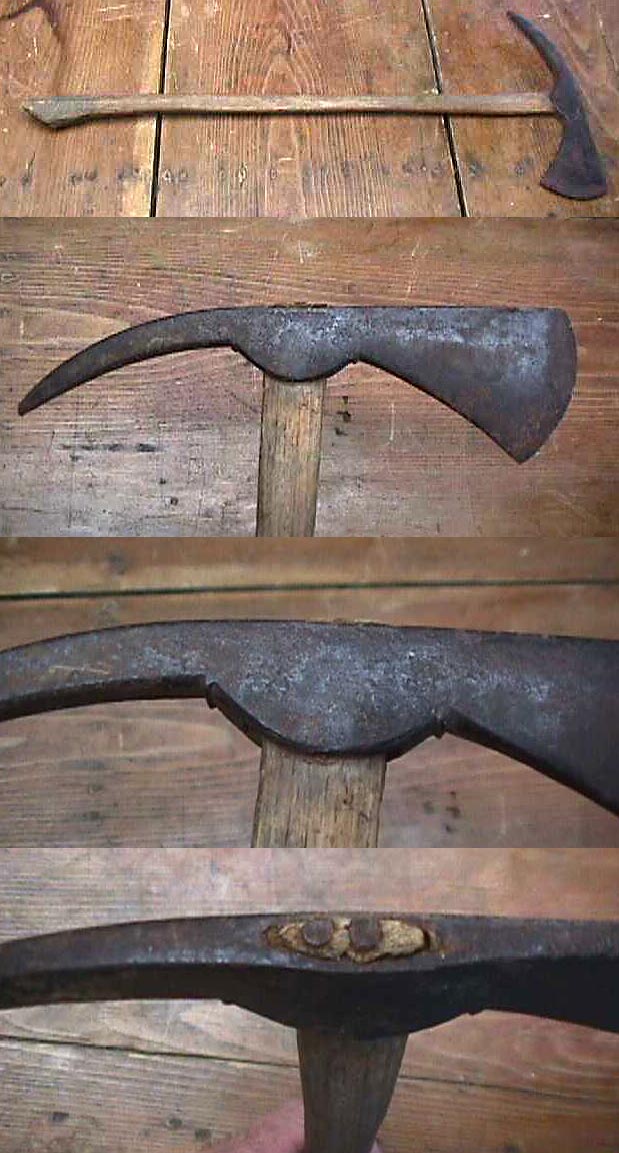 YOU MIGHT REMEMBER THIS NIFTY SPIKE AXE/HALBERD FROM THE BOOK
INDIAN TOMAHAWKS AND RIFLEMAN'S BELT AXES BECAUSE I SURE DO!
I'VE ALWAYS ADMIRED THIS AXE AND THOUGHT IT WAS A REAL STUNNER
EX-NORM FLAYDERMAN COLLECTION IT IS CURRENTLY CURATED BY
TATCA MEMBER IN GOOD STANDING WARREN M.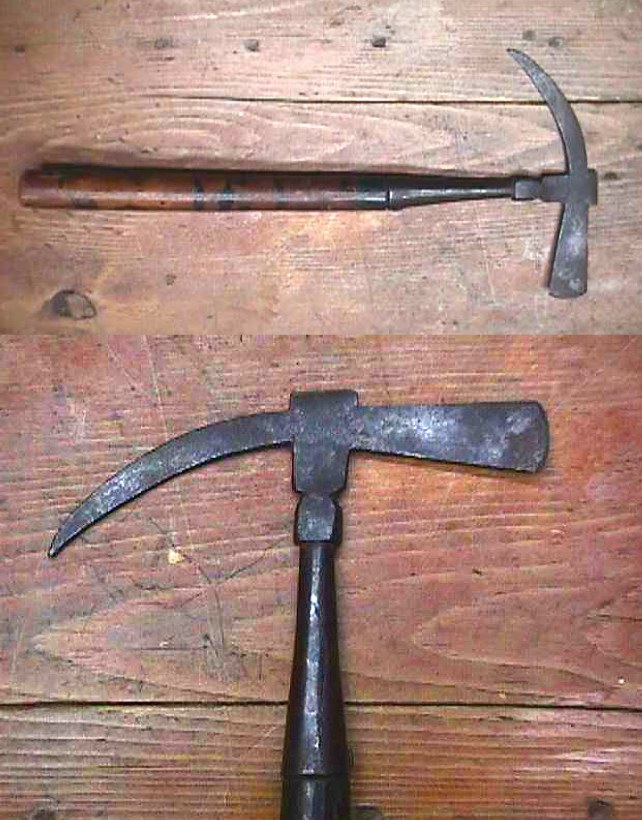 This spontoon axe is 24 1/2" long, the blade is 10 1/4" long from tip to top of the "bowl" and 2 1/8" at the widest part. The head was made from an English "Queen Anne" musket barrel C.1707 - 1714. The axe probably dates 1725 - 1750 and is attributed to the Iroquois. The haft is maple, the drops are red trade cloth wrapped around horse hair. The haft and "bowl" were never drilled and was not intended to be smoked, just the end of the gun barrel. The head is lashed to the haft with leather.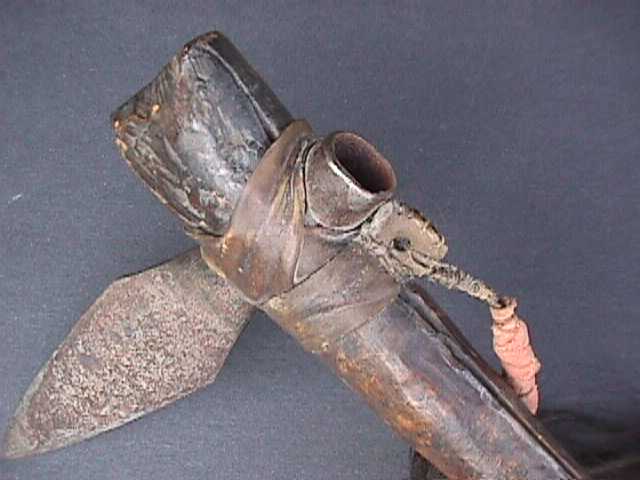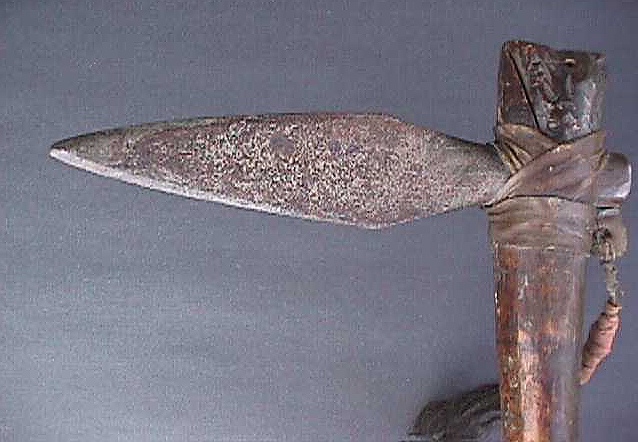 Prominant chevrons mark the saddle of this gracefully forged pipe axe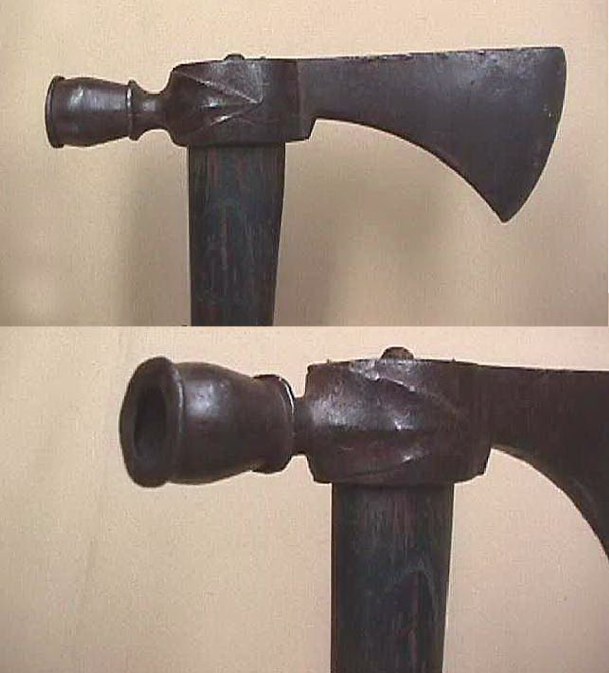 Three class A pipe axes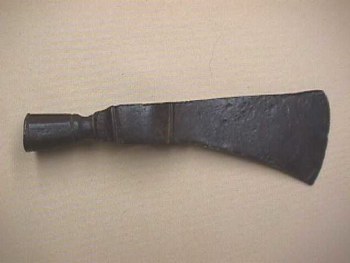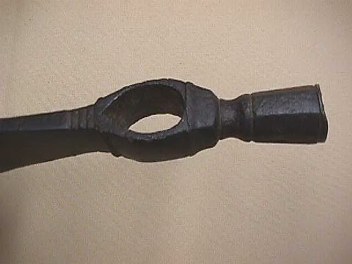 Two great pipe axes.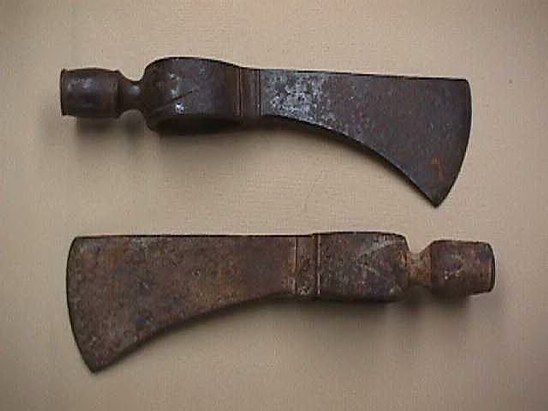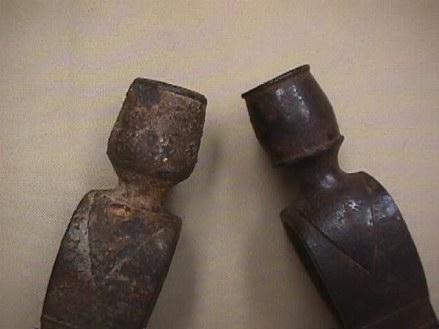 killer gunstock style tomahawk spontoon trade blade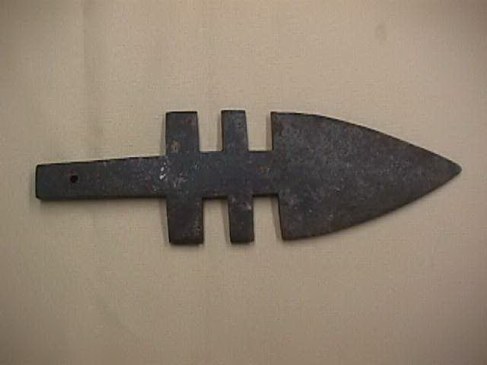 This is an outstanding study piece with a fascinating story to tell,,, the owner was
hard on on his tools, and yet cared enough about this piece to have it drilled to be
reattached to the rest of the axe. The other interesting thing is this is a blade
from one of those famous brass "vine hawks" Note the deep pitting on the steel
Blade insert.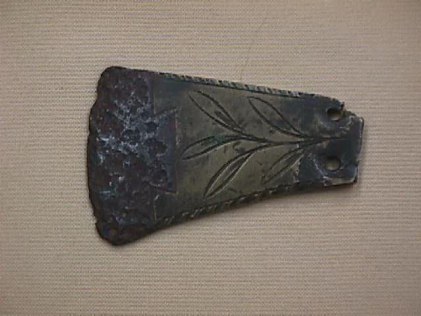 Back to the top

Next page