TRADE AXE & TOMAHAWK COLLECTORS ASSOCIATION.
|
home




PAGE ELEVEN

International members page.

From our newest international member Jean-Marc in France comes this hand forged from a gun barrel, diamond-shaped eye pipe axe ca. 1860-1870 . It is attributed to the Lakota Sioux. The old golden eagle feather is interesting in that its red spots are supposed to indicate the number of the owners deads according to Sioux codes.


COMMENTS:
Crow tomahawk: this piece is a scarce hammer poll head probably French or Spanish; it is a late 1700's early 1800's forged head that was most likely passes down because of the prestiege involved. The haft is 1820's to 1840's and the drop is early 1870's. This piece has probably seen a few drops in it's life; this was often done with cherished pieces, a sort of update in style.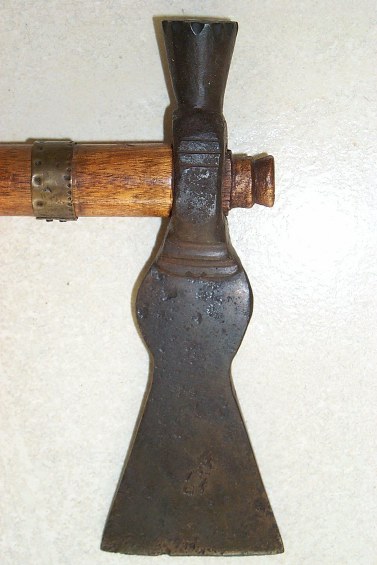 COMMENTS:
Pipe tomahawk Kiowa.
Spontoon pipe tomahawk, smokable brass, rocker engraved blade (contrary to reproductions), circa 1860's-1880's (18" x 7 1/2"). A very like match to this tomahawk is present in the Roswell Museum of History (Roswell, New Mexico). Spontoons are very rare on the basis they were not a tool; they were strictly warrior items meant to inflict lethal blows. Documented piece from a Texas ranch.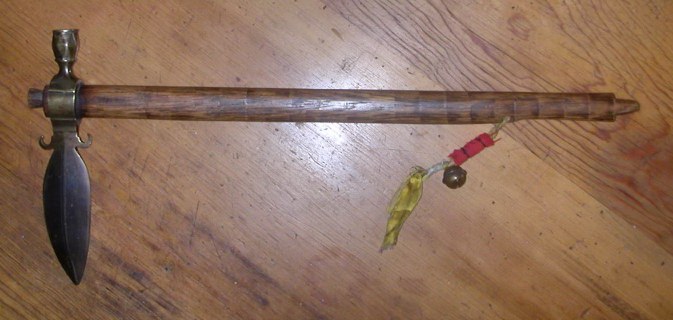 Note from Tim@TATCA
I am currently trying to establish if the pattern above is from an old
documented mold. If anyone has documentation regarding this
particular pattern please let us know.
3we2
More from Jean-Marc
Horseback Axe, Central to Southern Plains. The haft measures 31 1/4"
in length. The head is 6 1/4" by 2 5/8" at the widest part of the blade.
This is a very unusual piece. It is made from the handle brake of a
buggy or a wagon. On the bottom of the haft is the original hardware from
the break handle. Originally a ring would have been attached to secure the
horse reins. The blade was made from the spring of a buck board seat.
Spring steel head. Appears to be heated by an Indian blacksmith into
an axe blade. The eye is circular. Purely a weapon. Rawhide, brass tacks,
carving and pigment embellishment. The #2 is stamped on the metal on
the end of the haft. Oak haft. What makes this weapon unique is the way
it is constructed with minimal white influence.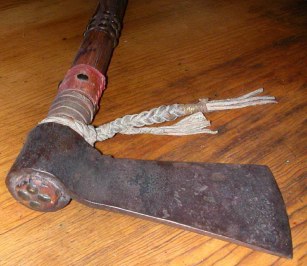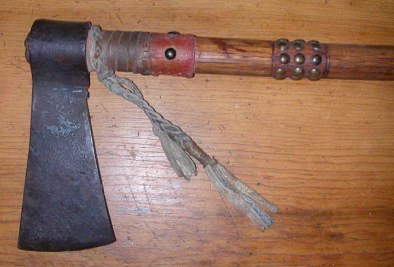 Jean-Marc writes:
The head of this pipe tomahawk is pictured in Petersons pipe tomahawk book, 1880's. It is Arapaho with classic ghost dance paint of the 1880's-1890's period. This is highly desirable and rare ghost dance material.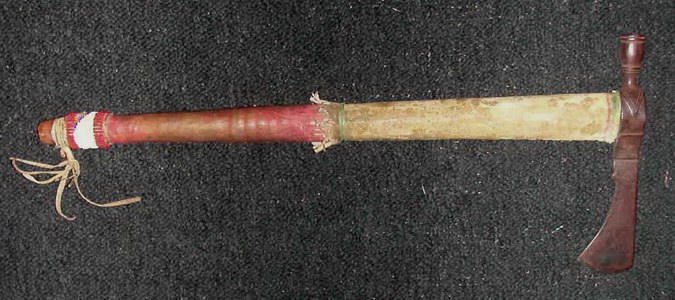 Please, find here some pics of outstanding 19th century native Americana.
Most of these vintage items have previously belonged to a museum devoted
to native Americans.
From Top to Bottom.
- Cheyenne tomahawk, ca. 1890 (haft fully covered with buffalo rawhide);
- Sioux pipe with catlinite head, ca. 1880;
- Arapaho pipe-tomahawk, 1880-90 (used in Ghost dance);
- Comanche tomahawk, ca. 1860 (horseback axe) ;
- Kiowa-Apache or Kiowa-Comanche war lance with steel blade, ca. 1870
(also used as horse quirt);
- Sioux war club, ca. 1870 (stone head);
- Sioux war club, ca. 1880 (stone head);
- Sioux arrow, ca. 1880;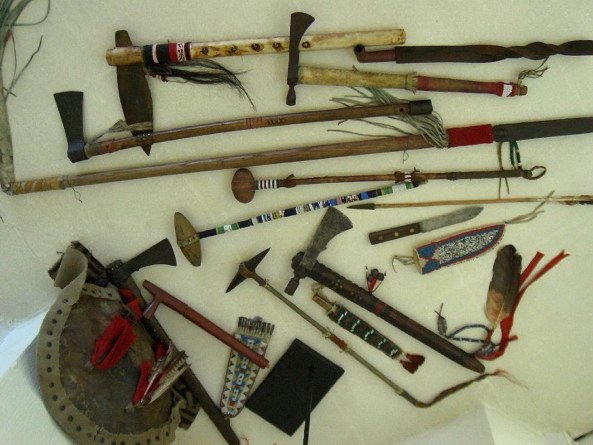 (Bottom, from Left to Right):
- Blackfoot buffalo war shield, ca. 1870;
- Pipe-tomahawk (actual tribe unknown);
- Sioux catlinite pipe with horse raids carvings, 1880-90;
- Cheyenne or Sioux buffalo-horn war club, ca. 1880;
- Blackfoot knife and sheath, ca. 1870;
- Sioux pipe-tomahawk, 1860-70 (documented to have participate in the
fight against 7th cavalry of Custer at Little Big Horn in 1876). The
golden eagle feather is indicative of warrior's deed in warfare. The
six red spots on the eagle feather indicate six kills by the warrior;
- Sioux knife and sheath, ca. 1890.
Jean-Marc writes:
Cheyenne war lance.
Extremely rare Northern Cheyenne war leader lance, ca. 1870. There are crow, eagle and owl feathers. The Cheyenne would more often use owl feathers than the Sioux would because the owl represented nocturnal power, seeing one's enemies at night. All the feathers represent warrior societies as they are all from birds of prey, the types of birds that would classicly land on a battle to make meals
of the dead. The notches in some eagle feathers indicate that the warrior cut foe's throats and took their scalps. The steel spear was made from a file. Such a lance signifies a war leader. The leader would direct other warriors with this lance in battle. The reason this lance is shorter (51 inches) than others was so it could be concealed behind a horse.

45Blackfoot tomahawk
(1820's to 1850's piece). This piece is fully documented. It belonged to a prominant member of a Blackfoot warrior society, named "Broken hand". It was passed down 3 generations and was considered a medicine piece. The blade has seen much use and looks to have been reworked from a cutting tomahawk to a spontoon tomahawk. This was common if a particular weapon had a special meaning (personal good luck charm). There are human hair and horse hair drops.
's piece). This piece is fully documented. It belonged to a pro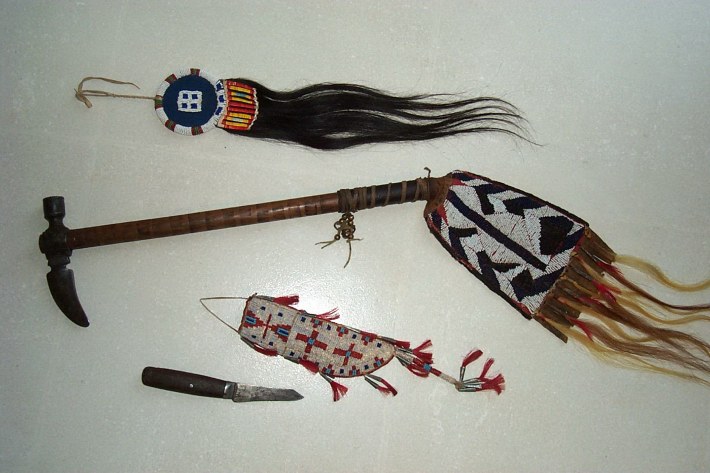 (personal good luck charm). There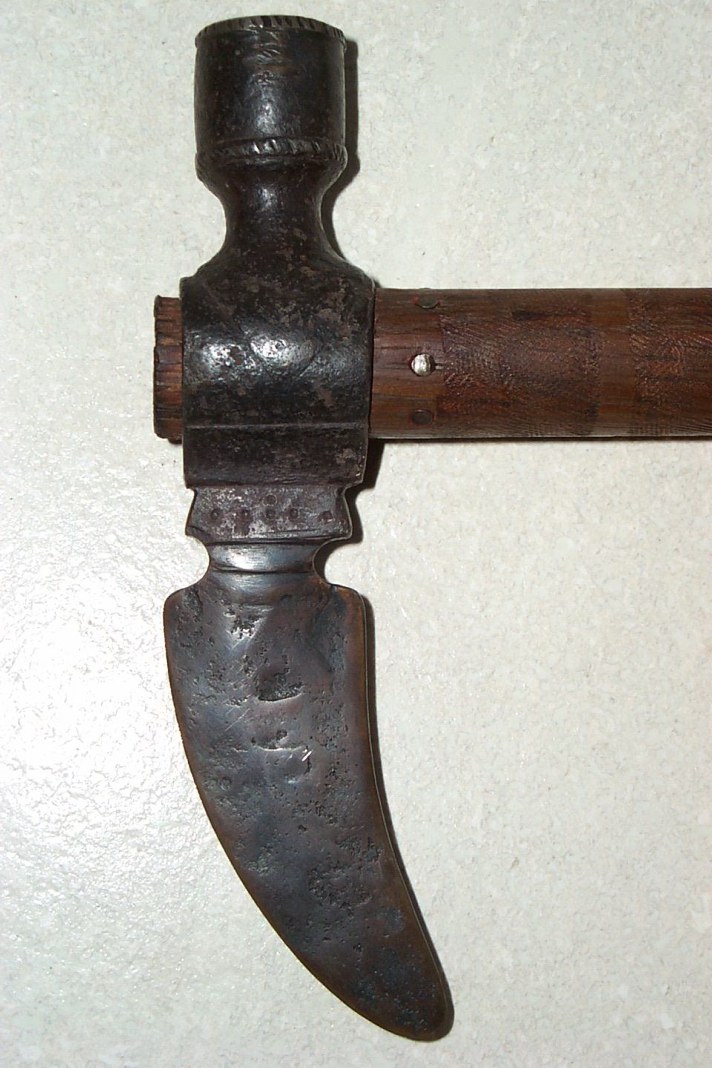 From our first international TATCA member Sa'ar in Israel
comes proof that the various forms of the tomahawk and
one handed battle axe have worldwide appeal.
A group of middle eastern battle axes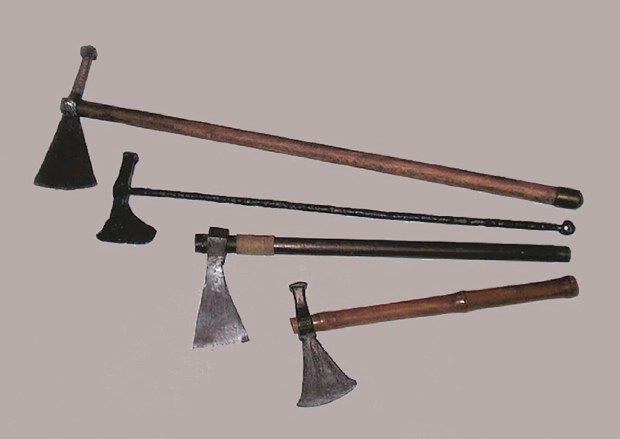 Magnification of two
decorated blades.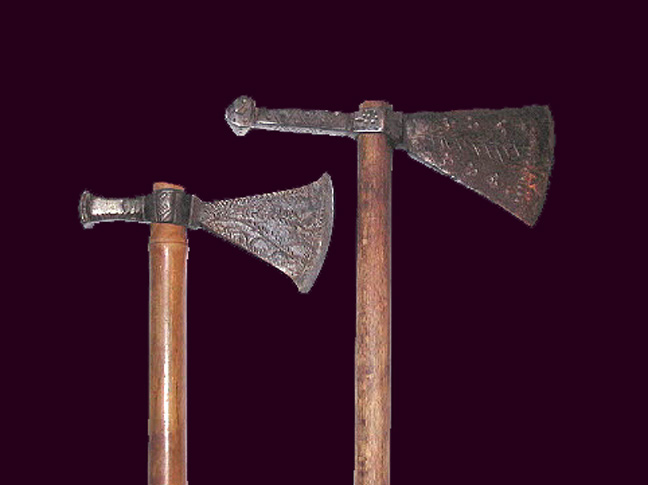 Crescent blade battle axes, all three excavated.
17th and 18th century.
Two highly decorated Russian hatchets
from Zlatoust. Etched and plated.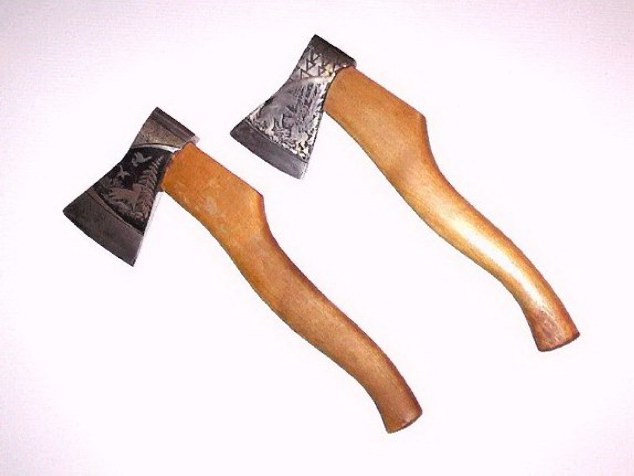 A sind (a region in west India) battle axe roughly comparable
in age, workmanship and value to a mid to high end American
trade axe.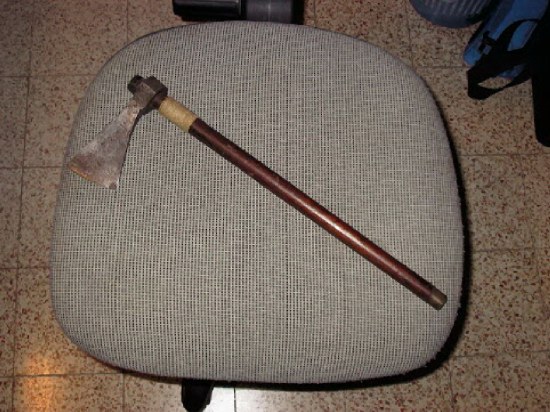 Sa'ar's "mini" spike axe.
Among the little people: the "halberd " is a small sugar axe, a
miniature lathing axe and a miniature damascuss steel cleaver
made by a local bladesmith.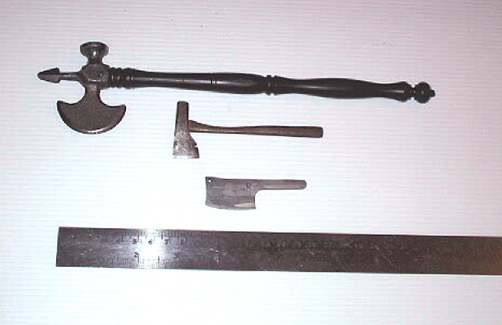 Pride of Israel: Three works of three different
contemporary blacksmiths.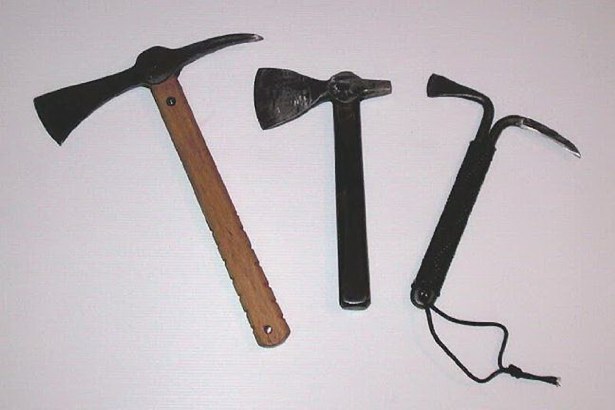 From Israel a wall in Sa'ar's workroom.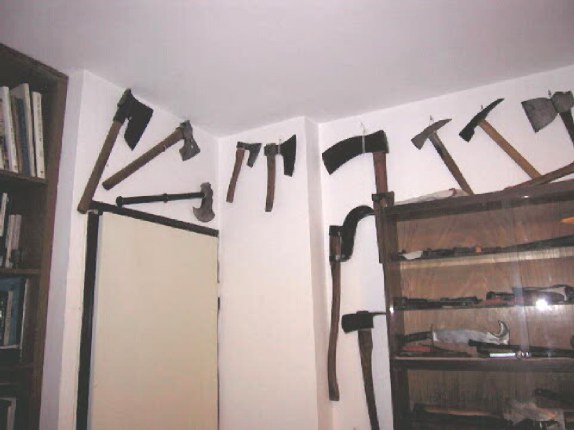 Sometimes the finds in Israeli fleamarkets are just amazing.
Look at this classic North American spike tomahawk, found here,
in my city... though it is very small, 5" long, 1-1/2" bit, nicely done.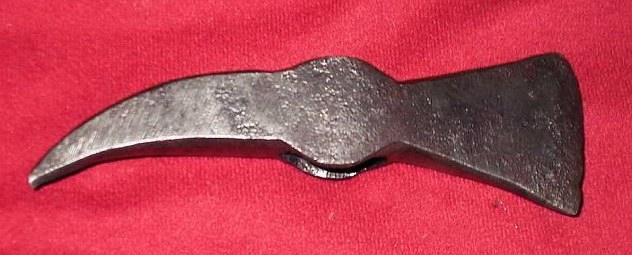 Wow! the one above is a classic. Thanks Sa'ar Thanks for sending it in.
****************
From Norbert K. in Holland come some of that
great stuff we all know and love.
Thanks Norbert.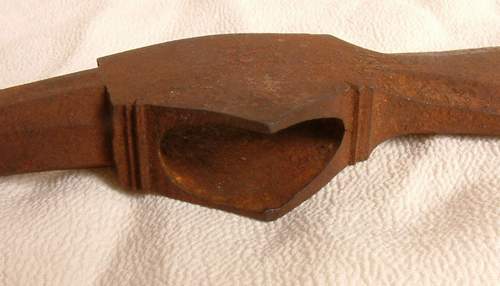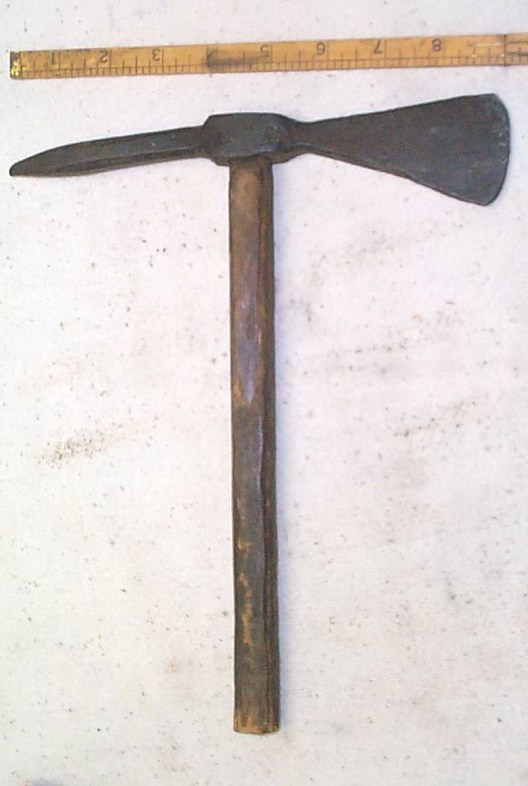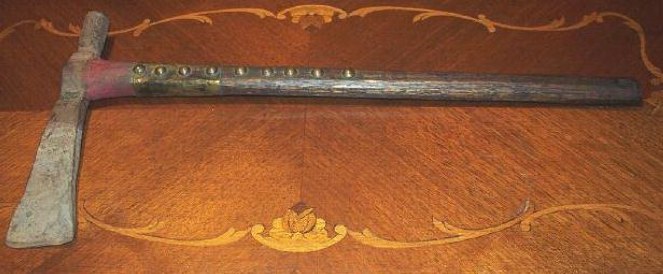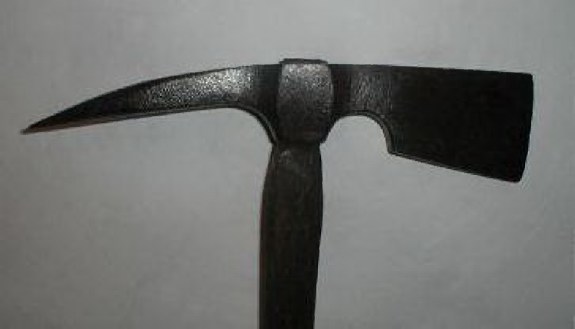 Next page