TRADE AXE & TOMAHAWK COLLECTORS ASSOCIATION.

| site map




SPIKE & PIPE TOMAHAWKS

Spike axes are really interesting weapons as far as tomahawks go with
a wide range of sizes and types. While some collectors are
distrustful of spike axes that were produced after 1800 their logic is
somewhat flawed by the fact that spike axes were made and in continuous
use well into the late 1800s. While it is true that many spike axes are not
spike tomahawks it is possible to go a little overboard declaring that only one
or another style are "true" tomahawks. I was once told by a very well respected
and well meaning collector that if a spike or hammer poll axe didn't have mouldings or other art features it was simply a tool while ignoring that
many of his own documented ones did not have such features and that most
trade items were made as basic as the traders could get away with.
While I respect this collectors opinion and certainly
agree that decor features do mean it is a tomahawk, I will probably
never agree that the lack of them meansfor crtain it is not.
The general rule of thumb in dating is many of the earliest spike
axes had long downward curved spikes with double flaired or thin
spatulate blades. Then sometime around 1750 a new pattern began to
evolve from the boarding axes of the time that were heavier and
much more compact with a straighter, shorter, thicker spike and
a "half axe" style blade. lastly by the 1870s many just had a short wide
diamond shape spike.
As I do loath loose heads I do what people have been doing
for the entire life of the tomahawk's head and rehaft them.
as I do have a thing for making them look functional and complete
My only indulgence is I cannot seem to make myself use more ash and
less curly maple. While both were used ash or hickory may have been more
commonly used for spike axes. All hafts are modern display handles
except when noted.
Upstate N.Y. 8 1/2 x 1 5/8 Circa 1740-1790
My first decent spike axe.
And still one of my favorites.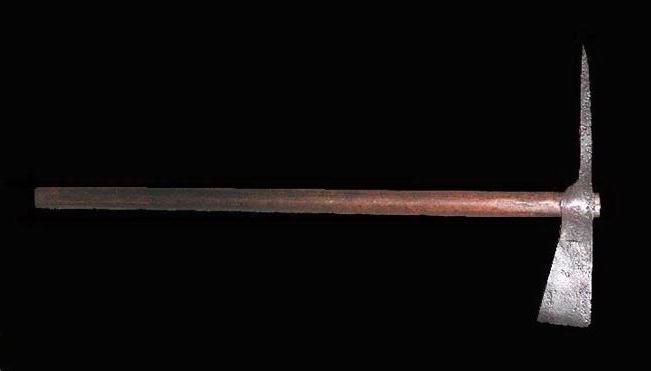 PA. 9 1/2 x 1 3/4 Very likable early form Circa 1730s-1760s
Pattern reference: Peterson # 67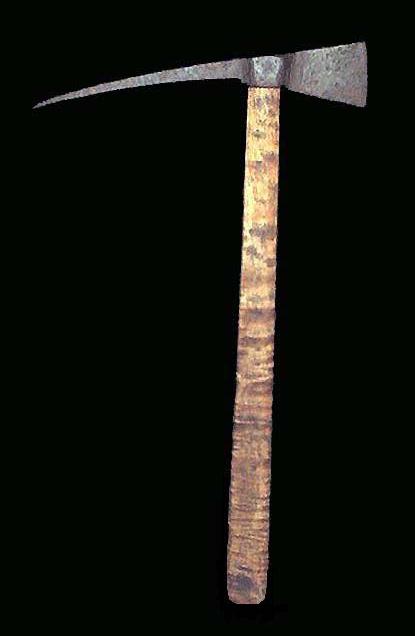 IND. 5 1/4 X 1 5/8 Ex-Kuck Ex-Dressler collection. Small but sweet.
Pictured in Baldwin's Indian war clubs page 36
bottom left group shot Circa 1750-1820.
Upstate NY 6 5/8 x 2 This thick compact head similar to the one above in general design still
shows remnants of red paint and obvious forge creases.
Modern curly maple display haft. Circa 1750-1840.
NH 7 1/2 x 3 Early version of the pre-Underhill "western" form.
Circa 1760-1840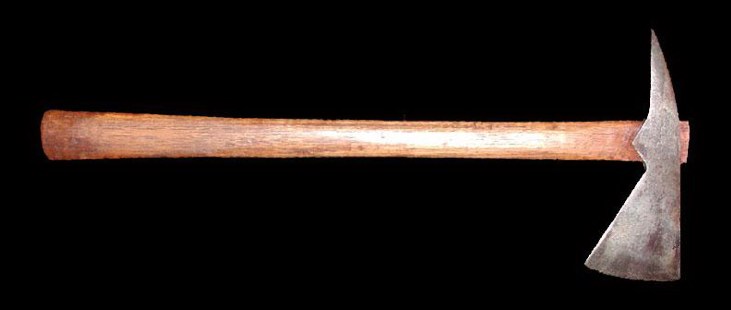 Florida - 7 3/4 X 2 3/8 Circa 1750-1800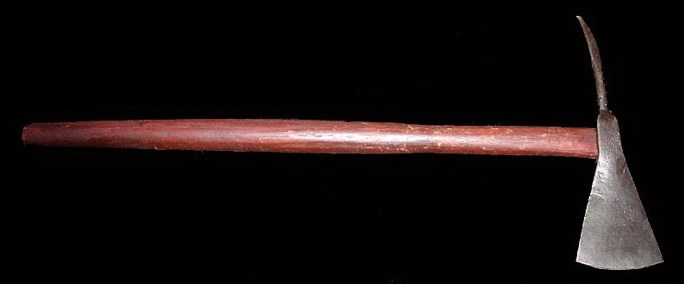 KS/MO 8 1/4 X 2 1/4 Circa 1800-1840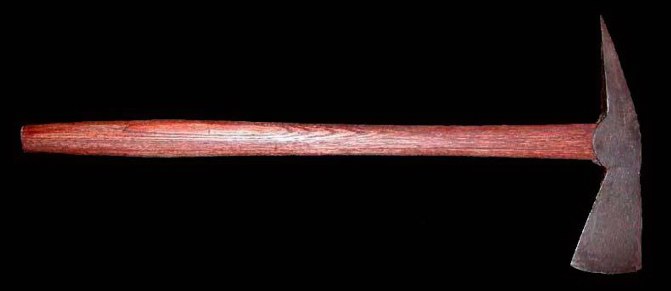 Ind. 7 3/4 X 1 3/4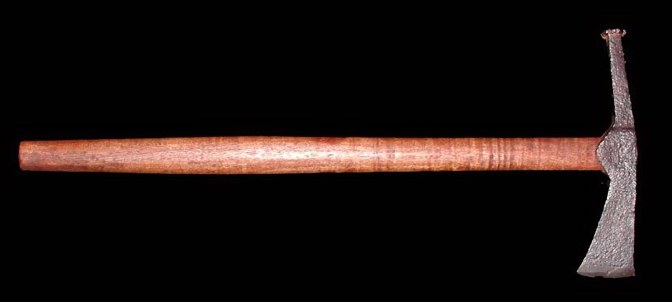 N.Y. 6 7/8 x 3 5/8 Circa 1740-1820
Short, thin and lightweight head.
Pattern reference: Russell. page 292 fig.77-b Iroquois
No 4210 in the Chateau de Ramezay, Montreal.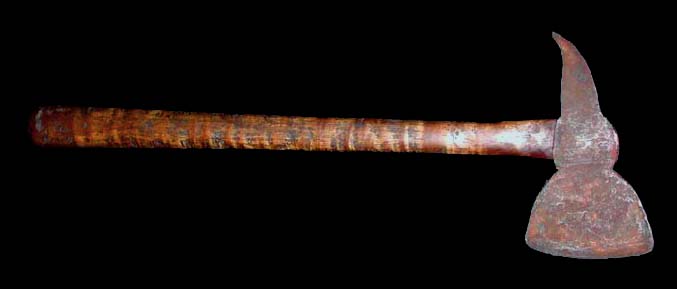 Florida but possibly originally
New England
Thin and lightweight head.
10 x 2 1/4 Circa 1750-1820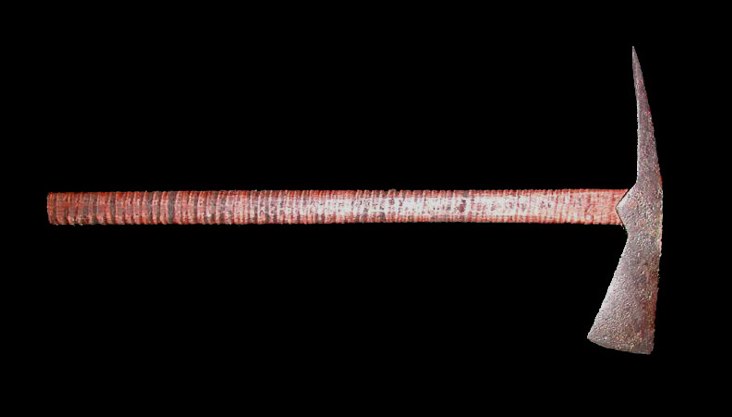 PA. 6 3/4 X 2 5/8 Circa 1750-1840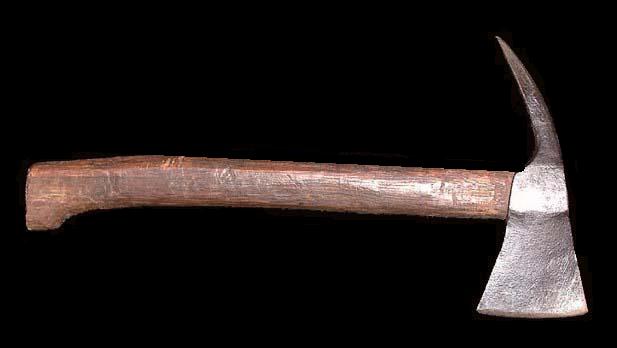 N.D. Thin and lightweight. Later western style. Circa 1780-1880
Ill. 9 3/4 X 2 1/2 Circa 1780-1840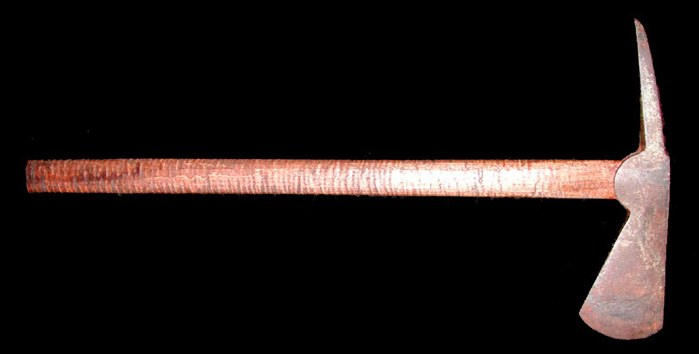 MI 10 1/2 X 2 3/8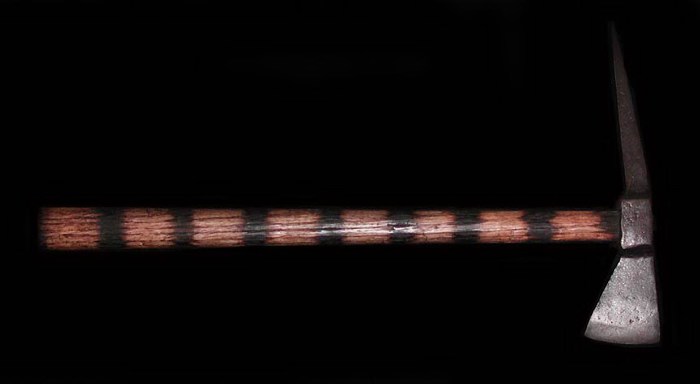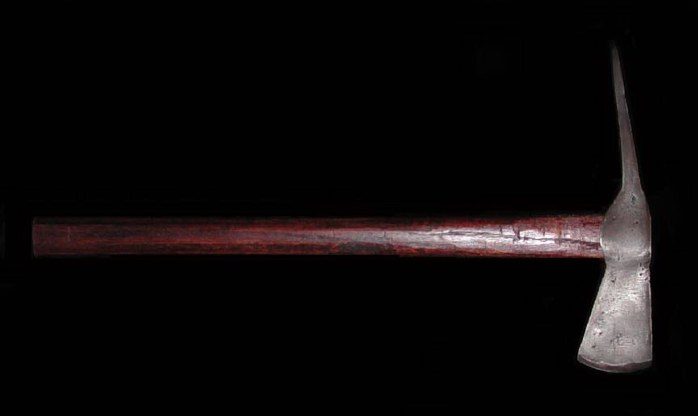 NY. 8 3/8 X 2 7/8 Circa 1750-1840
Maryland - 7 1/2 x 2 3/8 With makers mark. "Earley"
Original 15 3/8 haft with a total of thirteen
"tally" marks and a square suspension hole.
Traces or red paint on the haft and a type of
gold paint on the head favored by many tool
makers during the early to mid 1800s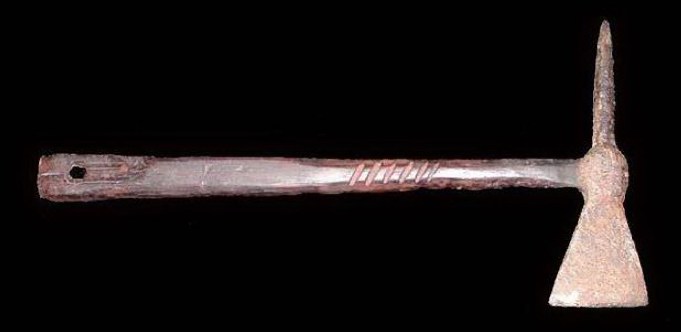 Kingston Ontario Canada 8 1/2 X 1 1/2
GA. 7 X 1 3/8 12 inch old haft? Circa 1790-1850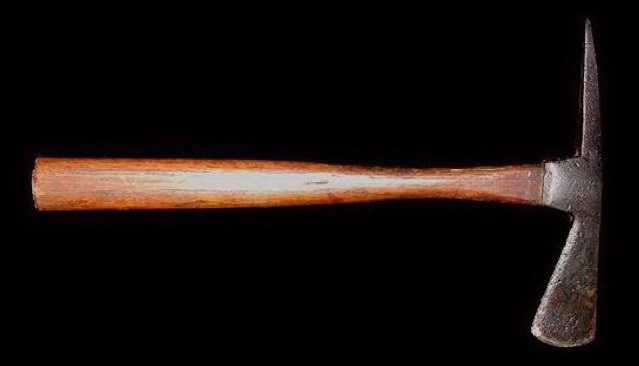 Mass. 7 3/8 X 1 5/8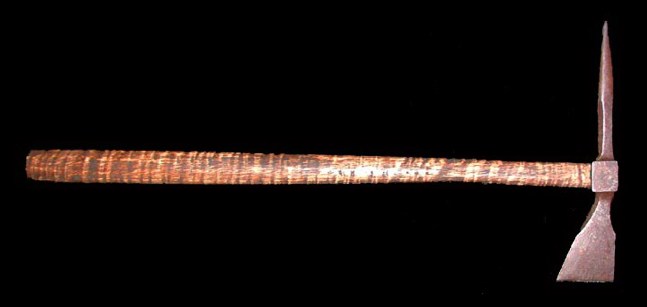 CT. 7 x 1 3/4 Old if not original 11 1/4 haft
Circa 1740-1790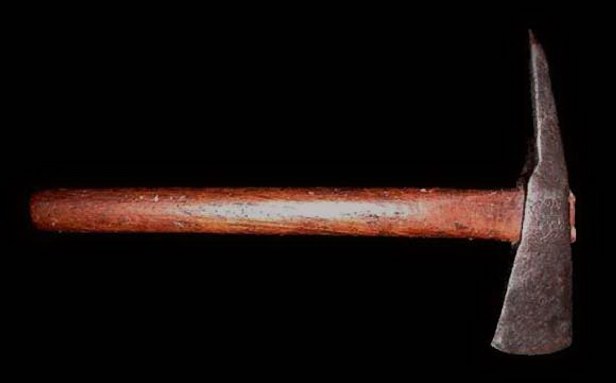 NY- 6 1/2 x 1 1/2
Circa 1750-1850
From KS 8 1/4 X 1 1/2 with
12 1/12 ORIGINAL HAFT
Circa 1800-1850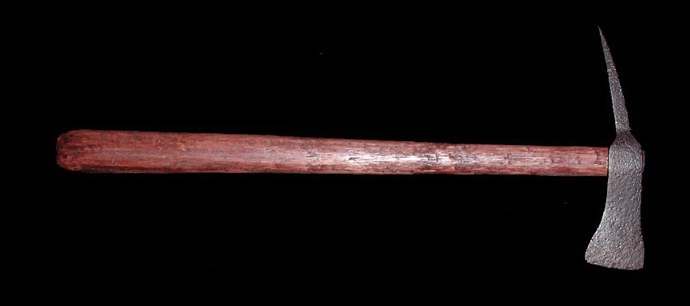 N.Y. 5 1/2 X 1 7/16 One of what I believe to be a family of small spike
axes that were mounted on long thin flexable "switch" like handles.

Two common post 1800 Western patterns. Top axe is unmarked
and has been painted red at some point.
Bottom is one of the famous "Underhill Edged tool co" spike
tomahawks
It has been well documented as to the use of spike tomahawks
in the second half of the 1900th century western plains. And odds
were good that from 1830-1890 many of the axes being used were
these patterns and or made by these companies.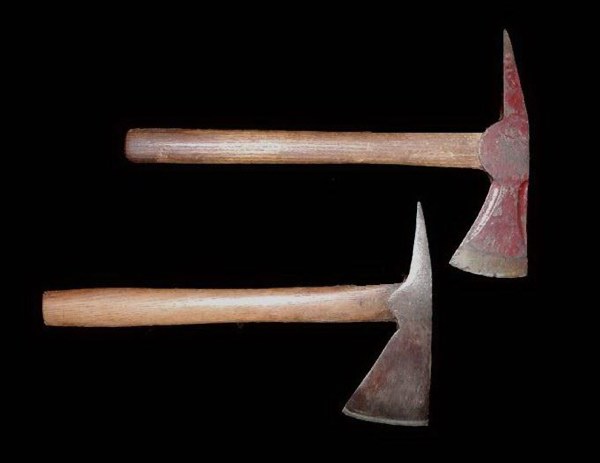 WV. 7 3/8 x 1 1/2 with a 10 inch original haft
and a brass museum collection tag Circa 1760-1840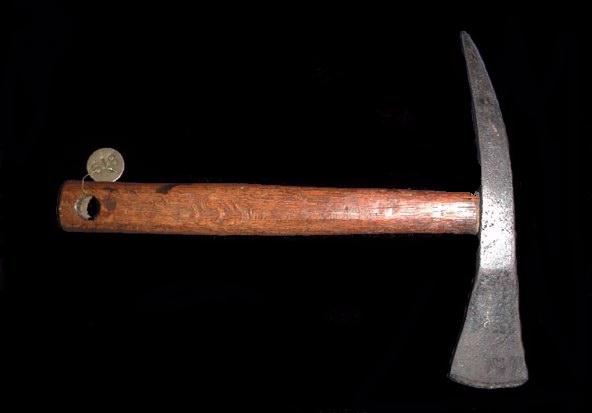 R.I. - Forged steel ORIGINAL HAFT with E.C. stamped
on the butt of the handle and the name Edgar Crawley stamped into
the sheath
Circa 1840-1880
One of the things I've learned while focusing on spike axes is while certainly the spike axe design is most commonly associated with New England and the time from roughly 1740-1790 they were produced well into the eighteen hundreds and at times in considerable quantities. However manufacturing technique and materials changed after 1820 with many made of cast steel as opposed to wrought iron. Many of these have makers marks although around 1860 most of these company's started to omit their logos/ trade marks as to avoid being branded as "Selling arms to the Indians" This might have been bad business in the wake of events such as Cluster's last stand etc. Also, while there was an overall trend of shortening the spike in later years, some of these cast steel axes have , thin, lightweight heads with very long, flat, needle tip spikes. A sort of knife on a stick arrangement\
great duck head spike axe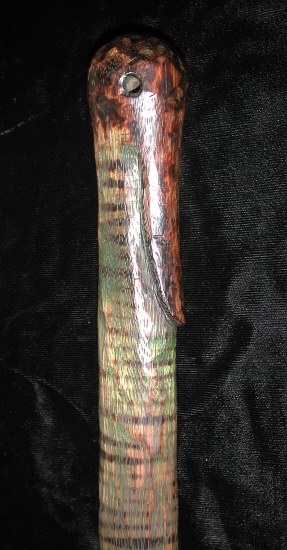 one of my best spikes circa 1830ish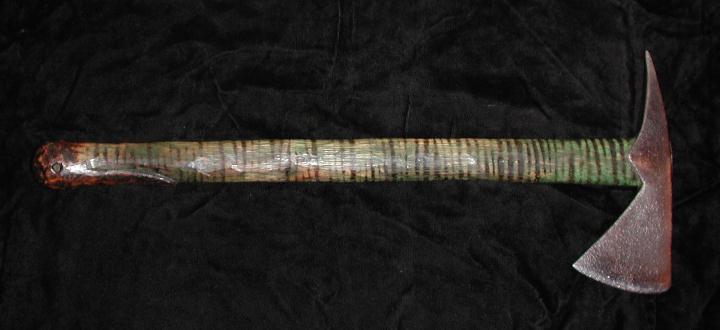 Pipe axes
DUE TO THE HIGH PROFILE OF PIPE TOMAHAWKS IN THE MEDIA
"THE PATRIOT" ETC. PIPE AXES RARELY FALL THROUGH THE MARKET
CRACKS LIKE THE OCCASIONAL SPIKE OR TRADE AXE AND PRICES ON LOWER
END PIPE AXES HAVE DOUBLED TO TRIPLED IN THE LAST YEAR OR SO.
ALSO, OF THE VARIOUS FORMS OF THE TOMAHAWK, NO OTHER DESIGN OR STYLE
HAS BEEN REPRODUCED AS HEAVILY, OR FOR AS LONG AS THE PIPE AXE.
THIS MAKES BUYING WELL DOCUMENTED ONES A MEGABUCKS PROPOSITION,
AND LESS EXPENSIVE, LESS WELL DOCUMENTED ONES A RISKY PROPOSITION.
THIS SMALL PIPE AXE IS MADE IN THE TRADITION OF MANY OF THE MID 1900th CENTURY PEWTER AXES. IT MEASURES 1 3/4" WIDE, BY 6 1/2" LONG, WITH VERY THIN BLADE
THE BOWL HAS A LITTLE DAMAGE ON THE SIDE, AND HAS EARLY
AN REPAIR OF COPPER PIECES PEENED INTO THE HOLES. THE AXE
HAS PUNCHED DESIGNS AROUND BOWL ( THAT IS HELD TO
SOCKET WITH MELTED ZINC). TWO BRASS INLAYS SEPARATE
THE SOCKET FROM BLADE ON EACH SIDE. THE POLL IS
OCTAGONAL WITH FILE WORK DESIGN. IT ALSO HAS A LEAD
OR ZINC GASKET TO SEAL THE HEAD TO HAFT.
THE HAFT IS MADE OF CHERRY (21 1/2" LONG), WHICH APPEARS
TO HAVE BEEN SPLIT AND GROOVED DOWN THE MIDDLE, THEN HELD TOGETHER
BY A BRASS PIN, THE HAFT IS DECORATED WITH SQUARE SHANK BRASS TACKS
( A COUPLE OF WHICH HAVE BEEN BROKEN OFF).
A NICE WROUGHT IRON, HAND FORGED, DELICATE
LITTLE AXE. CIRCA 1850
This s tomahawk appeared in a A&E biography
on the best and worst presidents titled: Commander in chiefs
in the section about Andrew Jackson,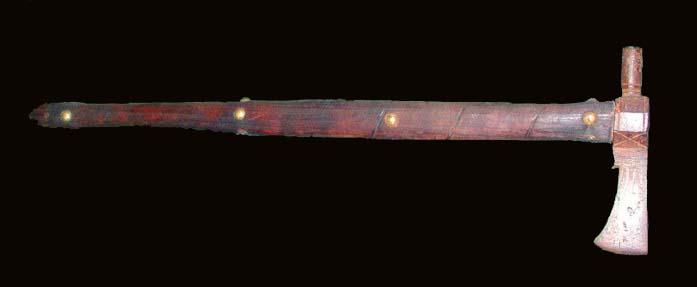 OF THE FEW PIPES I OWN THIS ONE FOR SUCH A UGLY PLAIN LOOKING ONE HAS PEDIGREE RUNNING OUT OF IT'S BRASS EARS. FROM THE FAMOUS LAWRENCE COLLECTION GATHERED IN OKLAHOMA THE 1920s AND 30s IT WAS THEN SOLD THROUGH SOTHEBY'S TO A FORMER CALIFORNIA STATE ATTORNEY GENERAL AND CONSUMER FRAUD AVOCATE, EVENTUALLY ENDING UP IN MY MODEST COLLECTION AFTER MY DEAR
OL"COLLECTOR SYMPATHETIC " MOM PROCURED IT FOR ME AS A
CHRISTMAS PRESENT A FEW YEARS BACK.
Good ol Ma, Come to think of it she is probably the one genetically
responsible for my horrific case of collectitis.
BRASS HEAD 7 1/4 X 3 1/8 WITH FILED IN MOULDINGS. ORIGINAL 15 1/2 ASH HAFT THAT APPEARS TO HAVE BEEN SHORTENED AT SOME POINT DURING IT'S LIFE. THIS WAS A COMMON PRACTICE AMONG COLLECTORS AROUND THE TURN OF THE CENTURY.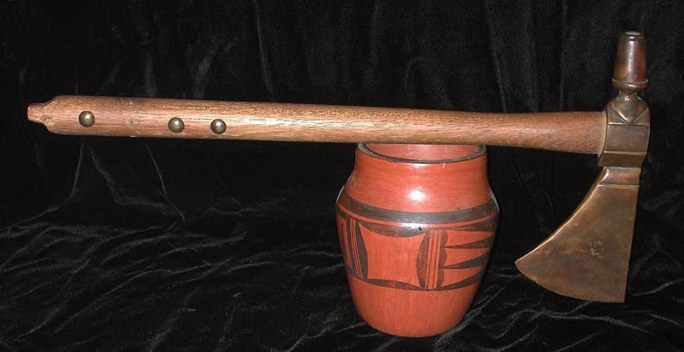 There is a copy of this head has been or is currently being produced. I am in this case going to refrain from telling how to spot them in hopes of slowing the fake factories from making them even harder to spot.
Cal 6 1/2 X 2 1/2 with a 15 1/2 inch haft. Hartzler & Knowles say 19th century.
Page 179 Fig 24 Peterson says later # 237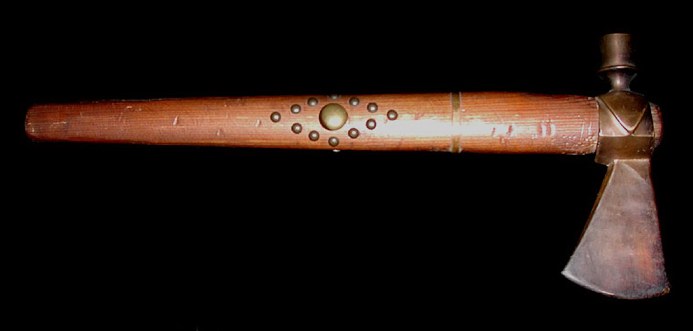 N Cal. 8 1/8 X 3 Typical standard triangular western form. Forged .
Circa 1850-1890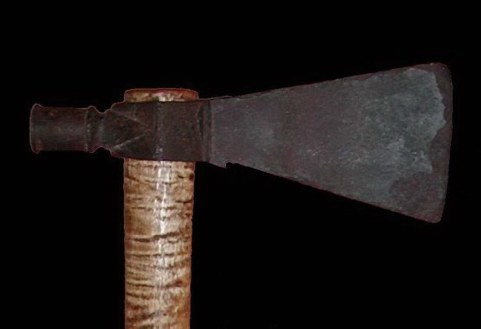 Fla. Somewhat plane looking with mid to late 1800s tall western style bowl
and straight edged blade. Is cast in low brass with high copper content.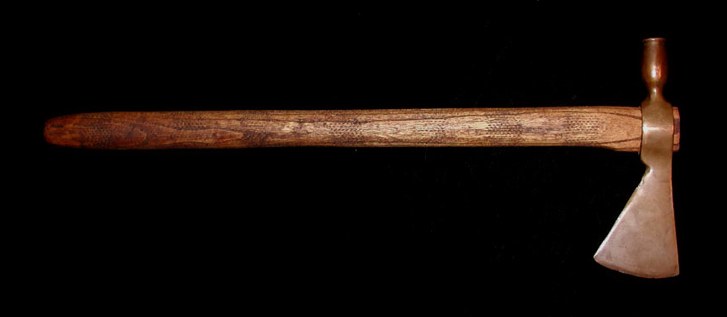 Brass spontoon pipe
Late reservation, early tourist or even an old movie prop which in
the early stages of filmmaking were simply real ones.
Ex-Iron "crying" eyes Cody collection. And I know, he was Italian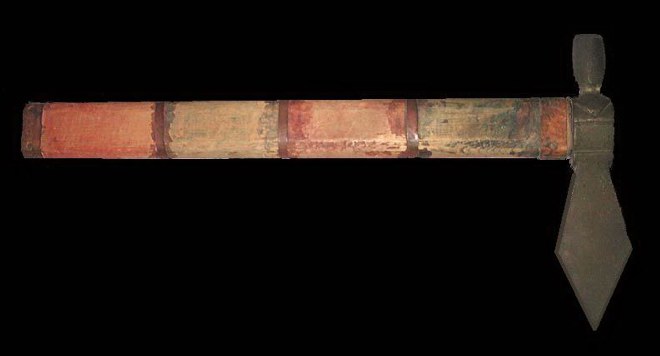 Oklahoma. Late 19th century "presentation tomahawk"
nickel over brass. Several have found with presentation engraving etc
while others have been found in association with the Oto in Oklahoma.
Pattern reference: Hartzler and Knowles page 173 fig 11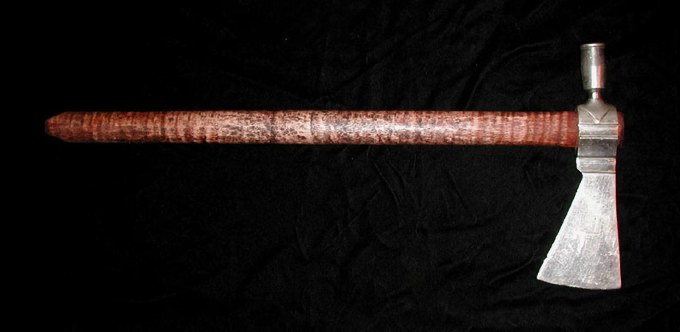 Out west?
Pretty nifty reservation era piece with possible original haft
although it is not drilled for smoking for around forty years on
either side of the turn of the century many haft were not drilled
including some with spectacular drops. Circa 1880-1920
Pattern reference:Hartzler & Knowles
Page 208 fig 40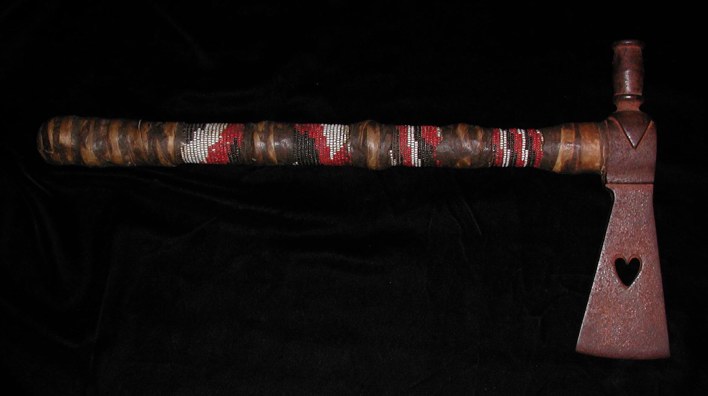 Midwest? 6 3/4 X 2 1/2 Cast western pattern.
Has a brass repair on either side of the poll

Crude but functional reservation period spontoon pipe axe Circa 1890-1920
Attributed to the Comanche.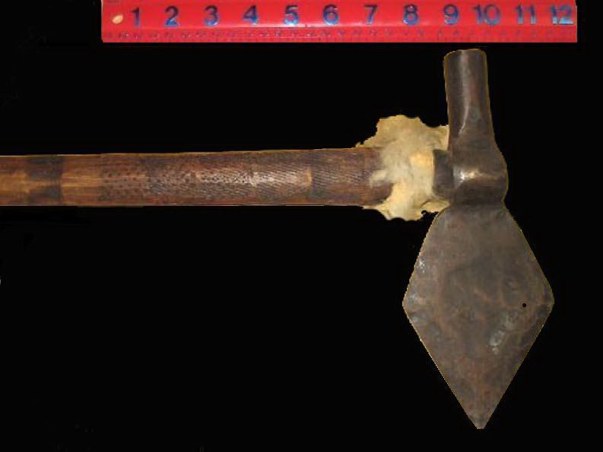 i have built my meger pipe axe collection out of what i refer to as old mold patterns manly in brass with a selct few in iron, to me to qualify fo old mold status
one has to find one of the same mold in a inpecable collection like the museum of he Amrican indian. or petersons etc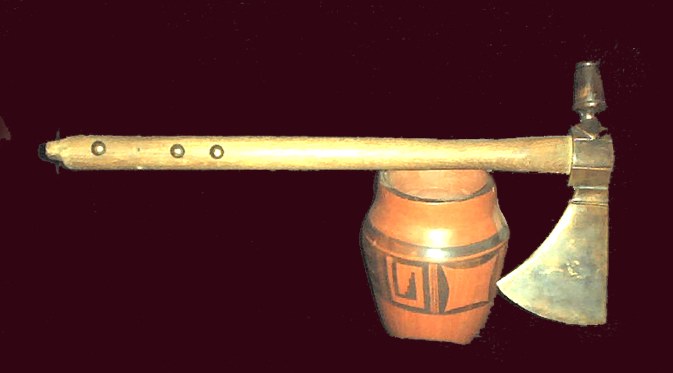 a brass nickel plated ,proven old mold pattern circa 1880-90ish
all what i consider to be "old mold patterns with the exception of #7 #10 which are forged iron the rest are brass cast except #5 and #8 that are old mold cast iron patterns
none are great but I like them all in their own way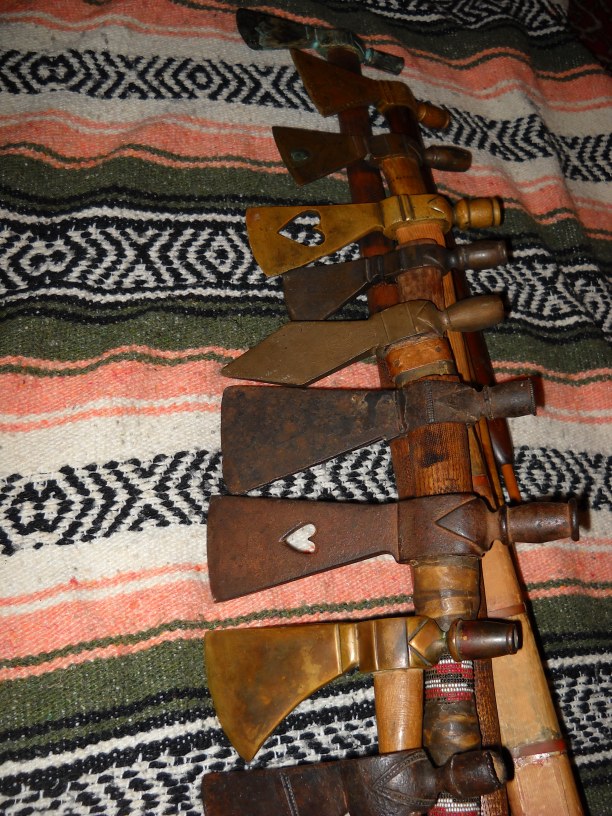 Next page