TRADE AXE & TOMAHAWK COLLECTORS ASSOCIATION.
|
home






PAGE NINE

From Phil L in PA comes the nicest group of hammer poll axes I've
seen in many a moon. These are the stuff when it comes to hammer
poll tomahawks. Note the total lack of nail pulling slots on these axes.
Below is one of Phil's pipe axes; this is a classic English pattern, circa 1790/1830.
It has an oak haft with pewter mouth piece
and bushing at the head end. Both have the saw tooth scalloping
along the edge. Haft may be a mid 1800 replacement-- who knows??
Picked this up at a local gun show here in Western PA a number of years ago.
The guy didn't have any provenance on it. Remember that Western PA is the
confluence of the Allegheny and Monongahela rivers
to form the Ohio. This was the door to the west (Ohio.Kentucky,
Tennessee and further and the heart of the early fur trade era. Lot of Indian
warfare took place here. A good read of this area and
mid/late 1700s is Allen Eckert's" Dark and Bloody River" which
is a historical novel of this entire area. A white settler didn't stand
much chance of " keeping his hair" during this period. Several other books,Captured by the Indians" and "Indian Warfare on the
Western Virginia Frontier" both have accounts of the indian attacks
that took place in the western Pa area and vividly describe the
use of the tomahawk in those attacks.
Thanks Phil.

More of Phil's PA iron.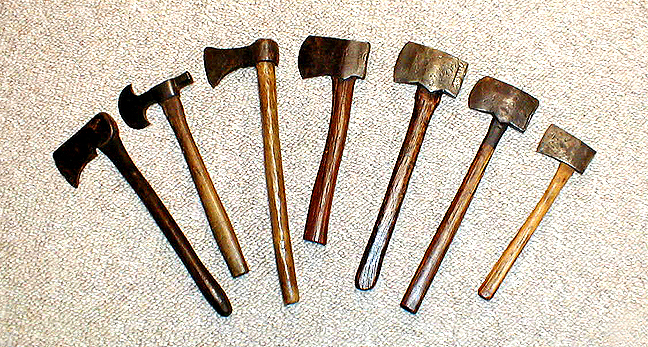 A triplex of great forged belt hatchets.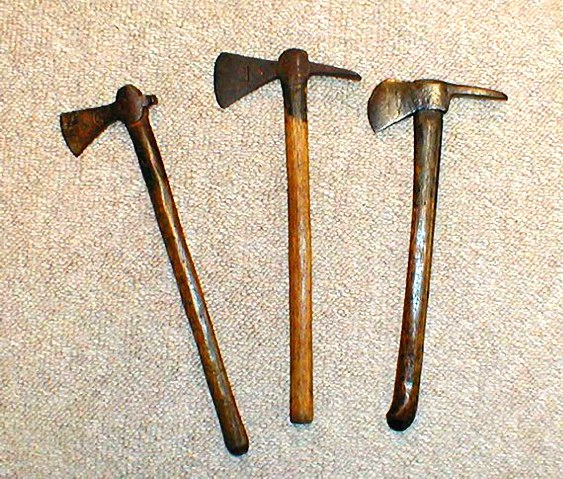 Another effective looking small belt axe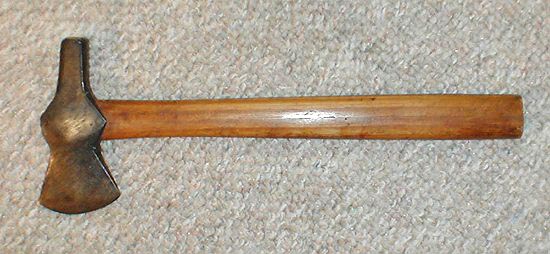 This is a pair of forged "butterfly" double bitted
belt axes.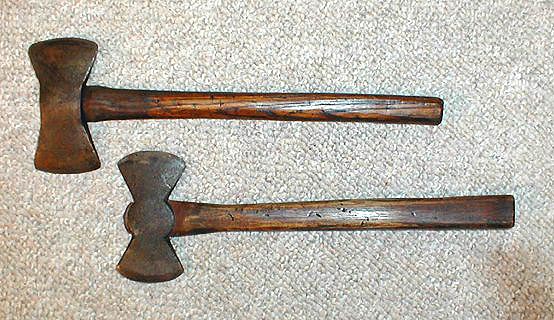 Great belt sized spike axe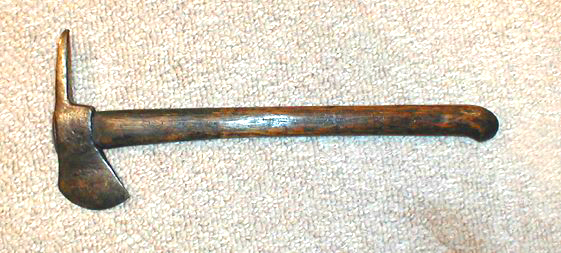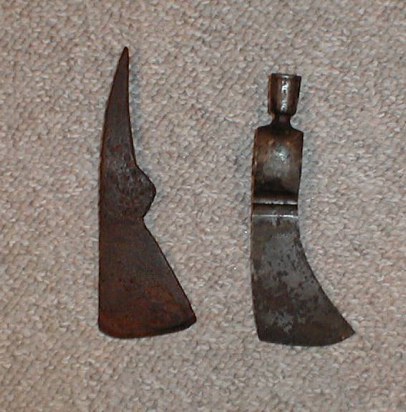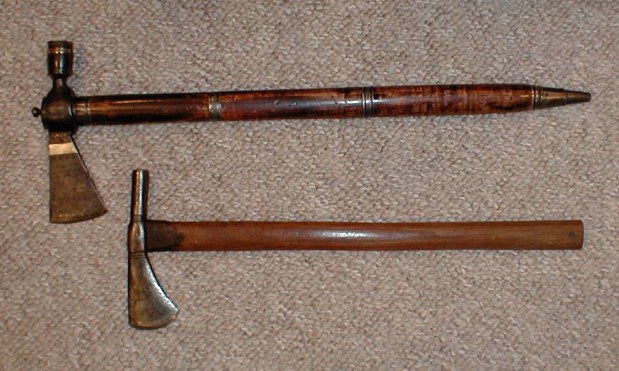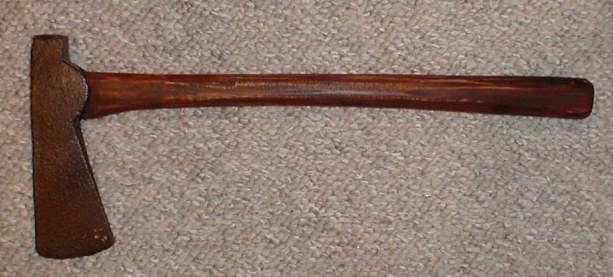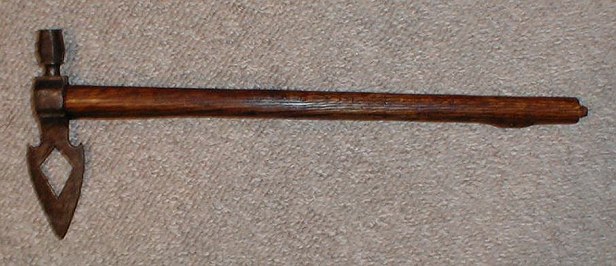 This is an interesting small cast hammer poll ax with
a unique blade shape, possibly French.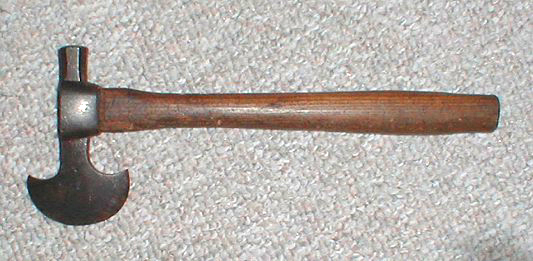 From TATCA member Ron in Maryland comes these outstanding

1800th century boarding axes. Boarding axes were the Euro- tomahawks

of the era and are one of the original design sources for spike

tomahawks as we know them. It has been said that the spike served

three functions, One, as a hook to enable sailors to catch debris like burning

sails to drag it overboard. Two, as a pick to dig heated cannon shot

out of a ship's timbers before it had time to ignite the ship's framework.

Three, as a climbing aid/grappling hook when boarding enemy ships.

In their time they were used as both battle axes and fire axes and were

eventually even referred to as tomahawks by the navies of several nations.

This first one is a regulation boarding axe
British 1805 maker marked SARGANT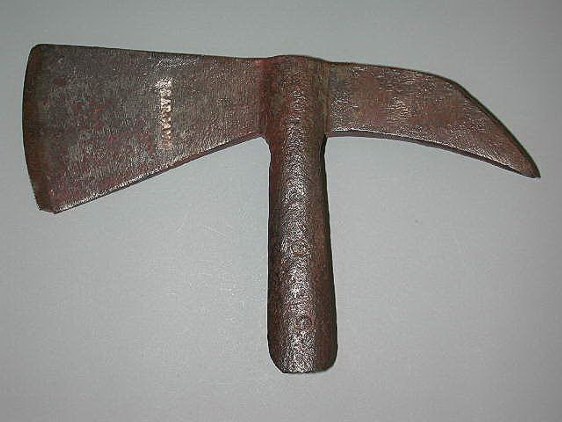 This one is a dug, slightly smaller British Boarding axe circa1790s.
It has had the spike removed and was made into belt axe. It also
has the broad arrow mark for British government ownership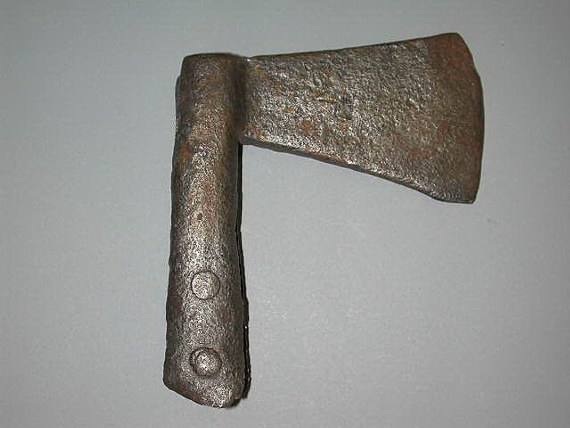 This one is another American copy of a British boarding axe
found in a revolutionary war site. The spike has been blunted
off from hard use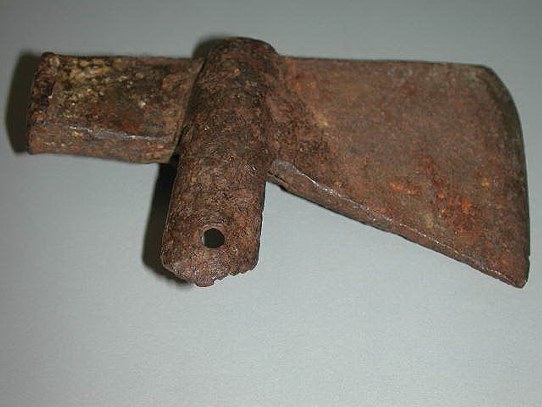 This one is smaller, probably an American copy of a
British axe and was dug in revolutionary war site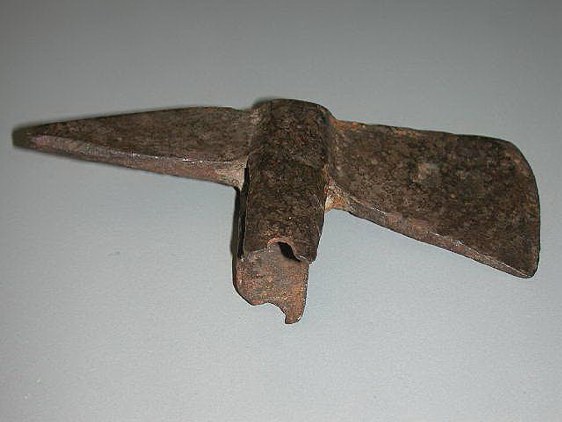 OUTSTANDING FRENCH BOARDING AXE
Curated by TATCA member R.L.M.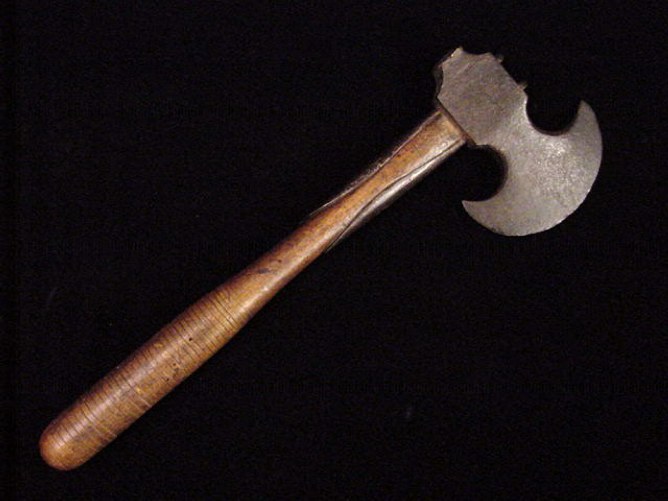 last year I spent a week in Birmingham and London England and while standing in
customs I met a man from Georga with a metal detector who said he
came to the UK every year to hunt for Roman knick knaks. He mentioned
something about Roman battle axes and I thought, I have a metal detector
at home,,,, Why I didn't take it with me I will never know but the whole
rest of the time I was there everywhere I looked appeared to me to either be
straight out of Camelot or Pirates of the Caribbean and I kicked myself
repeatedly through out the trip for not taking it with me. I'm also betting that
those limeys are so used to finding 2000 year old axe heads that to them the
200 year old ones would be the stuff they would just give to the visiting "Yank"
well that's my fantasy anyway
From Kole comes this fantastic Roman axe. The kind of stuff I would be hoping
to find if I ever get another crack at England These are the early forerunners of what
would someday become European trade axes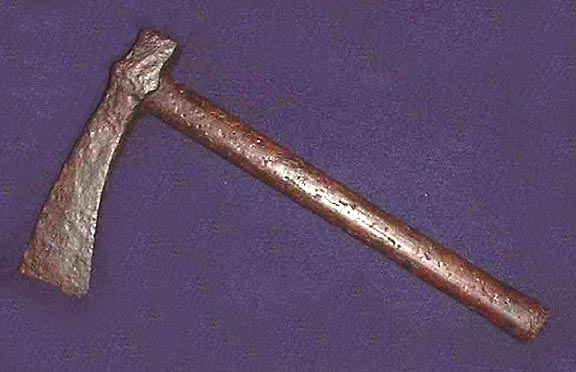 Kole said he just had to slap a handle on this thing to make it look whole.
I'm with you guy as you will not find alot of unhalfed heads in my collection.
I do have to say you've done a great job on this one striking a balance
between the aged look of the head and the haft
TOMAHAWKS AND AXES BEG TO BE HUNG ON A WALL SO HERE ARE SOME OF THEM IN THEIR "NATURAL HABITAT"

THESE TWO PIX ARE FROM KOLE, AND HAS SOME VERY APPEALING ITEMS IN THEM. I HAVE TO ASK KOLE,

WHAT IS THAT MEDIEVAL RADIATOR FAN BLADE LOOKING THING? AND TELL ME THAT PEOPLE DIDN'T USED TO

WING THOSE AT EACH OTHER LIKE HUGE KUNG FU THROWING STARS?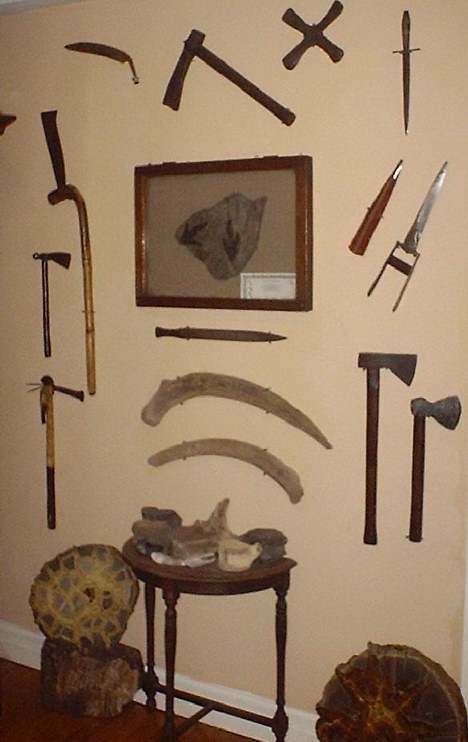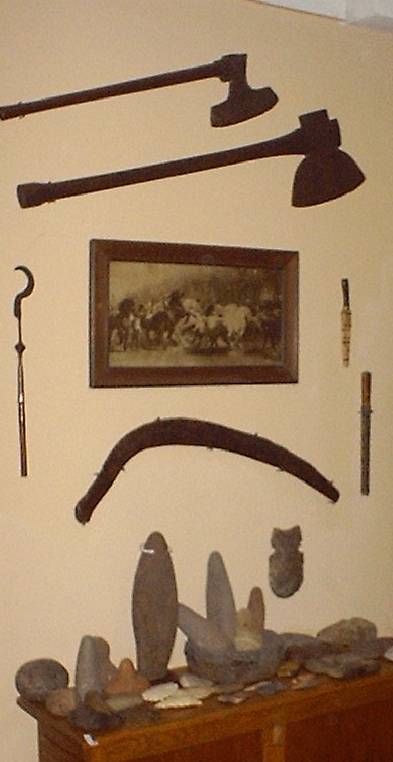 Next page