TRADE AXE & TOMAHAWK COLLECTORS ASSOCIATION.
|
home






WHAT IS A TOMAHAWK?

What's not?
I suppose the first critera a true tomahawk has to pass is, would it have been used as a
weapon ? And then as a tool as a secondary function? Was it made before the turn of the century?
Would it hurt if someone whacked you in the head with it? repeatedly? The interesting thing is that
what has been considered to be a "typical" tomahawk has changed over the decades. In the years
following the turn of the century the best way to gauge what was supposed to be a tomahawk is to
look at the toys. From roughly 1930 to the1950's toy tomahawks quite often had nail pulling notches
like the roofing hatchets of the period, As if all the photographs taken of native Americans prior to that
point showed them with a plumb shingling hammer in their hands. I've seen this enought times at this
point I'm wondering if there is some historical basis for this, My theory is somewhat far flung but
go with it for a second and it goes like this. I almost think I remember reading somewhere that
when the "Buffalo Bill's wild west show" was touring back east that at some point for a lack of anything
better at hand, many of the native Americans were outfitted with shingling hatchets. Hundreds
of thousands of audience members later I suppose the average American would have sworn that
"Indian hatchets had nail slots in um"
Toy tomahawk from the 40's-50's?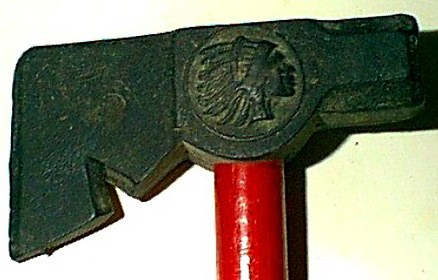 Shingling & Lathing hatchets with nail notches. As nail pulling slots
generally do not appear on on axes until around the 1850's and are still seen today.
I stay so far away from them that recently when I needed to pull a nail out of my
wall I didn't have anything to do it with!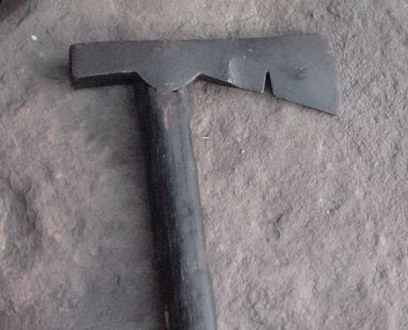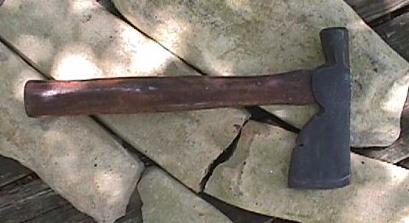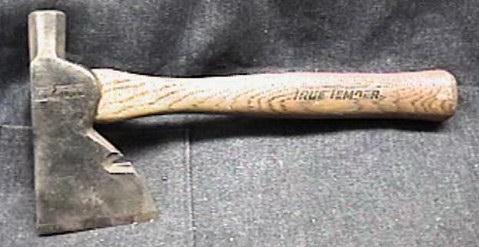 Like anything there are exceptions to the "Tomahawks have no nail notches" rule.
Three to be exact. The first are boarding axes, but these are more like teeth then
nail slots. Others are trapper's axes with trap chain puller notches. These are for the most part frontier forged pieces with open square notches and flairing blades that give the back edge of the blade a sort of hook like property of its own. Most are also thin or short to be light and compact for ease of carry.
The third exception are older axes that were altered in later times for
use with cut nails etc. Many of these are drilled and channel cut.
All of these were initially made as tools and weapons and as such deserve
the title of tomahawks.
notice the file work on the front and back of thr ee of this onethis is a case where a trap chain notch has been cut into the blade of a hammer poll
trappers hatchet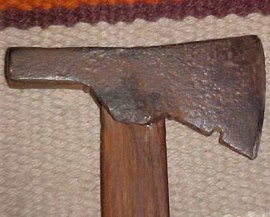 rare type two boarding axe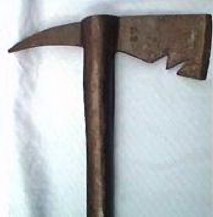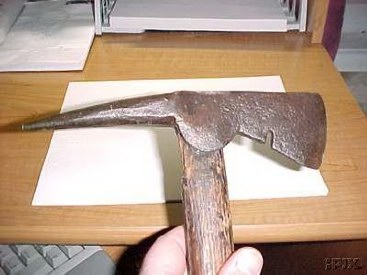 And then,,,,, the fifty's came along and the Davy Crockett craze hit. At this point some of the
first halfway convincing reproductions hit the market. I'm just guessing but I believe that
all those cast iron pipe axes with the triangle-ish polls and the tags that read. "Settlers traded
these to the indians for furs and pelts" or something like that were made during this period.
Then something else happened. It's as if all the sudden that all the toy tomahawk
and reproduction designers decided all at once that tomahawks were made by Fred Flintstone
and you start to see all these rocks with with the x lashing to the handle. It might have even been a Boy
scout merit badge project . I'm not sure but what is certain is that neither the historical,or
archeological record supports the x lashing style.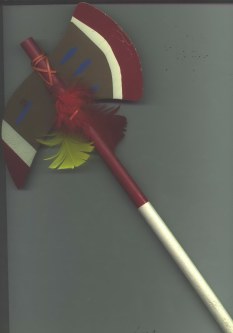 X lashed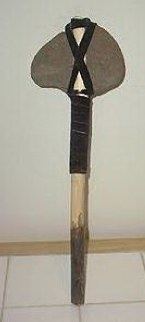 This one was said to be copied from a museum
piece. Smithsonian I doubt! "Dog chew leather
hafting with beaded ET looking otter.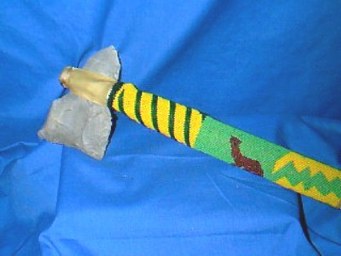 Classic x lashed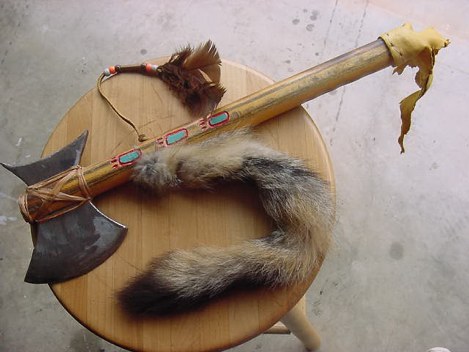 After sixteen years of hunting for stone artifacts in TEX, UT. NM. AZ. , LA. OK. ARK.
TN. KY OH. MO. GA. ETC. ETC. And Finding some of the rarest artifact
types known to archeology I have to say that I, nor anyone I know
including some very well respected archeologist, have ever found
so much as a piece of one of these. While flaked chert hoes did exists
these axe heads are straight from a modern flint knappers imagination and are
related to the many flint fishhooks and eagle effigies that are simply not supported
by the archaeological record. Please understand that I am aware and have
even found of a few lithic axe heads that do exists in the record. Lithic
bifaces known as Erath and Carrollton are both named for areas near
Dallas Texas but are nothing remotely like these.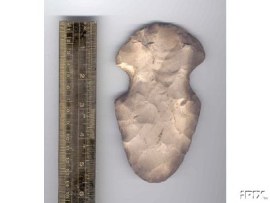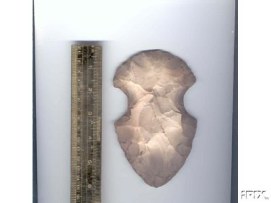 This is my vote as the lamest, most under researched
and most insulting to native Americans tomahawk design
ever perpetrated by US officials. I believe they must have
used a Atlanta Braves foam hand as a model.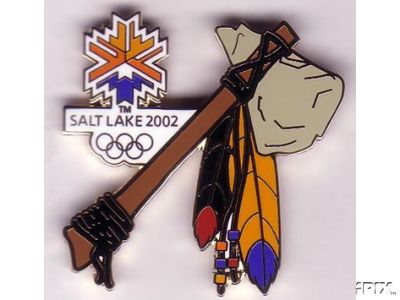 Other things that are not "tomahawks"
Hewing hatchets

Sometime after the turn of the century True Temper produced this axe
with a "tomahawk" logo. Thanks Frank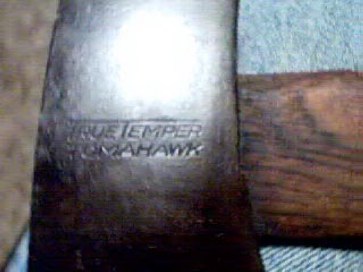 Lumber marking axes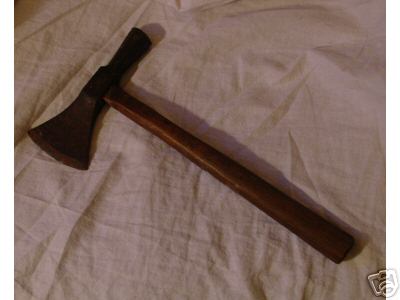 ICE AXES

What tha?? Ha ha ha
The velvet Elvis paintings of tomahawks.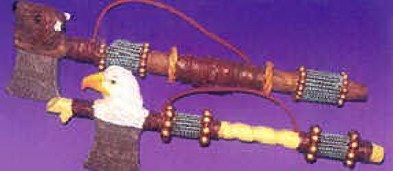 I shot Coca cola out of my nose the first time I saw
this "Poodle hawk" I'm thinking that its effectivness
might be in that upon sight, it would render your opponent
helpless with laughter. The perfect accessory to go with
that "hard to match" medicine purse ur bag ?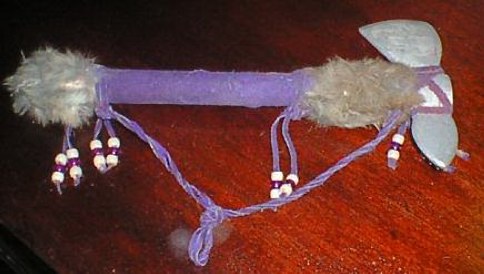 I'm pretty sure I have not offended any gay native Americans with the statements
above, as I am quite confidant they all have better taste then to be caught dead
With something that looks like this. ha ha. But if not, I apologize
What are tomahawks?
Pre 1890 Pipe, and spike axes and pre 1840 hammer poll, belt, trade and boarding axes.
Next page